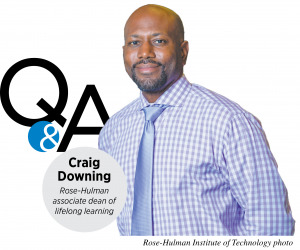 Rose-Hulman Institute of Technology has announced the creation of the Sawmill Society entrepreneurial network, a group of alumni who are founders and top execs who have promised to give back to the school in exchange for networking opportunities.
One of the society's programs is a "ventureship," which gives students the chance to explore an idea for a company or product during a summer at the school, with financial and mentorship support from the network.
Craig Downing, the school's associate dean of lifelong learning and head of the department of engineering management, is helping to oversee the program.
Why is there a need for this program?
We observed a bit of frustration when students had ideas but maybe not the resources to be able to bring them to fruition—whether it was an issue of [resources] or of timing, of choosing between an internship and pursuing their entrepreneurial passion. We wanted to see if there were ways in which we could help by providing a series of resources and then also trying to de-risk some of their ideas and create a cleaner pathway forward for them.
What resources will the program provide?
One of the primary resources that the students will have is access to a financial grant that will allow them to use a summer to advance their entrepreneurial venture idea. The grant is such that it covers housing and food [and] gives them the opportunity to also have communication, mentorship, exchanges with fellow entrepreneurs.
Students will have the choice of selecting a faculty member that is currently on staff. And they will have the option to choose one of the members that are in the network [or] to find someone that does not exist within the network or on our campus. … We have to be humble enough to understand that we may not be able to serve all students, and if we cannot serve those students, we want to assist them in identifying the person or persons who can be of best assistance.
How will students be chosen?
If you're a student with an idea, we will ask that you submit an application …. and as part of that application, a three- to five-minute video pitch of your product. We will have members on the staff side that would represent members of the actual Sawmill network and then there'll be members on the academic side, from the teaching perspective, that will help evaluate these pitches. And then we will collectively select one or two to move forward in the summer.
What is your background and interest in this area?
Both my parents were entrepreneurs. … My father with a traditional grocery store/laundromat, and my mother, in addition to being a homemaker, went into retail fashion for members of our community. Then the last thing that my father had begun to do was to move into real estate, which then he blessed us with. And my area of entrepreneurialism is in the area of real estate.
Have you seen an increase in the number of students with an entrepreneurial mindset?
It has increased dramatically, and we are trying to respond to be in alignment with their needs. The amount of access that they have to technology and their vision for their future is so diverse. It's so aspirational that we want to make sure that we are preparing them to be successful in their entrepreneurial ventures—even though it may not be the first thing that they do when they graduate from Rose-Hulman.•
Please enable JavaScript to view this content.