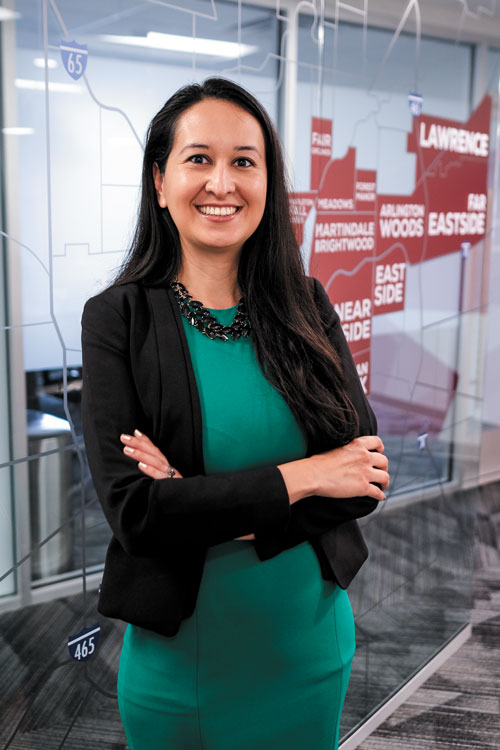 Yecenia Tostado wants to increase the number of Latinos in leadership positions in central Indiana.
Tostado, 36, said most people wouldn't know by looking at the city's corporate and civic powerbrokers that Indianapolis is nearly 10% Hispanic or Latino, according to Census data. The U.S. government defines "Hispanic or Latino" as "a person of Cuban, Mexican, Puerto Rican, South or Central American, or other Spanish culture or origin regardless of race."
"We're just severely underrepresented in a lot of areas," said Tostado, who is the associate director of programs for Indy Achieves and a daughter of Mexican immigrants.
Tostado and a group of five other Indianapolis community leaders—Gloria Jimenez, Jordan Rodriguez, Angela Brito Silva, Guadalupe Pimenel Solano and Fabio Yataco—are trying to change that. Last year, they created Axis, a leadership program that aims to plug young professionals into the city's civic and political scene. The program is a partnership between Mayor Joe Hogsett's Office and the Indiana Latino Expo.
The program had 17 participants in its first class last year. And this year, Axis hopes to attract a bigger group. Applications are open through Oct. 1.
"By creating a program like this, our hope is that we're basically teaching folks how to plug in and how to connect," Tostado said.
What do Axis participants do and learn?
The program is really focused on professional leadership development. A lot of it is focused on things like networking or building a professional brand or exploring opportunities on how to serve on nonprofit boards, how to engage in civic conversations and civic efforts.
We created individualized goals and connected the folks with organizations or people that could help them meet those individual goals. The goal for them upon completion is to step into leadership roles at whatever level they're comfortable.
We've seen students take unique paths. We have one student who has created an effort to recruit more Latinos to Indianapolis by hosting college students. We have a student who is getting more involved with things going on at the Statehouse and trying to figure out how she can influence public policy.
There is a mentoring component to the program. What was that experience like, mentoring younger professionals?
It's so fun to connect with young professionals. I see a lot of myself, or my previous self, in them. Figuring out life as a young professional can be challenging, like setting goals and figuring out how to achieve those goals. Having that guidance is something that young professionals really appreciate.
As you become more of a seasoned professional, you realize the importance of giving back. You recognize that, as you are able to rise up in your professional trajectory, you need to bring others with you, especially if you're from a group that's underrepresented in a lot of circles.
What types of people can be part of the program? Do you have to be in college?
We had a really diverse first class. We had some folks who were early professionals, some were in their senior year of college or still students. We had a couple folks with master's degrees. It was all over the board in terms of profession, everything from actuarial science to teaching to nursing, to hotel management.•
Please enable JavaScript to view this content.