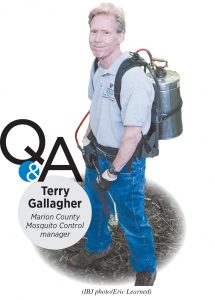 Terry Gallagher is fascinated by mosquitoes, especially the way they lay their eggs in stagnant water and then hatch, growing into bloodsucking adults in just a few weeks.
For more than three decades, Gallagher, 61, has supervised mosquito control programs for Marion County, overseeing a small army of technicians who spray ditches and collect mosquitoes from traps around the county to track the variety and size of the mosquito population.
Mosquito bites, in addition to being annoying and itchy, can spread diseases, which is why Marion County set up a program in 1976 to help control the growth of the pesky insects.
We've had a wet spring, which often leads to heavy mosquito breeding. What is your forecast for mosquitoes this summer?
You're right, I think there's going to be an increase in the overall population compared to recent years. Right now, it seems like we were a little bit behind; it's a little bit cooler. So up until now our overall numbers were a little bit behind average, but I think things are going to be picking up.
What kind of climate do mosquitoes like?
Standing water—and that's why things can change quickly. You can be having a real slow summer as far as mosquito populations, real low numbers, and then you get three days of rain and things will just spike right up. So the more water, the more mosquitoes.
Mosquitoes are known to carry lots of diseases, from malaria to the Zika virus. What is the biggest disease threat now in the U.S. from mosquitoes?
Right now, it would be West Nile virus. Our program actually started in 1976, after the outbreak of St. Louis encephalitis in 1975. But then West Nile virus emerged in 2002. And the difference was with St. Louis encephalitis, it spiked, then it kind of went away. We occasionally get reports of an outbreak in one city or another, but it's very minor, whereas West Nile virus, once it made its way across the continent, it's been in every county.
Do mosquitoes do any good? They seem to be the most hated insects in America.
My only answer that is they are part of the food chain. The mosquito larvae and pupae in the aquatic stage are food for fish and frogs and critters in the water. And then birds and bats will eat adult mosquitoes.
What's the most common complaint you get about mosquitoes?
High populations. For example, in 1996, we had just a horrific season of mosquitoes. I can remember people talking about covering themselves just to take out the trash.
What can people do to help keep the mosquito population down?
Check around your property. Clear out your gutters, get rid of standing water.
How did you get interested in mosquitoes?
I was a teacher [at Hamilton Southeastern Middle School] in the 1980s and took a summer job here. I was kind of looking to transition at that point. I was looking for something besides teaching. And it worked out.
Are you still fascinated by mosquitoes?
I really am. I tell people this all the time, they really are fascinating, interesting insects. To see the mosquito go through its lifecycle, to see it go through this metamorphosis really is a kind of a wonder of nature. It's just a shame that they make us sick.•
Please enable JavaScript to view this content.