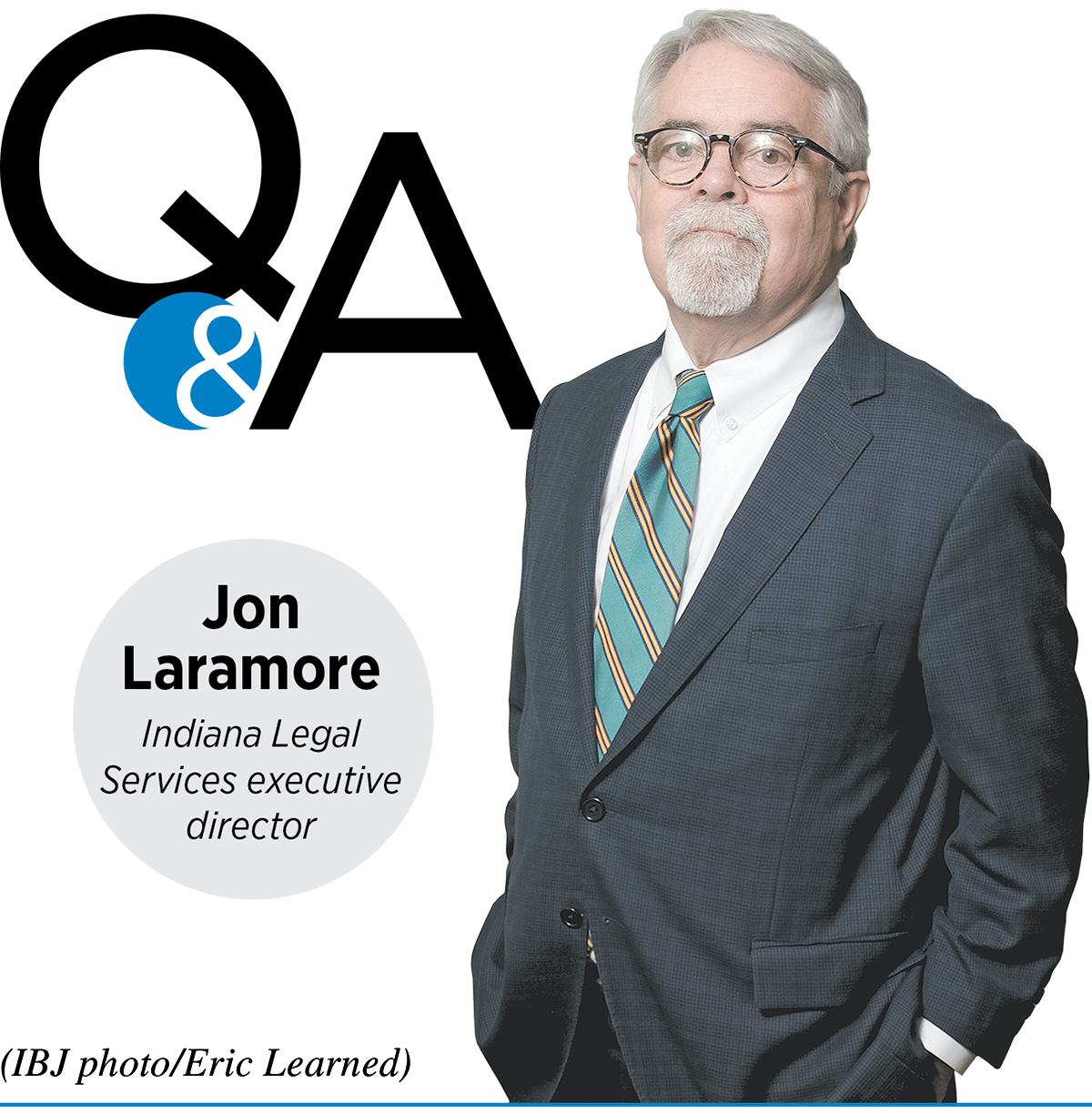 Jon Laramore has worked at the highest levels of law in Indiana. He was chief counsel to two governors, Frank O'Bannon and Joe Kernan. He later was co-leader of the appellate practice at one of the city's largest law firms, then-Faegre Baker Daniels. He has argued two cases, both successfully, before the U.S. Supreme Court, and dozens more before Indiana appeals courts.
But five years ago, Laramore left those lofty surroundings to take a job as executive director at Indiana Legal Services, an independent, not-for-profit founded in 1966 that has dozens of lawyers in eight offices around the state. Last year, they helped 12,000 low-income clients who were having legal problems with housing, debt collection, bankruptcy, domestic abuse and other issues.
The Indianapolis-based operation is on the 18th floor of the Gold building at Ohio and Delaware streets but is moving south of downtown later this year.
I've heard this described as a poverty law clinic. Is that an accurate description?
We serve only low-income clients. And we handle cases in some areas of law that are really unique to the low-income population. No one else in the state really defends people who are being evicted. No one else defends people who are the subject of collection cases and subject to having their wages garnished and that sort of thing. We also work in the area of public benefits like Medicaid and food stamps.
Could you describe a typical case?
A typical case involves a survivor of domestic violence who has children, either ending a marriage or otherwise setting up a legal arrangement that protects the family from violence and providing them with some financial resources.
You don't do any criminal law. Why not?
People who are accused of crimes and can't afford a lawyer are entitled to a government-appointed and government-paid lawyer. In civil cases like we do, there's no such right. So unless you can afford a lawyer or find a lawyer who will serve you for free, it's an agency like us that provides free help that is your only remaining recourse.
Indiana leads the Midwest in poverty, with about one-third of families below 200% of the federal poverty line in 2016. Why is there so much poverty here?
I can't claim to know the answer to that. But it may be tied to what a strong industrial economy we had here at one point, much of which is no longer here and has left, and a workforce that may not have all the skills that are necessary to compete in today's economy.
You spent 10 years at a big firm. Why did you move from there to here?
I actually started my legal career as a legal aid lawyer. It's what I graduated from law school thinking that I wanted to do. I ended up taking a slightly different path. I spent years as a government lawyer, and then 10 years at that law firm, which is the longest time I've had a single job, and I was ready to make a change. This job opened and I thought that I had the skill set to advance Indiana Legal Services and make it an organization that better serves the low-income citizens of Indiana.
Are for-profit law firms doing enough pro bono legal work?
There could always be more. And we have started a pro bono program that uses lawyers for many of the large firms in Indianapolis. We have some wonderful volunteers who take cases for us in a number of areas of law, but there's always, always room for more.•
Please enable JavaScript to view this content.