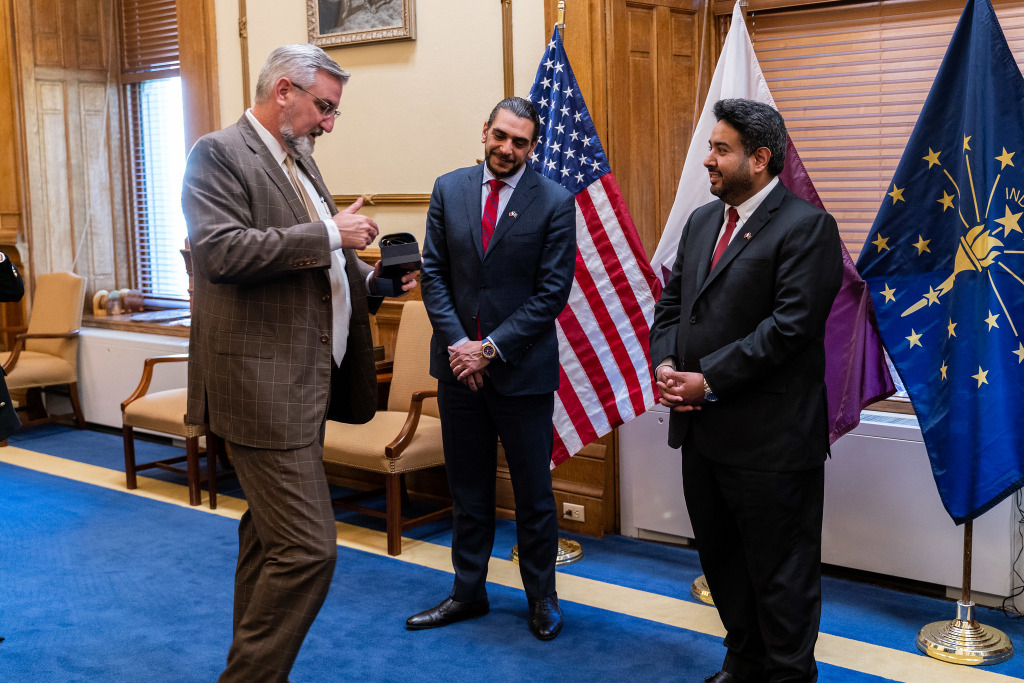 Representatives from a Qatar economic delegation in Indianapolis on Tuesday expressed optimism that the country's up-and-coming business relationship with Indiana will continue to strengthen.
Members from the Qatari commercial attache's office met with Gov. Eric Holcomb, Secretary of Commerce Brad Chambers and more than 30 Indiana-based companies. The visit followed Holcomb and Chambers' business development trip to Qatar in July, which was designed to foster economic ties between the state and Qatar.
The delegation first met with different company representatives at a luncheon to discuss the process and opportunities for doing business in Qatar. Fahad Al-Dosari, commercial attache of the State of Qatar to the United States, said the outcome from meeting with different businesses, ranging from logistics to ag-tech companies, was better than he expected. Many companies expressed interest in engaging with Qatar in the future.
Ties between Indiana and Qatar are already fairly strong. Indiana is the 12th largest exporter to Qatar in the United States and fourth largest in the Midwest, with exports ranging from pharmaceuticals to aircraft engines from Rolls Royce and GE Aviation.
In 2020, Indiana exported $43.4 million worth of goods to Qatar while importing $76,637 in products from Qatar. The state's top exports to Qatar are chemicals, electrical equipment and appliance components, and transportation equipment.
"We saw a huge jump in exports from Indiana in the last two years, [and] I believe the governor wants to see more advancement, and that aligns with the Qatar vision in enhancing outreach and sourcing," said Mohammed Barakat, managing director of the U.S.-Qatar Business Council.
Al-Dosari said the visit to Indy highlighted how Qatar can benefit from Indiana-based businesses and vice versa.
The Qatari government is seeking to diversify the country's economy beyond oil and gas production by investing in other industries, such as manufacturing, agriculture, sports tech and tourism. Qatar has a population of 2.8 million and gross domestic product of $175 billion. The crude oil and gas industry generate more than half of the country's annual revenue.
Al-Dosari said he was particularly interested in agriculture technology and possibly working with Indiana to develop technology in Qatar.
"Because of the nature of the country,  we need ways to look into new technology that helps us to grow our own food with the highest technology there. So I see a good opportunity in agriculture sector," he said.
Logistics companies also showed interest in increasing exports to Qatar, to which Al-Dosari said his office promised to offer the best infrastructure to support their efforts.
Indiana and Qatar's formal economic relationship is still young, but Al-Dosari said he hopes to see more economic deals coming in the future.
"I would say it's still an early stage, but fingers crossed, we can do something. We saw a lot of opportunities and people are willing to know more," Al-Dosari said. "We'll keep in touch with all those companies."
Higher-level economic development conversations took place with Holcomb and Chambers following the luncheon. Barakat described the conversations as "very warm." He said both Indiana and Qatar share similar economic interests beyond the export relationship. In addition to agriculture, Qatar and Indiana share an interest in sports economics.
Sports tourism serves as an economic driver for Indianapolis, which this year hosted the entire NCAA men's basketball tournament, and is set to host the college football championship on Jan 10. Similarly, Qatar is set to host the 2022 World Cup late next year.
Additionally, Hoosier businesses such as Eli Lilly and Co. and Columbus-based Cummins Inc. have a presence in the Middle East and maintain relationships with Qatar, Barakat said.
"This kind of coordinating potential, like understanding of the business relationship and what Qatar has to offer, and what Indiana has to offer as well will advance that relationship further," Barakat said.
Holcomb said the talks from Tuesday are part of continued ongoing discussions about the future of business relationships with Qatar.
"I'm very encouraged with the shared interests in sports technology, sports in general, agricultural needs, the tech sector. All these things are on the table that we're discussing about how we can solve some problems for them and how they might be able to solve some for us," Holcomb said.
Please enable JavaScript to view this content.