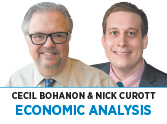 Our colleague and prominent Austrian School economist Steven Horwitz recently passed away at the age of 57 after a battle with cancer. Horwitz was the distinguished professor of free enterprise and director of the Institute for the Study of Political Economy at Ball State University. He was a master at revealing the hidden beauty of markets, an institution that is often misunderstood.
Horwitz reckoned the greatest misconception about economics is that it deals only with material living standards. In actuality, economics deals with how human well-being can be enhanced so that we all live happier, longer and more dignified lives.
Economics is the about the study of voluntary exchange or, more broadly, human cooperation. Historically, humans often resorted to war and plunder to gain at the expense of others, especially from those viewed as foreign or different.
But in markets, it is precisely the differences in our abilities to produce, our preferences, our specific knowledge, etc., that make it possible to benefit through voluntary exchange. Markets allow people to learn and gain from those who are different, creating a network of cooperation among individuals in society. Strangers meet on the street with distrust. Markets elevate those we haven't met into allies: the waitress who brings our food, the doctor who treats our illness, or the cabbie who gives us a ride.
Horwitz's work, in the tradition of the best economists, examined what kinds of institutional arrangements promote human flourishing. His early work explored the importance of sound money, exposing how venal and ignorant central banks have too often wreaked havoc on the economy, both through inflationary money printing and by allowing deflationary recessions.
Horwitz's later work examined how the family, much like the marketplace, is an undesigned social institution that evolves to meet economic, social and political functions. He showed how the functions and the forms of the family adapt in efficient ways as times change. His work provides an important defense of the family from a uniquely non-conservative viewpoint.
Horwitz promoted open discourse on campus by sponsoring student reading groups and discussion colloquia. He taught countless students how to respectfully disagree with one another. He believed the best way to pursue truth is through civil discussion and a genuine reexamination of one's own views. In his life and in his work, Horwitz promoted the classical liberal values of liberty, equal rights, tolerance, peace and treating others with dignity. A resounding legacy for us all.•
__________
Bohanon and Curott are professors of economics at Ball State University. Send comments to ibjedit@ibj.com.
Please enable JavaScript to view this content.