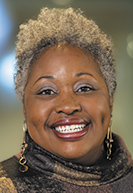 Fifty community organizations in Indianapolis are set to receive $8.6 million in funding from the second round of the Elevation Grant Program, previously known as the Violent Crime Reduction Grant Program
The three-year anti-violence fund is backed by $45 million American Rescue Plan Act dollars and seeks to address root causes of crime. The latest allotment is the last of 2022 and includes 23 new organizations, according to Alicia Collins, senior consultant for the program.
At Thursday's announcement, community leaders emphasized the importance that growing neighborhood organizations play in the program, which is led by The Indianapolis Foundation.
"Nobody knows a neighborhood better than the neighbors themselves," Mayor Joe Hogsett said.
The name change came after residents and grassroots leaders expressed concerns to Collins and the Indianapolis Foundation in late 2021 and early 2022.
"We wanted to change the trajectory of the grant … give it that frame of 'elevating' good things that are happening in our neighborhoods," said Collins, who is also director of community leadership for the Central Indiana Community Foundation.
The foundation also is investing $3.3 million to ensure grassroots organizations have the infrastructure to continue beyond the grant, she said.
Two recipients were highlighted at the Oct. 6 press conference: the Chin Community of Indiana and Project Free University.
The Chin Community of Indiana will be using the grant to fund a Chin Batterer Intervention Program. Peter Thawnghmung, president of the Chin Community of Indiana, said his organization recently celebrated it's 20th anniversary and that the Chin population on the south side has reached 30,000.
"Today, we're productive, thriving, and contributing to society," Thawnghmung said. "Where most of us are living the American dream, at the same time as we grow and prosper, our community is seeing some increase in crime, especially domestic."
The $111,000 awarded to the Chin Batterer Intervention Program will be used to provide education and counseling, he said.
Project Free University, led by Howard Stevenson, received $523,000. Project Free University, a subset of the Community Alliance of the Far Eastside Inc,  provides financial literacy programs and support to youth in the area.
The grant will allow 30 young east-side residents to participate in the organization's "Financially Lit" curriculum and be paired with mentors to keep them on track as they pursue financial and career goals.
Stevenson said poverty is the No. 1 cause of crime. His organization seeks to put youth on a path toward a career or higher education to avoid poverty, he said.
The first allotment from the Elevation Grant Program was announced this summer and totaled $5.5 million. More funding for organizations will be available in 2023 and 2024.
The full list of award recipients can be found on the Central Indiana Community Foundation website.
Please enable JavaScript to view this content.