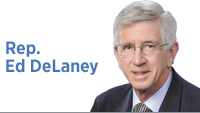 Legislators get to hear a lot, and it can come in different ways. Two recent encounters with young mothers in my district come to mind.
I attended a teacher's retirement at my grandchildren's school. In the course of chatting, I heard a calm, heartfelt plea from a concerned parent, a former teacher herself. All she wanted was the strongest possible assurances that her small children and all others would remain healthy. Sadly, given the half-hearted approach of our state's leadership, I could not assure her of that.
The governor has decided to "support" a flood of separate and inconsistent decisions by school boards in setting COVID-19 policies. Meanwhile, he is satisfied with making detailed changes to reporting requirements. At the same time, he is ignoring the fact that hundreds of schools don't bother to report their COVID data. Some districts are very cautious, while others hide from the risks.
In a perverse way, all this chaos reminds me of Mao's "Let a Hundred Flowers Blossom" campaign. That was the program where he called for dissent from all quarters. At the end, a number of the critics were executed.
I don't fear mass executions in our case. The risk here is of unnecessary deaths and educational chaos. School boards are left adrift, and their meetings are blooming with rancor, not roses. My first interlocutor can hardly be reassured by all this.
The second mother had a different interaction with me while I was out walking. She rolled down her car window, confirmed that I was indeed her state representative and demanded that I act to end it all. By "all" she meant vaccinations, mask requirements and the whole lot. I promised to see what I can do. Well, really, the question is, what can the governor do?
Before rounding on the governor, let me point out what these two mothers agreed on: They want the COVID risk AND these disruptions over as soon as possible. One wants inaction and the other action. But the result sought is the same: We must end this.
If state government does not show more leadership, both mothers will be disappointed. A quick review of the color-coded COVID maps says Indiana is not leading in the effort to reduce the risk and exit from this crisis.
The governor may point out that the General Assembly has made direct, if clumsy, efforts to limit his authority. Why does he not push back? Is he that afraid of the radical right wing of his party? If he went into an intra-party fight with a record of bold leadership, he might just win. And we might be healthier for it.
Let me suggest a simple start for Holcomb's move toward real leadership: Require the hundreds of schools that are not reporting their COVID cases to do so. Call them out and give the affected parents something important to demand and debate.
If the problem is with the computer system the state has set up, fix it now.•
__________
DeLaney, an Indianapolis attorney, is a Democrat representing the 86th District in the Indiana House of Representatives. Send comments to ibjedit@ibj.com.

Click here for more Forefront columns.
Please enable JavaScript to view this content.