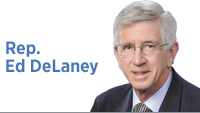 A recent family trip was interrupted by bad news from Indianapolis, my home city. There were two incidents of violence, one that shocked a neighborhood and one that shocked an allied country. An older woman was assaulted just outside my front door on the north side and a young Dutch soldier was gunned down in the tavern zone on South Meridian Street known as the Warehouse District.
I had free time on my trip and devoted much of it to asking myself what these acts meant for my neighborhood, my city and even my country.
Everyone wants to feel safe at all times. But we feel a particular desire for this when near home or when enjoying ourselves outside the home, whether in a church or a bar.
This desire for safety is not just an individual wish, it is a communal one. When a neighbor is assaulted, it affects the neighborhood. All the residents re-evaluate their sense of security even if they were not involved in the incident.
Those who live in crime-ridden neighborhoods must revise their calculus almost daily. Others in more fortunate areas like mine seldom go through this. But the bottom line is this: Violent incidents force people into their homes and leave them to face their fears and to re-evaluate how they feel about the place they live.
The death of the Dutch soldier led to troubling comments, not from neighbors but from the Dutch government. America seems not to be a safe place to train our allies. From a local perspective, what can this mean for our tourists and convention-goers?
Our local authorities acted swiftly on both matters. A prompt arrest was made in the homicide case. Police presence was ramped up near my home. This was consistent with the efforts of our mayor to increase police funding. My talk with the Prosecutor's Office convinced me our prosecutor's approach is serious.
My neighbors cooperated and communicated with the authorities. Video cameras were checked, and more are being installed.
So, things are being handled, but I must ask whether all parts of our government are being helpful. The Legislature has acted to improve police training and police interactions with the public. Body cameras on officers are a plus. Standards are being improved and made consistent. But when it comes to guns, we are going in reverse.
At the same time that horrific acts of gun violence are a daily occurrence, our Legislature has disregarded the objections of law enforcement and removed the license requirement to carry a concealed weapon. The insistence that the Second Amendment does not permit any restrictions has gone way too far and limits our ability to feel safe in our community. This attitude adds to the opportunity for violence and even suggests that violence is somehow normal or just to be expected.
The U.S. Supreme Court has upended the balance between gun rights and community safety. But there is still an opportunity to restore some balance. Other states are enforcing permits for concealed carry within the new lines set by Justice Clarence Thomas. There is also an effort to protect entertainment zones by defining them as "sensitive locations" where guns can be excluded.
We need to see whether Indiana would allow the same. Broad Ripple and the convention area downtown could well benefit.•
__________
DeLaney, an Indianapolis attorney, is a Democrat representing the 86th District in the Indiana House of Representatives. Send comments to ibjedit@ibj.com.

Click here for more Forefront columns.
Please enable JavaScript to view this content.