Gov. Eric Holcomb vetoed a bill that banned transgender athletes from playing on school sports teams that align with their gender identity. Should the Legislature overturn the veto?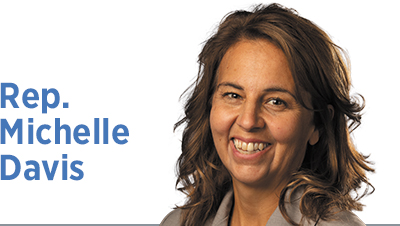 Growing up, my dad would often take me to the local boys club to play basketball against boys my age. I went from a varsity starter on my girls' basketball team to one of the worst players on the court as soon as I stepped in the gym. I learned a lot, but I knew the boys didn't outwork me—their biology did.
Now, female athletes face the threat of competing against boys in their own sports, and we're seeing examples across the country in swimming championships, high school track meets and more. If Indiana sidelines common sense and science, Hoosier girls will lose. That's why I authored House Bill 1041 to protect the integrity of girls' K-12 sports now and into the future.
I'm beyond disappointed and shocked that the governor vetoed this important legislation to keep the playing field level in girls' sports. The timing of the veto couldn't be worse, as girls and women celebrated Women's History Month and the 50th anniversary of the passage of Title IX, which protects equality in women's sports. Thankfully, House Speaker Todd Huston already announced House Republicans will return to the Statehouse to override the veto on May 24, the Legislature's technical corrections day. I look forward to casting my vote.
While we are all equal, there are biological differences that give males unfair advantages over females in sports, including greater muscle mass and bone density as well as larger hearts and lungs.
In 2021, Sydney McLaughlin won gold in the 400-meter hurdles at the Tokyo Olympics and set the world record. The following year, eight high school boys ran times faster than McLaughlin's record. That's high school boys beating the female world-record holder.
Allyson Felix is one of the fastest female sprinters of all time and a legend. Her lifetime best in the 400-meter is 49.26. Using 2018 data, nearly 300 U.S. high school boys could beat her time. The performance gap isn't because these boys had better access to training or resources; it's biology.
Let me be clear, discrimination and harassment are wrong. Everyone should have their shot at joining a sports team and competing on a level playing field, and this legislation wouldn't prevent anyone from joining a team. As Gov. Eric Holcomb said himself in February, "…boys should be playing boys' sports and girls should be playing girls' sports, and mixed sports should be just that." Confused why he's apparently changed his mind? Me, too.
We simply can't afford to push science and Hoosier common sense to the sidelines, because we'll be benching our top female athletes next. I stand with the countless families and athletes who believe our Hoosier girls deserve to not only play but to compete. We must act now to protect athletic opportunities for Hoosier girls—and it starts with passing HB 1041 into law.•
__________
Davis is a Republican from Whiteland who represents House District 58 in the Indiana House. She is director of adult education at Central Nine Career Center. Send comments to ibjedit@ibj.com.

Click here for more Forefront columns.
Please enable JavaScript to view this content.