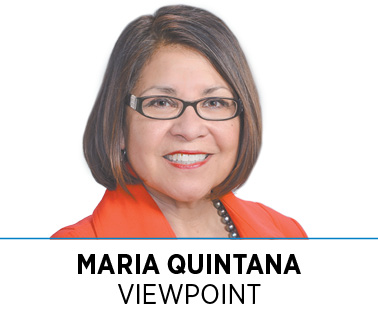 I just read this blog, "Now That We Know Better," by BoardSource executive Jim Taylor, a leadership consultant. Taylor discusses Reddit co-founder Alex Ohanian's decision to resign from the company's board and how he further urged the Reddit board to replace him with a black candidate, telling them, "I believe resignation can actually be an act of leadership from people in power right now."
Taylor's blog was from the perspective of a not-for-profit board member. I read it through a different lens.
My career and life have been filled with experiences of sexism and racism. I first experienced racism when my family was forced to move from one of the city's first barrios to make way for downtown interstate construction in 1966.
Our Mexican American family of 10 moved into a white neighborhood off of East 10th Street. There were no restrictive covenants like in Minneapolis to keep us out, so the neighbors petitioned to do it. We were treated with disdain and, of course, heard the proverbial, "There goes the neighborhood"—and, slowly, it did. That was the beginning of the flight to the suburbs; among the first to go were our next-door neighbors.
During these challenging times, I have been struggling with my own thoughts regarding how to create sustainable change. I have had decades of discussions with colleagues at my former employer, Chase—including its leader, Jamie Dimon, 20 years ago—about the need to create opportunities for people of color. I had a reputation for putting it out there and challenging the status quo, suggesting that leaders hold onto their seats far too long.
So, here is my 2 cents. The only way to make significant progress is to do what Reddit's Ohanian did. Why not let go of your leadership position so others can create an environment of inclusion that, guess what, will make the organization even that much more successful. No one wants to lose their job, but when you've been in it, like, forever … well, come on now. You obviously have an incredible reputation, and if you are white, you will find another opportunity.
I can hear the pushback now. "There is no one ready to take on that level of responsibility." Well, if that is the case, shame on you. Shame on you for not doing the level of succession planning necessary within your own four walls or working that much harder to hire and retain people of color. If there is no one to promote internally, there are plenty of black and brown leaders in this city who are willing, ready and capable of doing your job.
Now, many of you are looking around the room and noticing the void of voices from black and brown people. You are reaching out to hear them, taking their input and sending them on their merry way.
We are in the situation we're in today because folks refused to recognize their own prejudices and work to overcome them. We all see color, we all are prejudiced, and we all are complicit. We do not need white saviors telling us how to end racism, but we do need their help.
Is the leadership in this city willing to do whatever it takes? It is never too late, and there is no better time.•
__________
Quintana is president of Q2u Strategic Advisory Group.
Please enable JavaScript to view this content.