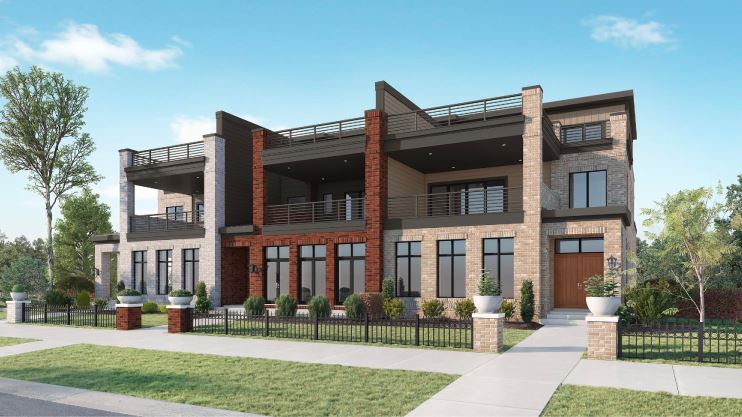 An Ohio-based developer is attempting to move forward with a long-delayed plan to build 52 townhouses at Jackson's Grant Village on Carmel's west side.
Republic Development Corp. would like to construct the townhomes and a clubhouse on 8.83 acres of land at the 21-acre site at the northwest corner of East 116th Street and Spring Mill Road.
John McKenzie, owner and president of McKenzie Collection, a Carmel-based homebuilder, told the Carmel Plan Commission there would be three to five residential units per building.
The three-floor units would feature rooftop space and range from 2,500 to 3,300 square feet.
A price range for the townhomes was not discussed at last week's commission meeting. When the project was first introduced in 2020, Republic Development planned to price the townhouses beginning at $575,000.
Jackson's Grant Village would also include 19 single-family homes, along with 20,000 square feet of commercial space that has not yet received approval.
The Carmel Plan Commission's Residential Committee will discuss the townhome proposal at its July 5 meeting. The Plan Commission will issue a final vote at a future meeting.
Republic Development's plans for Jackson's Grant Village stretch back to 2020 when the Carmel City Council approved the development despite an unfavorable recommendation from the Plan Commission.
The company two years ago heard from hundreds of residents from the neighboring Jackson's Grant area who voiced their concerns about the village project through in-person testimony, emails and an online petition.
Jackson's Grant residents attempted to reduce the density of the village and eliminate the planned 20,000 square feet of commercial space.
The 280-acre Jackson's Grant development has seven neighborhoods near Williams Creek with available houses ranging from the $500,000-plus to more than $1.3 million.
It also offers residents a community and recreation center, a hobby horse barn activity center, trails and a nature preserve.
The website of Jackson's Grant says former President Andrew Jackson gifted the property to an Indiana resident through a personal land grant in 1834.
Please enable JavaScript to view this content.