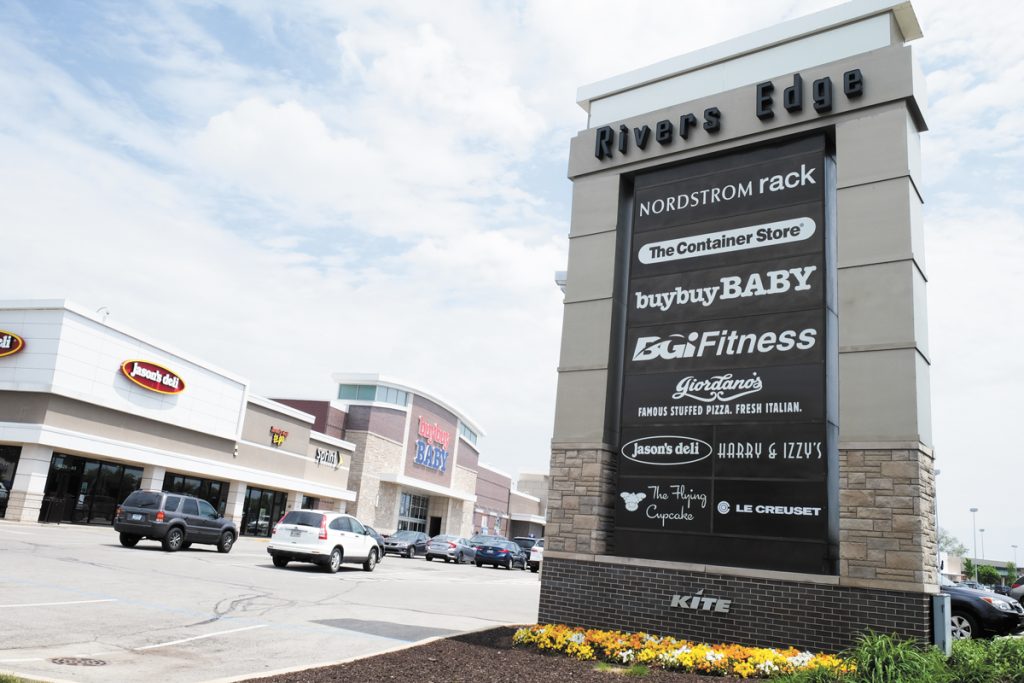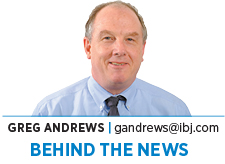 Retail landlords knew tough negotiations lay ahead with tenants that were struggling during the pandemic and genuinely didn't have the wherewithal to pay rent on time. But they received quite a jolt when they discovered that some of the most lustrous names in retail want rent concessions, too.
One of those is Starbucks Corp. (market value, $96 billion), which is talking with landlords as if it needs to shake every last penny out of its piggybank to cover its bills.
The chain paid its rent in full in April and in May at most of its 9,000 company-owned stores in the United States but is seeking changes to lease terms and base rent for at least 12 months, according to a memo Chief Operating Officer Roz Brewer sent to landlords.
Seattle-based Starbucks "will require concessions to support modified operations and adjustments to lease terms and base rent structures, so we can withstand this uncertainty together," according to the memo, which was obtained by Restaurant Business.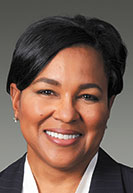 The coffeehouse giant isn't alone in playing hardball. Tapestry Inc. CEO Jide Zeitlin has been negotiating lower rents for the New York-based company's Coach and Kate Spade stores for more than a month, using the stores' drawing power as leverage, Reuters reported.
In a conference call with analysts on May 7, John Kite, CEO of Indianapolis-based shopping center owner Kite Realty Group Trust, said his company is having "partnership conversations" with less-well-heeled retailers that have been "extremely disrupted" during the pandemic.
Kite wouldn't name names, but he said the company also was having to deal with a small number of larger, well-capitalized tenants whose push for rent relief was "surprising and frankly opportunistic.
"That said, it's early. We're still collecting rent today, tomorrow, the day after and the day after that. We don't stop. So we fully intend on collecting that rent. It is an obligation. And we'll be professionals, but we'll doggedly pursue it."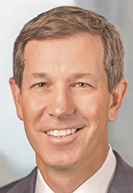 Kite, which operates more than 80 open-air shopping centers, has been among the top performers in its sector in collecting rent this year. On June 9, it reported that rent collections had reached 76% for April and 66% for May and that June is trending ahead of both months.
The slog has been tougher for companies that own shopping malls, including Indianapolis-based Simon Property Group—in part because many malls were completely closed for more than two months.
Simon—which owns about 200 U.S. properties, including more than 100 malls—hasn't revealed its April or May rent collections. But on a May 11 conference call, CEO David Simon said "we were much better than what the prognosticators" had been speculating.
Some of Simon's mall rivals have done atrociously on rent collection, including Tennessee-based CBL Properties, which reported June 5 that its ability to stay in business was in doubt. CBL received just 27% of the rent due in April and expects May's collections to be 25% to 30%.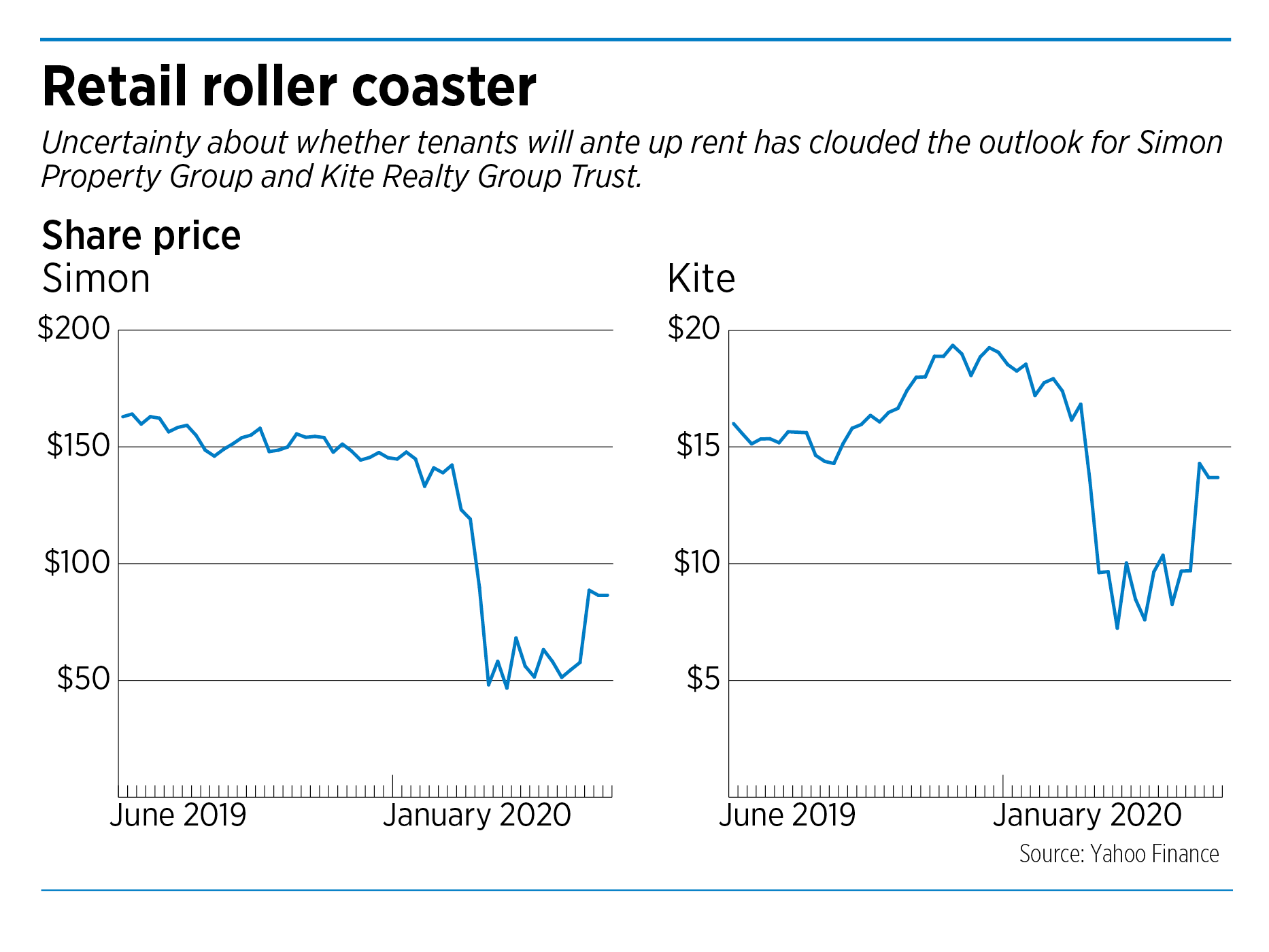 On Simon's conference call, David Simon acknowledged that Simon would be more accommodating to some tenants, depending on "how they're treating us. I mean, it's a two-way street."
But he also insisted his company would be operating from a position of strength.
"The bottom line is, we do have a contract, and we do expect to get paid," he said.
Last week, Simon Property Group backed up that hard-line stance by suing Gap Inc., saying its brands were three months behind on rent and owe $66 million. San Francisco-based Gap, which owns Gap, Banana Republic and Old Navy outposts, has 390 stores in Simon properties. Gap didn't respond to requests for comment.
On Kite's conference call, John Kite made the same point as David Simon, but in more diplomatic terms.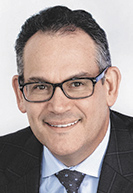 "The retail sector operates as a virtuous cycle," he said. "Our ability to pay our obligations—including very important real estate taxes—and help our most vulnerable tenants … is directly correlated to our well-capitalized tenants abiding by their rental obligations."
Even if well-capitalized firms become tight on cash, analysts say they'd have the wherewithal to boost liquidity by borrowing money or selling stock.
However, one of the nation's most formidable restaurant chains—Denver-based Chipotle Mexican Grill (market value, $29 billion)—has other ideas.
"We are a strong tenant with significant growth ahead of us, and we expect our landlords will partner with us during this difficult time period," Los Angeles-based Chipotle Chief Financial Officer Jack Hartung told investors in April.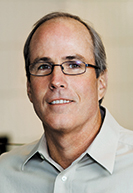 Alexander Goldfarb, an analyst with Piper Sandler in New York City, said there's a point where retailers' haggling for concessions becomes counterproductive. He noted that rent typically is only about 8% of a restaurant's costs—far less than the biggest expense, labor.
Landlords, he said, need to be paid in order to have the resources to keep centers in tip-top shape.
"The landlord is providing an environment that allows a tenant to succeed," he said. "If the landlord stops investing, the tenant is not going to do well."•
Please enable JavaScript to view this content.