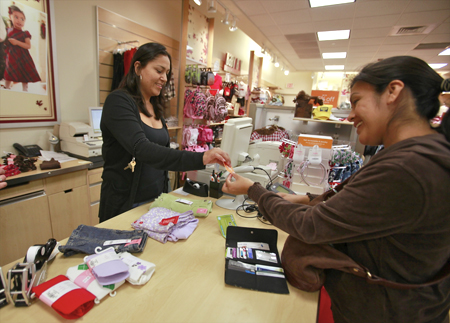 Non-essential Indiana retailers will be permitted to open Monday for the first time since Gov. Eric Holcomb's stay-at-home order went into effect March 23.
The reopenings are permitted in 89 of Indiana's 92 counties under Holcomb's Back on Track Indiana Plan, an executive order he unveiled Friday afternoon.
Excluded are three counties especially hard hit by COVID-19—Marion, where Mayor Joe Hogsett has a stay-at-home order in place until May 15, and Cass and Lake.
Holcomb's plan calls for a gradual relaxation of social distancing rules over nine weeks. The retail reopenings are part of Stage 2. The complete reopening of the state—Stage 5—is planned for July 4.
Under Holcomb's plan, retailers, including malls, now can operate at 50% percent capacity.
Since March 23, all retailers in Indiana have been closed, except those selling "necessities of life," such as groceries, convenience stores and general merchandise stores.
Also since that date, restaurants have been only allowed to offer take-out and delivery. Under Holcomb's phased plan, restaurants will be able to resume dine-in service May 11, but only at 50% capacity. Hogsett's more restrictive order delays dine-in service in Indianapolis until May 18.
Holcomb's administration considered four main criteria before drafting the Back on Track executive order—the number of hospitalized COVID-19 patients statewide (which has been trending downward); the number of intensive care unit hospital beds and ventilators available; the state's ability to test individuals with symptoms and essential workers; and having a contract tracing plan in place.
Last Tuesday, the state announced a partnership with OptumServe to open 50 new testing sites by mid-May. A day later, the state announced the hiring of Virginia-based Maximus Inc. to open a 500-person call center to conduct contract tracing.
State officials are expecting an increase in the number of positive cases as restrictions are eased, so they will continue to monitor hospital capacity.
Assuming the state continues to have enough ICU beds and ventilators available and testing and contract tracing goes well, Stage 3 would begin May 24 and could apply statewide. That phase expands retail capacity to 75% and increases the permitted size of social gatherings from 25 to 100.
Please enable JavaScript to view this content.