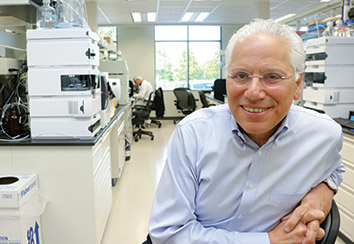 MBX Biosciences, a Carmel-based biotech startup launched last year by Indiana University chemistry researcher and serial entrepreneur Richard DiMarchi, said Monday it has closed on $34.6 million in early-stage financing.
The company, which aims to develop therapeutics to treat rare endocrine disorders, plans to use the proceeds to support itself as it advances its preclinical pipeline of drug candidates.
DiMarchi is the company's co-founder and chief scientific officer. His longtime business partner, Kent Hawryluk, is president and chief executive officer.
"We are excited to assemble a team with a proven track record in discovering and developing novel drugs to address unmet medical needs," Hawryluk said in a statement.
DiMarchi and Hawryluk worked together on two previous Indiana startups, Marcadia Biotech and MB2, which developed technology for metabolic diseases such as diabetes and obesity.
The name of the newest company, MBX, is a takeoff on Marcadia Biotech.
The financing was led by Frazier Healthcare Partners, with participation from OrbiMed, New Enterprise Associates, Indiana Philanthropic Venture Fund, and Indiana Seed Fund III (managed by BioCrossroads) and Twilight Venture Partners II.
In conjunction with the financing, MBX has appointed three new members to its board of directors: Patrick Heron, managing partner of Frazier Healthcare Partners; Carl Gordon, managing partner of OrbiMed; and Ed Mathers, general partner of New Enterprise Associates. They join Hawryluk and DiMarchi on the board.
DiMarchi has set up at least five companies since retiring from Indianapolis-based Eli Lilly and Co. in 2003 as group vice president for biotechnology research and product development.
DiMarchi has more than 100 patents and has published more than 150 scientific papers. His other startups include Ambryx, Assembly Biosciences and Calibrium. All of the startups were sold, reaping more than $500 million for founders and investors.
Please enable JavaScript to view this content.