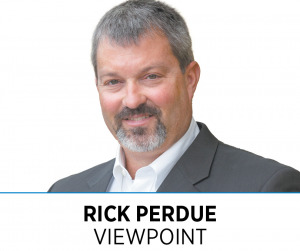 Indiana's thriving economy would not be successful without the support of hardworking Hoosiers who propel our workforce, including more than 300,000 immigrants who possess a certain quality that makes for a thriving labor force: ambition.
Ambition is what drives many immigrants today to seek out their version of the American dream. Take Perla Alamillo, who came to America with her family at age 5 and now works as a registered nurse at Indiana University Health University Hospital in the surgical intensive care unit. Despite setbacks on her path to success, she persevered and created a better life for herself and her family.
There is another piece to Perla's story that more than 10,000 other Indiana immigrant residents can relate to: She is a Deferred Action for Childhood Arrivals—or DACA—recipient.
These individuals, often referred to as "Dreamers," came to the United States with their families as children and often have known no other place to be home. They have work authorization and other protections from the DACA policy that was enacted a little over a decade ago. Without DACA, hundreds of thousands of immigrants would lose the ability to continue living and working in America.
Unfortunately, their worst-case scenario might soon become a reality, as the 5th Circuit Court of Appeals upheld a lower court's ruling that the DACA program as originally implemented is illegal. This decision puts all DACA recipients in limbo and their futures in jeopardy.
As the chief operating officer at a landscaping company headquartered in Indiana, I know firsthand the necessity of having hardworking, capable individuals to fill critical labor gaps. In addition, I serve as the president of the board for the Indiana Outdoor Management Alliance. We represent the policy interests of industry associations like the Indianapolis Landscape Association, Indiana Professional Lawn and Landscape Association, Indiana Irrigation Contractors Council, and the Indiana Nursery and Landscape Association.
The businesses in our industry represent hundreds of small businesses and thousands of jobs across the state. The damage caused by the sudden loss of thousands of employees due to this recent court decision will hit our industry especially hard, and its effects will no doubt be felt across all sectors of our state's economy. A recent report says 22,000 jobs nationwide would be lost each month for two years should the DACA policy be terminated—jobs that need to be filled to keep our companies afloat and our economy strong.
DACA recipients—and all "Dreamers," which includes all people who were brought to the United States illegally as children by their families—pay taxes, frequent our businesses and restaurants, and generally play a significant role in our economic success. In Indiana alone, the end of DACA would result in an estimated $516 million in annual GDP losses.
Without a permanent legislative solution from Congress, the consequences of losing DACA might become reality. This concerns me not just for the landscaping industry to which I have dedicated my career, but for all of Indiana's industries should we be faced with losing an important contributor to our statewide workforce. I know I am not alone in that concern: Most Americans support an earned pathway to citizenship for various categories of immigrants lacking permanent legal status, including "Dreamers."
Today, I encourage Sens. Todd Young and Mike Braun to work with their colleagues on both sides of the aisle to jump-start negotiations and establish a pathway to citizenship for DACA recipients, and all "Dreamers," before it is too late.•
__________
Perdue is board president for the Indiana Outdoor Management Alliance and chief operating officer at Engledow Group.
Please enable JavaScript to view this content.