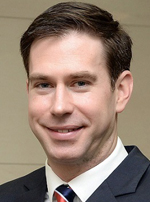 Roche Diagnostics Corp. has hired a senior executive from Gilead Sciences Inc. as CEO of its North American operations in Indianapolis, the company announced Monday.
Matthew Sause, 42, will start his new job Nov. 4, succeeding Jack Phillips, who resigned in August after nine years as CEO to become chief operating officer of Accelerate Diagnostics Inc. in Tucson, Arizona.
Sause worked at Roche for 17 years before leaving earlier this year for a brief stint at Gilead, a biotech based in Foster City, California, where he was senior vice president and head of global commercial product strategy.
In Roche's diagnostics division from 2002 to 2014, Sause worked in sales roles in the United States, commercial operations in Asia and country leadership in Ireland. In the pharmaceuticals division from 2014 to 2019, he was president of country operations in Peru and Korea before becoming vice president for Roche's cancer medicine Tecentriq in San Francisco, part of the company's Genentech subsidiary.
"We are very pleased to have gained a highly experienced leader in Matt," Thomas Schinecker, CEO of Roche Group's diagnostics division, said in a written statement. "He brings deep understanding of diagnostics in unique combination with many years of commercial leadership in pharmaceuticals.
Sause earned a bachelor's degree in microbiology from Miami University in Ohio and an MBA from the University of California at San Diego.
Roche, based in Switzerland, employs about 3,000 people on its large campus at 9115 Hague Road on the city's north side. It makes machines and software to help physicians, hospitals and laboratories analyze data and diagnose patients, along with machines and test strips for diabetes patients.
Please enable JavaScript to view this content.