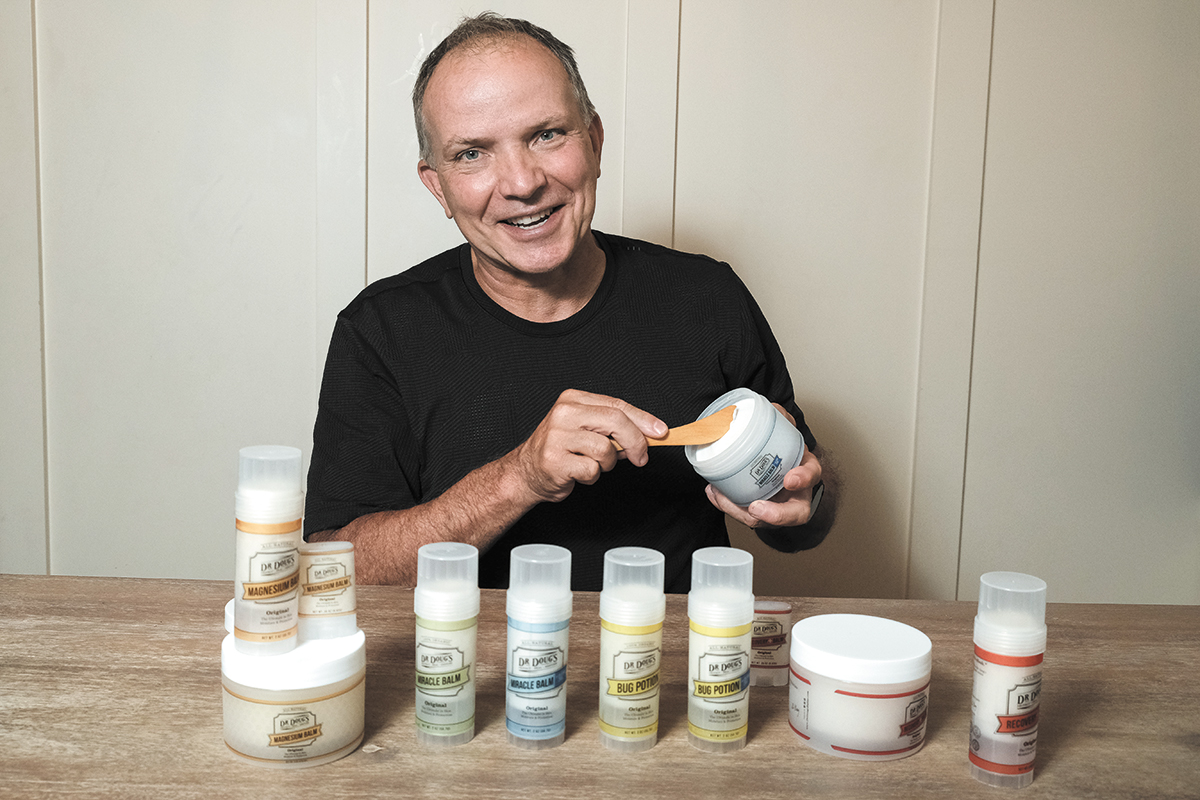 Douglas Strobel describes himself as a bit of a mad scientist.
A lifetime athlete and neurologist for nearly 20 years, the Carmel resident has created an organic, anti-bacterial balm that treats everything from itchy, dry skin and eczema to migraines and joint pain.
Strobel, a Marine and Navy veteran, works at Community Hospital East by day, but after hours and on weekends, he can be found training and competing in adventure and ultra-distance events. A 20-mile run in the woods is a warmup for Strobel.
All that training and competing left the 57-year-old with a few aches and pains. When he couldn't find the right ointment to sooth those aches, he made his own, and Dr. Doug's line of balms was born.
IBJ talked to Strobel about his journey, which started with concocting balms in his kitchen.
What gave rise to Dr. Doug's Miracle Balm?
The short version is, I had tried a lot of different products and nothing quite worked. I made it for myself, to solve many of my problems. I wanted something with a beeswax consistency. I tinkered with it. I tried one ounce of this and one ounce of that. My trail family used it, too, and asked where I got it. I told them I didn't buy it; I made it.
How did you get into endurance and obstacle racing?
My daughter invited me to an event, and then she backed out. So I went with my cousin, and was hooked. My daughter has since joined us, and we now call our group the Balm Squad. I started with a Spartan (obstacle race), then read about 24- and 36-hour races and decided to try that. I just really enjoyed it. I like the races now that have a puzzle-solving element to them.
When did you create Dr. Doug's Miracle Balm?
2015. An LLC for Dr. Doug's Balms was formed in 2016.
How has your product line expanded?
We listen to our customers. A dermatologist suggested we add zinc to the original balm for sun protection. A friend asked about adding lemongrass as a bug repellent. I thought only runners would use this. Dr. Doug's Balms now treats everything from eczema and stretch marks to migraines and diaper rash.
What are your sales outlets?
A couple of physicians' offices, a couple of local outlets: Salon01 in Carmel, 8Fifteen in Broad Ripple and Green Apple in Zionsville. It's also sold on Grommet, Amazon and our website.
How are sales?
We have grown 30% in each of the last two years. There's been a lot of organic growth, word-of-mouth and referrals. We grow from person to person to person.
Dr. Doug's is a veteran- and women-owned business. Tell me about that.
I served in both the Marines and the Navy before I started medical school at the University of Texas Health Science Center in San Antonio. The military helped pay for my undergraduate degree in genetics at Texas A&M. I met my partner, Natalie Gardner, in 2014 through a mutual friend. I am Dr. Doug, but Natalie is Dr. Doug's. She is the company's heart and soul, the one who really saw the vision for what it could be. I'm just a dabbler, a mad scientist of sorts. Natalie has high standards, knows what she is looking for, and is the driving force behind the product line.•
Please enable JavaScript to view this content.