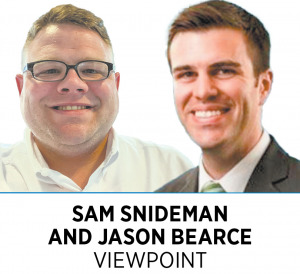 If you could earn at least $4 on a $1 investment, it would be easy to invest, right?
Indiana lawmakers should take note that there is such an investment available, and it would improve the quality of life for Hoosier families while positively impacting our economy.
Hoosiers are fortunate to live in a state where our lawmakers have a proven record of responsible stewardship of resources. Increasing Indiana's investment in early care and education is one of the most efficient moves we can make that has the added benefit of helping children and families.
Strengthening access to quality and affordable early care and education could prevent child care disruptions that, pre-pandemic, cost Indiana employers nearly $1.8 billion per year. A report from Indiana University Public Policy Institute also found the state lost more than $1.1 billion in economic activity and $118.8 million in tax revenue annually due to a lack of stable child care.
A lack of child care makes it harder for Hoosier parents to work. More than 12% of Indiana's moms and dads report making career sacrifices due to child care concerns. In Hoosier households with a single parent—more than a third of our parent population—reliable child care is an even bigger barrier to a parent's ability to take the next career step or get a degree.
Expanding On My Way Pre-K, a state-funded program that provides access to high-quality pre-K programs for low-income Hoosiers, is one important way our state can help families. This program encourages parents to pursue work and education that can offer their family a more stable financial future while offering our youngest Hoosiers the educational opportunities they need to thrive. And we know that early childhood is a critical time for development: 90% of a child's brain growth happens before their fifth birthday.
There is legislation this session that would expand access and maintain quality in early education programs. By removing a local match requirement for On My Way Pre-K as proposed in legislation passed by the House, we can ensure that Hoosiers across the state—not just those living in affluent areas—have access to child care.
Additional legislative language this year would increase the maximum award families can receive to fund early care. This is a desperately needed advance, as the average annual cost of high-quality care for one infant is $12,000, comparable to one year of tuition at Indiana University.
A lack of affordable child care is a lack of opportunity. Parents who can't afford child care are often forced to forgo education and career opportunities that could create a more financially stable future.
Indiana lawmakers, we are counting on you to remember that one of the best ways to strengthen the Hoosier economy is to help Indiana's parents access high-quality care for their young children. We are all in this together to create a better future for Hoosier families and employers.
Fellow Hoosiers, we urge you to contact your state lawmakers to voice your support.•
__________
Snideman is vice president of government relations at United Way of Central Indiana. Bearce is vice president of education and workforce development at the Indiana Chamber of Commerce.
Please enable JavaScript to view this content.