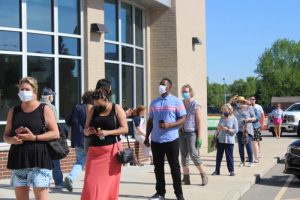 Voters in Marion and Hamilton counties, home to a contentious race for Indiana's 5th Congressional District seat, saw long lines and social distancing on Tuesday at polling places for the state's primary election.
But every location wasn't busy, at least early in the day. For the first few hours, voters at three locations in the district—Fall Creek Valley Middle School and Mary Castle Elementary School in Marion County, as well as Trinity Church off Allisonville Road in Hamilton County—did not experience the long waits or frustration that some voting-rights advocates feared as state and local election officials grapple with the challenges of voting during the COVID-19 pandemic.
Barb Tully, a volunteer with the nonpartisan Election Protection project, visited the three voting sites Tuesday. She wore a black and white shirt with a number for the project's hotline, which voters can call to ask questions about the voting process and register complaints.
Tully said her primary role Tuesday is to educate and observe. She welcomed voters as they began countering longer lines later in the day, giving them details about wait times and new protocols that have emerged in the wake of the pandemic, like social distancing and sanitizing stations. She also chronicled big questions from voters—many voters, she said, didn't realize Marion County is now a vote center county, allowing voters to visit any polling site to cast their ballots.
By mid-morning Tuesday, Tully, while standing beside a growing line at Mary Castle Elementary on the north east side of Marion County, said she was "impressed" with how the county had adapted to the changes. She also was surprised by the turnout—something not typical in most primary elections, even during presidential races.
"We've seen a steady stream of people all morning, which is a good sign," said Tully. "We don't usually see this kind of turnout in primaries."
Because of the difficulty in finding poll workers during the pandemic, Marion County consolidated hundreds of polling sites into only 22 locations. Counties across Indiana also consolidated sites.
Even with the consolidation, though, Tully said there's an added benefit to having fewer voting sites: It allows county election staff to work more closely with poll workers and volunteers, keeping a handle on the usual problems and new uncertainties during the pandemic.
Outside of her role with the Election Protection initiative, Tully also is a voting rights advocate involved with Indiana Vote By Mail, which promoted mail-in voting in response to concerns about how a public health crisis might affect voter turnout.
Lance Bean, 65, voted at Mary Castle Elementary School on the northeast side of Marion County. He wore a blue surgical mask to protect himself, he said, but he's not afraid of the pandemic.
"We have the freedom to vote, and we ought to do it in person," Bean said. Several people in line behind him to shouted "amen" in agreement.
Bean said he's not opposed to voting absentee. But he prefers—and finds more security in–voting in person.
Audreia Rice, a 36-year-old cleaning business owner in Indianapolis who voted at Fall Creek Valley Middle School on Tuesday morning, agreed. She said she owes it to her ancestors and to history to vote in person, where she feels her voice is guaranteed to be heard.
Rice also pointed out efforts by polling sites to protect public health. At Mary Castle Elementary School, for example, poll workers clearly marked six feet of distance with chalk "x" marks to guide the growing line at the school's entrance. Poll workers at many locations also provided voters with personal protective equipment, or PPE, such as masks and gloves.
"They are providing masks and sanitizer, which is great," Rice said. "I don't feel it's a threat," she said about the ongoing public health crisis.
Tully said she expects the main frustration for voters could after noon, when absentee ballots were due across the state. If voters arrived with an absentee ballot after the noon deadline, they were no longer able to submit it and had to wait in line to vote in person.
At the Bainbridge Town Hall in Putnam County, 77-year-old Loretta VanSickle showed up to vote. Though voters were offered a mask, Vansickle declined, and checked in to cast her ballot.
"I feel like if someone's sick, the Lord will protect us," VanSickle said of why she wasn't wearing a mask. She chose to vote in person, she said, because "I just think the absentee [voting] can be rigged or misplaced … I don't trust it."
Workers at Bainbridge didn't seem all that worried, either, as only those checking in voters and cleaning machines wore masks. Every machine was wiped down after each use and the hallway leading into the main voting area was marked so voters would remain six feet apart.
Putnam County has fewer voting precincts than in past years because, as in many communities, local election officials had trouble recruiting volunteers to work the polls. This primary, there were three polling centers, down from a high of 31 a few years ago and eight last year.
In Harrison County, a handful of voters were already in line at 6 a.m. to cast their ballots in Blue River Township where two precincts had been combined into one. There, workers cleaned machines, wiped off the pens used for voting between each voter and helped everyone maintain a safe distance to avoid exposure to the virus.
At 6 a.m., an election inspector called out, "Hear ye, hear ye, the polls are now open." Her audience was three young men dressed in boots and work attire as well as a flock of chickens across the road.
By 12:30 p.m., 128 people showed up to vote in person while another 115 absentee ballots were cast in the days leading to the election.
Reporters Taylor Dixon and Isaac Gleitz contributed to this story. TheStatehouseFile.com is a news website powered by Franklin College journalism students.
Please enable JavaScript to view this content.