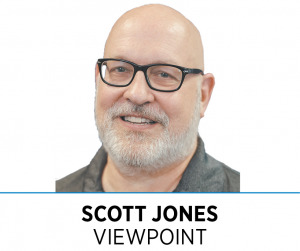 Intel's recent Ohio expansion announcement might discourage leaders outside the Buckeye State about our own abilities to attract these huge investments with massive benefits for residents. But for this Hoosier, who has been on the front lines of remaking our economy, all I see is opportunity.
It is clear to me that this recent news is a huge win for all of us here in the Midwest because it represents a paradigm shift for the tech industry, and therefore presents a classic "fast follower" opportunity for Indiana. Our region is not just flyover territory anymore.
Indiana possesses all the ingredients to propel us toward a new economy. Indiana Gov. Eric Holcomb and his economic development team have uniquely positioned our state with a progressive business and tax climate. I steadfastly believe we are on the brink of creating an environment and a workforce that can compete.
My career has focused on deeply pursuing "best in class" transformative ideas that change people's lives, including voicemail, music on devices, smart digital assistants, autonomous vehicles, syncing Indiana's time and the primogenitor of TechPoint. A great idea doesn't happen overnight, and failures are part of what makes ultimate success so sweet.
That is why I'm not as disheartened as some who might think our state is falling behind. My resolve at pushing forward is buoyed by my experiences. So how do we get there?
We must continue to work together to upskill and reskill our workforce to support the new economy and provide current and future Hoosiers with a quality of life they can appreciate.
That is why I created Eleven Fifty Academy seven years ago. This not-for-profit is an immersion program that rapidly trains, or retrains, professionals for jobs in the globally rocketing tech industry.
We teach not only the language of tech but also how to work within teams to solve complex problems and manage teams for innovation and support of high-value businesses of the new economy.
The academy rapidly builds a workforce of software, IT and cybersecurity experts, innovators, entrepreneurs and leaders who are prepared to enable Indiana's future. To date, with partial investment from the state, the academy has produced more than a thousand tech graduates just in the past two years. Likewise, the academy's graduation rate exceeds 80% and exceeds an equally impressive 70% placement rate into jobs that are paying more than $65,000 in starting salary. With this training, most of these graduates will likely earn a million dollars in compensation within a decade.
Our accomplishments, and those of similar organizations, have garnered the attention of state government, higher ed and employer partners, who all share an interest in preparing us for the increased demands of the tech industry.
I support state funding to rapidly help more Hoosiers benefit from these proven programs. Our academy has been incorporated into the majority of the Regional Economic Acceleration and Development Initiative grants and into the Accelerate Indiana innovative student-funding program.
Higher education institutions, such as Ivy Tech Community College, Vincennes University, Wabash College and Martin University, among others, have realized significant benefits in partnering with us.
One thing is for sure. It will take all of us to transform our workforce for what lies ahead. We welcome others who share our enthusiasm. Let's make sure an Intel lands here, too. Opportunity knocks.•
__________
Scott Jones is founder, chairman and president of Eleven Fifty Academy.
Please enable JavaScript to view this content.