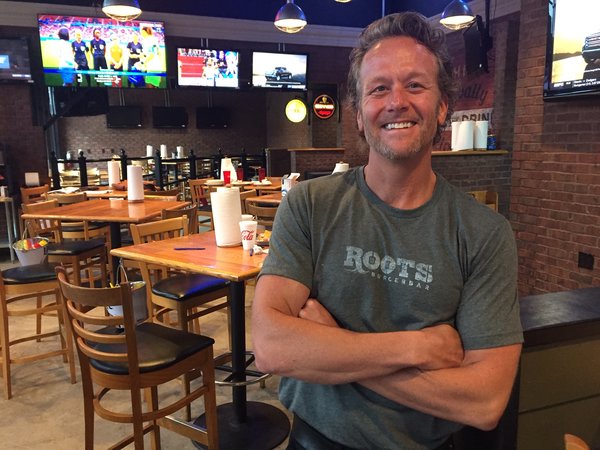 Restaurant owner Scott Wise, who grew Scotty's Brewhouse to a chain of nearly 20 locations, is planning a third site for his Roots Burger Bar concept—the first location in Indianapolis.
IBJ reported in September that Wise was leading an ownership group that had secured a 2,500-square-foot space in Carmel for the second restaurant under the Roots umbrella. The original Roots opened in 2019 in Muncie.
Wise told IBJ on Wednesday that a third location is now slated near the intersection of 71st Street and Binford Boulevard in Indianapolis.
Wise isn't, however, looking ahead to a fourth Roots location, saying he's committed to his day job as a retail real estate broker for the Indianapolis office of Dallas-based CBRE.
"I really love what I'm doing," Wise said of helping owners of restaurants, breweries and retail stores open businesses.
Wise began his real estate career after selling the Scotty's Brewhouse chain in 2016. Scotty's Holdings filed for Chapter 11 bankruptcy protection in 2018, when the restaurant chain closed its downtown Indianapolis, Carmel, Muncie and Waco, Texas, locations.
Ball State University alum Wise said the first Roots restaurant, which opened in the same Muncie building that housed the original Scotty's Brewhouse 23 years earlier, stands as proof that he can repeat an earlier success.
He remembers telling investors in his Esports Restaurant Group that he didn't intend to replicate the scale of Scotty's Brewhouse.
"'I don't want any of you to think that I'm going to grow another chain of restaurants,'" Wise said. "I love the business enough that I want to get back into it, but I want to get back into it in a way where I'm just overseeing from afar."
In Phil Wills, who owned Muncie's Dill Street Bar & Grill from 1993 to 2015, Roots has a general manager who guides the Muncie restaurant, 1700 W. University Ave., and will guide the Carmel and Indianapolis restaurants.
The Carmel location, 12552 Gray Road, previously was home to Some Guys Pizza Pasta Grill. The Indianapolis location, 5711 E. 71st St., previously was home to Madera Tex Mex BBQ & Tap.
Wise said he's eager to bring a "cool, family-friendly burger bar" to a part of Indianapolis where dining options presently include Blind Owl Brewery, George's Neighborhood Grill and Ramen Ray.
He's not soliciting suggestions of other neighborhoods to enhance.
"This is the final iteration, I think, of Roots," Wise said.
Please enable JavaScript to view this content.