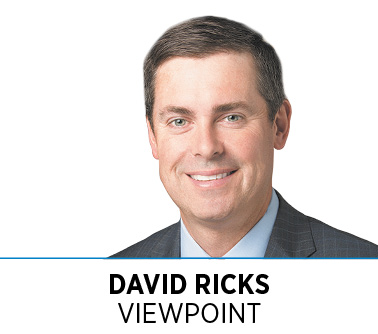 I'm a backpacker and an Eagle Scout whose idea of a good vacation is walking up a mountain. It's gotten me into a few sticky situations over the years—like staring down a food-stealing bear or outrunning a forest fire at Yellowstone National Park.
You survive by planning for challenges, working together with your group—and learning that you're capable of a lot more than you think. These are important lessons for life and business that I first learned as a Boy Scout more than four decades ago. I still draw on them every day in leading a global company with more than 30,000 employees around the world.
My experiences as a scout inspired my passion for the outdoors, but so much more. Scouting changed my life by instilling enduring values of servant leadership and self-determination.
The Boy Scouts of America has seen its share of negative headlines over the last few months, and some critics call the movement antiquated or untrustworthy. For those of us who gained so much from scouting, these criticisms don't match our own experience—or that of the tens of millions of American kids, including both my sons, who have participated in scouting over the last 119 years. While there might have been issues in certain units, my experience was supportive and positive.
Our communities need institutions like the Boy Scouts of America that instill core values in our youth. Scouting teaches the importance of being trustworthy, loyal, helpful, courteous and more. Scouts learn the importance of understanding and valuing diverse perspectives, which has never been more important in our society or in business. My exposure to these ideals began as a scout, and over my career, I've found them essential for my success.
To develop the leaders of tomorrow, we need places where young men and women can grow outside of school. So many youth-focused activities are centered on competition—competition against other youth, other teams, other communities.
Instead, scouting fosters self-determination and self-discipline. It helps kids learn that their achievement and success lie in their hands, and in their ability to work with others. That's a lot more like the real world, where doing your best and working as part of a team are often more important than just beating the other guy.
Leadership development is central to the scouting experience, and I know of no other youth organization where kids have the opportunity to independently lead their peers the way they do as scouts. (At older ages, boys—and now girls—lead their troops, leaving adults to serve in support roles.) That fosters a servant-leadership mindset, accountability to the team, and the opportunity to learn and grow from mistakes.
Across our society, we see the fraying of civility and civic responsibility. Our discourse seems to embody an unhealthy "you have to lose for me to win" attitude. Scouting encourages responsible citizenship and service to our communities beyond self. Civic-mindedness is a trait often praised in business leaders. If it's instilled during childhood, the commitment to serving your community and others is much more likely to endure.•
__________
Ricks is chairman and CEO of Eli Lilly and Co.
Please enable JavaScript to view this content.