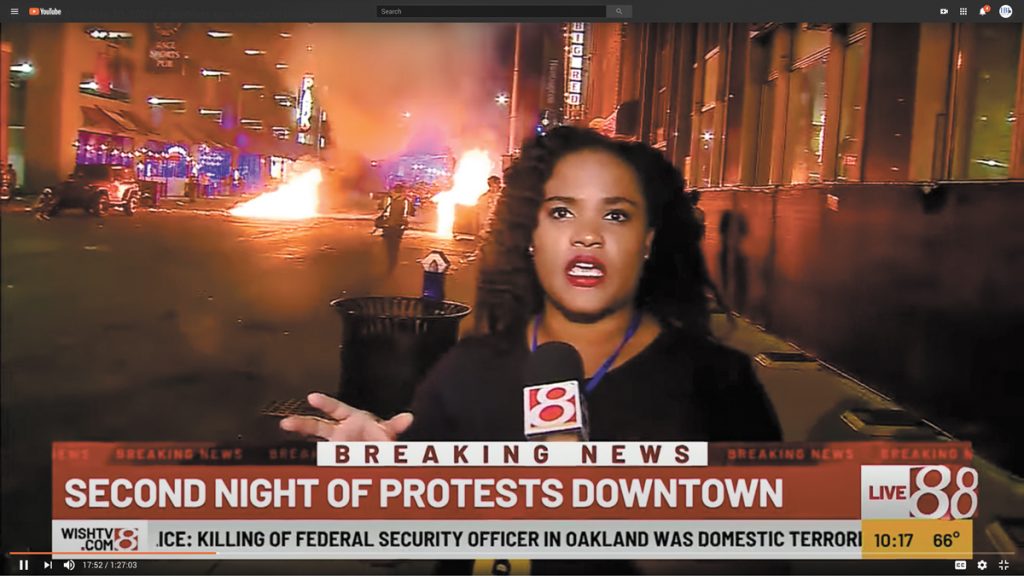 Weeks like this are the reason DuJuan McCoy bought WISH-TV Channel 8 last year. Not because of the chaos that took place on city streets—he hates that—but, he said, for the opportunity to keep the community informed.
So on Saturday night, when violent protests broke out over the deaths of George Floyd in Minneapolis and Dreasjon Reed in Indianapolis at the hands of police, WISH was there live. On Sunday, when Mayor Joe Hogsett announced plans to institute a curfew, WISH was there live. When protesters walked peacefully to the Governor's residence on Monday, WISH was there live.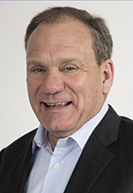 "This is something that matters to me personally," said McCoy, an Indianapolis native who graduated from Butler University. "Being an African American male, this is something that is a social issue that doesn't seem to go away. So as an African American owner, it's important for me to take special interest and do my part in the in-depth reporting of what's going on there."
WISH usually has one crew on Saturday nights, but on May 30, it had four. WISH went live outside its normal newscasts more than any other station—which is easier for it to do than any other station because it lacks a major network affiliation—capturing such mayhem as the bashing in of windows of the Huntington Bank branch and National Bank of Indianapolis headquarters on North Pennsylvania Street. At one point, WISH reporter Travis Robinson was near tears, saying, "I'm a little scared, honestly."
McCoy said that, for him, the highlight of WISH's coverage was not any particular interview or piece of video but "the sense of urgency, that I had employees who wanted to participate and wanted to cover the story and wanted to get in the mix of it all to promote and provide great coverage for the city."
McCoy was in Texas at the time, but he said once it became clear that the protests were going to become a huge story, he called News Director Al Carl and asked to be kept in the loop.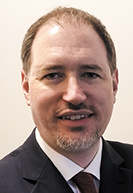 Carl not only kept him in the loop but ended up reporting part of the story live on the air—an extremely rare occurrence for a news director—when one of his reporters got separated from the crew.
Carrying a backpack equipped with water, milk (to flush pepper spray from his eyes), towels, backup batteries and phone-charging equipment, Carl found himself in the middle of the commotion at Pennsylvania and Ohio streets.
"There was a lot of activity, from banks being broken into to the fires being started, cars driving up and down the street at a high rate of speed, [police] cruisers driving everywhere, tear-gas canisters going off all around us," he said. "I got hit by tear gas seven or eight times."
WISH diversity reporter Katiera Winfrey, an Indianapolis native who joined WISH in November and also was covering the violence, said Carl's presence in the middle of the fray was inspiring.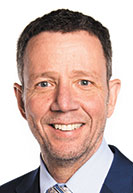 "In 10 years of reporting, I have never seen a news director outside of the office that wasn't a meet-and-greet or something," she said. "For him to be out there at one of the most [historic] times when it comes to protests in our city and then to get on camera and report, I know for us as reporters under him, we're like, 'Wow.' If he's willing to do this, we can come out here and make it work."
WISH's coverage earned kudos from the community. John Kesler, chief operating officer for "The Bob and Tom Show," was one of the viewers moved enough to send the station an email.
"I'm really impressed with the efforts they're going through in their news coverage," he said. "It's hands down, far superior to the predominant leaders of the past."
'A tragic night'
Lee Giles, who ran the WISH newsroom for 35 years before retiring in 2003, said he missed the late-night coverage but flipped among the three morning shows Sunday on WISH, WTHR-TV Channel 13 and WXIN-TV Channel 59 and thought "they all did a reasonably good job under the circumstances."
But he remains loyal to WISH. "It's still my favorite local news station. I have to say WISH is doing a very good job. I like their people; I like their approach."
CJ Hoyt, news director for Fox affiliate WXIN and CBS affiliate WTTV-TV Channel 4, both owned by Nexstar, praised the work WISH has done but said his crew deserves accolades, too.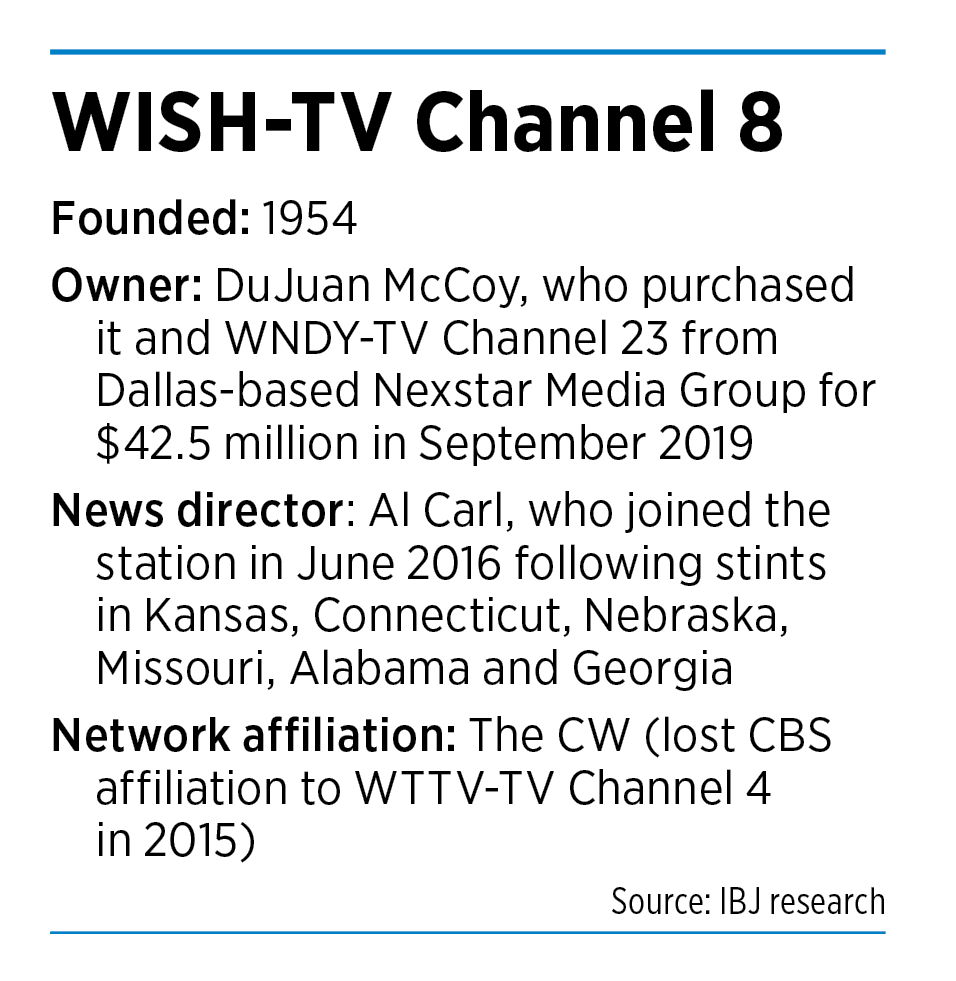 WXIN, which airs 65 hours of news a week (WTTV airs another 25), stayed live from 10 p.m. to 12:30 a.m., when the station decided to get its people out of harm's way.
"They knew the story was important and they did whatever they could to bring that to viewers," he said.
"It was certainly a tragic night [with three people shot and killed that night in separate incidents] and we felt we needed to be on the air and letting people know what was happening. We did as much Saturday night as anybody did, and that was probably the biggest news night this city has had in a long, long time."
Unusual approach
In the eight months since McCoy bought WISH and sister station WNDY-TV Channel 23 from Nexstar for $42.5 million, WISH has aired commercial-free symposiums on crime and COVID-19 and rolled out plans to cover the state Democratic and Republican conventions. (McCoy said he's about to announce that partner affiliates in Evansville, Fort Wayne, Terre Haute and West Lafayette also will broadcast WISH's convention coverage.) When the pandemic hit, McCoy teamed with Indianapolis Public Schools to air two hours of lessons for students in grade K-8 over WNDY.
"As a local owner and operator, it's my responsibility to give back to this community by using the gift of the airwaves I'm so fortunate to have," he said.
In March, WISH announced a deal with WHME-TV Channel 46 in South Bend to broadcast more than 60 hours of live News 8 broadcasts each week. (WISH airs 78 hours of news a week.) McCoy said that, in the next couple of months, he expects to announce that WISH news will air in two more Indiana markets.
"My goal with WISH-TV is to make it not only a statewide broadcast news network but to make it the local TV station of choice for viewers in central Indiana," McCoy said. "The way you do that is to do what we did this weekend and have been doing for the last eight months."
Big setback
WISH has largely been an also-ran in TV news since losing its affiliation with CBS to WTTV in 2015. Currently, WISH is affiliated with The CW, a minnow of a network compared with the big four: CBS, ABC, NBC and Fox.
Not being affiliated with a major network makes it easier for WISH to cut away from regular programming when news breaks, but "it's extraordinarily difficult to [compete] without one of the big three or big four networks to provide a good lead-in and promotion platform—particularly in the late news," said Rick Gevers, an Indianapolis agent who represents on-air talent and closely monitors local news.
In addition, WISH is not carried by several systems, including AT&T Uverse, DirecTV and YouTube TV.
Gevers watched the weekend coverage of the mayhem downtown, but because he has DirecTV, he didn't see WISH.
The ratings on Saturday night show the challenges for WISH. At 10 p.m. Saturday, WXIN averaged a 6.0 rating for the hour, compared with 1.8 for WISH. (A rating point equals about 10,000 homes.)
At 11 p.m., WISH had a 2.3 rating, beating WRTV-TV Channel 6's 2.0 but far below the 4.3 racked up by WXIN and WTHR-TV Channel 13.
At 11:30, when Channel 6 and Channel 13 went back to regular programming, WXIN averaged 4.2; WTTV, 2.0; and WISH, 0.8. WRTV and WTHR came back at 12:15 to carry a live press conference by Indianapolis Metropolitan Police Department Chief Randal Taylor. For that quarter hour, WRTV's rating was 0.4, while WTHR's was 1.8.
Gevers said he's been impressed by what McCoy has done since buying the station—adding reporters to cover diversity and medical issues as well as entertainment and buying new cars. But the question then is: If WISH is doing good work but people don't see it, does it make a sound?
Carl said his and his staff's job is to tell compelling stories, regardless of the number of viewers watching.
"We're going to do the level best we can if we're on every system or no system," he said.
And he said McCoy shares that mindset.
"DuJuan has been a breath of fresh air," he said. "He has doubled-down on a commitment to local news like no one else has. At a time when a lot of television stations are cutting back on the amount of local news they do, we're doing more. At a time when a lot of local stations are putting less emphasis on specialty reporting, we're doing more."•
Please enable JavaScript to view this content.