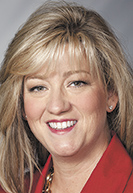 Indiana Secretary of State Holli Sullivan, who was appointed to her position by Gov. Eric Holcomb in March, announced Monday that she plans to seek the Republican Party's nomination to run for position in this year's general election.
Sullivan was named to replace outgoing Secretary of State Connie Lawson, who announced in February that she would retire after 32 years in public service.
"As Secretary of State I know how much is at stake," Sullivan said in written comments. "I'm running because safe and secure elections is not a destination. It is a relentless pursuit to ensure that all eligible voters are able to cast a ballot and all legal votes are counted in a timely manner, free of fraud, corruption and interference."
Prior to becoming Secretary of State, Holli Sullivan served in the Indiana House of Representatives for eight years where she worked with the Secretary of State's office to pass legislation to protect Indiana's elections, including authoring the bill that provided funding for critical local cybersecurity improvements in time for the 2020 elections.
Sullivan said she wants to work to cut red tape for businesses and fight to protect Hoosiers' hard-earned money through the office's other divisions. She oversees the chartering of new businesses, regulation of the securities industry, commissioning of notaries public, registration of trademarks, and licensing of vehicle dealerships throughout Indiana.
The Republican nominee will be chosen at the Indiana Republican State Convention in Indianapolis on June 18. Others who have announced they are seeking the nomination are Diego Morales and Kyle Conrad.
Please enable JavaScript to view this content.