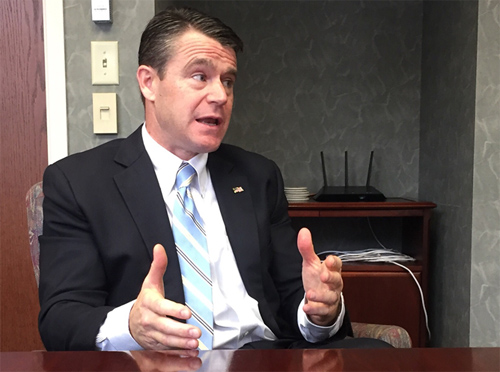 U.S. Sen. Todd Young, a Republican from Indiana, has announced his reelection campaign.
Young, 48, had widely been expected to seek another term in 2022 and made it official on Twitter on Tuesday morning, saying "more work remains" to be done.
"When you entrusted me with the honor of serving you five years ago, I swore an oath to defend the Constitution," Young said in a video posted to Twitter. "I also pledged to you that I would work on behalf of all Hoosiers to deliver conservative results. I believe I've lived up to my oath and kept my word, but more work remains."
I'm proud of everything conservatives accomplished these last few years… but more work remains. I'm running for reelection to see that a conservative vision becomes reality for the next generation of Hoosiers. I hope you'll join me. pic.twitter.com/hUvYwVL9l6

— Todd Young (@ToddYoungIN) March 2, 2021
Young defeated Democrat Evan Bayh, a former governor and senator, for the seat in 2016—a stunning victory that surprised some political pundits at the time.
Prior to running for the Senate, Young represented Indiana's 9th Congressional District for six years. In 2010, he narrowly won a four-way Republican primary and then defeated Democratic Rep. Baron Hill, riding the tea party wave into Congress.
Prior to serving in Congress, Young worked as an attorney living in Bloomington.
He is a Naval Academy graduate, former Marine Corps intelligence officer and aide to former Sen. Richard Lugar.
Young enters his reelection campaign with a significant war chest. At the end of 2020, Young reported having nearly $2.4 million cash on hand.
No other Republican has announced plans to run. So far, one Democrat—Gary Human Relations Commission Executive Director Haneefah Khaaliq—has announced a campaign for the seat.
Please enable JavaScript to view this content.