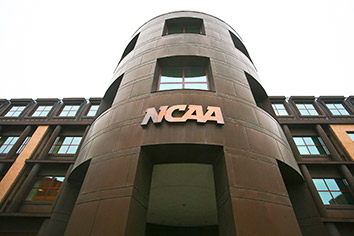 Warning of a looming threat to amateur sports, college athletics leaders urged Congress on Wednesday to take bipartisan action as states prepare to allow athletes to earn money from their names and personal brands.
But with only weeks before some state laws take effect, Senators appeared deeply divided over how quickly to act and what federal legislation should look like—leaving the Indianapolis-based NCAA potentially on its own as athletes, schools and conferences try to navigate a shifting landscape.
Amid mounting public and political pressure to grant college athletes more rights, the NCAA has struggled for years to grant "name, image and likeness" rights to athletes, allowing them to make money from autographs, sponsorships, licensing and other deals that leverage their popularity. In the meantime, more than twenty states have passed laws of their own. In five states, those laws will go into effect on July 1, potentially creating chaos for NCAA oversight and college athletic departments.
In Wednesday's hearing before the Senate Committee on Commerce, Science and Transportation, Republican lawmakers mostly spoke in favor of urgent legislation built to appease the NCAA and member colleges worried about the fallout from conflicting state laws.
"We don't have a lot of time," said Sen. John Thune, (R-S.D.). "We need to come up with something in fairly short order."
But Democrats made it clear they wanted to use the moment to pass a broad bill focused on colleges athletes' rights, with fewer concessions to colleges. Sen. Cory Booker (D-N.J.) urged lawmakers to use the bill to address gender equity, health care and athlete exploitation.
"Some people want to make this process as simple as possible and pass a narrow piece of legislation as the July 1 deadline comes that's a threat to sports as we know it," Booker said. "I'm saying we cannot do that."
Most state bills have passed with bipartisan support, with states jockeying to pass expansive rules that will allow them to more easily recruit athletes. But on a federal level, the proposition of bipartisan legislation is far trickier.
Senate aides involved in recent negotiations said Republicans and Democrats still remain far apart on key issues, such as athletes' scholarships and medical care, and the question of whether states should be able to pass laws that offer athletes more rights than federal legislation. Democrats see less of a time crunch than some Republicans, aides said, and are more willing to let conflicting state laws take effect without Congressional action.
At the root of the hearing Wednesday was the NCAA's own failure to pass rules that govern name, image and likeness. The organization's board of governors, which is made up of member colleges, has struggled for years to agree on what such rules would look like.
"It is disappointing that the Board of Governors chose not to vote on these rules," said Tennessee Sen. Marsha Blackburn, a Republican, said Wednesday of the NCAA's decision to table its latest proposal. "We're here because of an NCAA that cannot seem to make up its mind."
Mark Emmert, the organization's president, said at the hearing that the board was finally prepared to vote on standards before the next school year. But he warned that an NCAA standard would not alleviate the need for federal law.
Without Congressional action, he said, the patchwork of different state laws would "undermine the NCAA's model of amateur athletics," claiming that they would turn athletes into employees of an institution and spell the "end of nonrevenue sports."
Emmert and the NCAA are facing unprecedented pressure even beyond the issue of name, image and likeness rules. A major Supreme Court decision on the NCAA's ability to limit compensation for athletes is expected before the end of the month. And early results of an outside investigation into gender discrimination at its basketball championships, which also attracted Congressional scrutiny, will be released in July.
Please enable JavaScript to view this content.