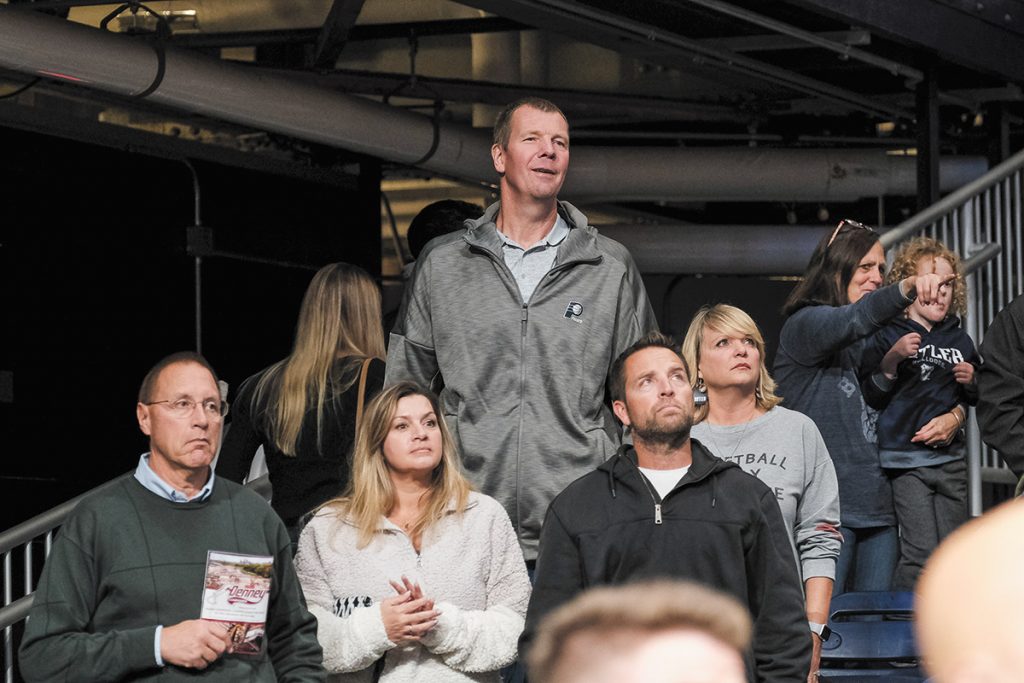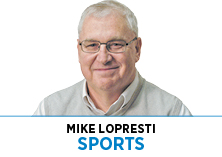 So here we are at Hinkle Fieldhouse, checking out the crowd before a recent Butler game and … wait, who's the big oak tree of a guy trying to fit into section 104, row 5, seat 1?
"I was hoping to get one with leg room. Someone got it before me I guess," he says. When you're 7-4, what's a fellow to do? Hinkle has tradition, aura, charm—but no recliners. Looks like Rik Smits will be taking a lot of walks to stretch his limbs this season. Yeah, that Rik Smits. The one who scored more than 14,000 points in 12 seasons with the Pacers. Remember the Memorial Day Miracle, when he beat Orlando at the buzzer in the 1995 Eastern Conference finals?
Anyway, after spending recent years in Arizona, he's back in Indiana, willing to endure polar vortexes, so he can see his son play one last season of college basketball. The son he used to muscle in family games, until he lost to him for the first time, and then things got really serious. Something you don't see every day: A father-son pickup game when it's 7-4 going against 7-1, no prisoners taken.
But we're getting ahead of the story.
Derrik Smits spent three productive seasons at Valparaiso—led the Crusaders in scoring and rebounding last year—but decided he could develop his game further at Butler. As a graduate transfer, he's a hard-to-miss Bulldog addition at 7-1, though knee issues have hampered his early play.
Rik was a familiar sight at Zionsville games back in Derrik's high school years. Now the connection is in Hinkle. Let's have father talk about son, and vice versa.
Derrik, on protecting the family brand …
"My dad values his reputation as being a nice guy and a humble person, so it's always been something he's stressed on me."
Rik: "It's very nice to hear that, but he needs to show a little meanness on the court."
Derrik: "I love him coming to watch me play. Our relationship is good regardless, but it's a big thing for him to be here. It means a lot more when he's in the crowd."
Rik, on whether it's tougher watching as a father than it ever was as a player, fighting Shaquille O'Neal for space in the paint …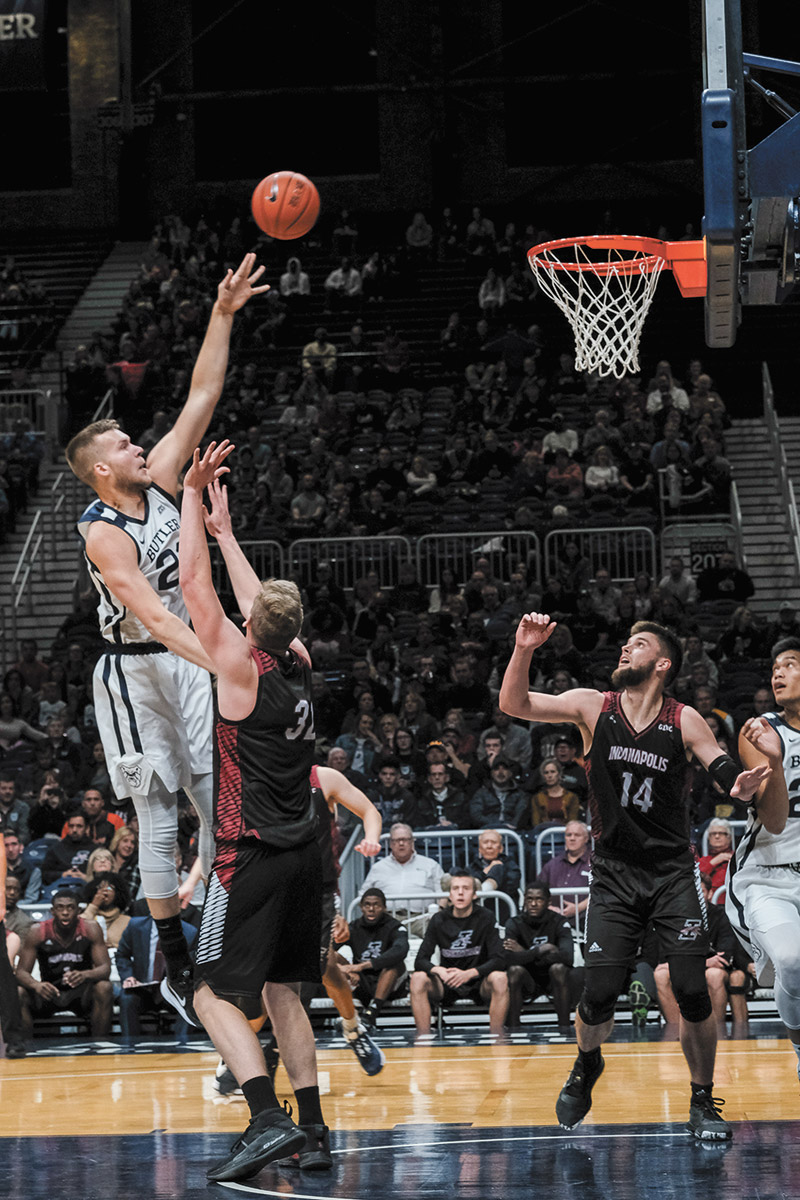 "No doubt, for many reasons. You sit there, if somebody beats on him that's hard to watch. If he's not doing good, it's hard to watch. If he's not giving a hundred percent, it's hard to watch. Sometimes it's frustrating, when you see he's got a little guy on him, and instead of just turning around and shooting over the little guy, he's trying to make some kind of a fancy move.
"It's a joy when he does well, and the team does well. If he doesn't do well, I take that pretty hard. It takes me three or four days to get over it and move on. Maybe I shouldn't be that way. I'm still competitive, and I want him to be as competitive as I am."
Derrik, on trying to earn his own identity, with a famous father …
"It's always going to be there, it always has been there, and it's just something I'm trying to work out on my own. Obviously, I love my dad, I love what he's done for me, but eventually it'd be nice to be known for you, and not your father."
Rik: "The thing I learned, you can't throw too much at him at once. I went through the same thing. The Pacers brought out Bill Walton one year to teach me some stuff and he was so full of knowledge. I was so overwhelmed by all the stuff he showed me, I had to take a step back and say, 'alright, I'm going to take one thing, work on it and perfect it, and then move on to the next thing.' That's the same with Derrik."
It's been a lifelong tutorial on basketball, between father and son. But you know how it goes with kids. "Sometimes he listens," Rik says, "sometimes he doesn't."
Derrik was 3 years old his father's last season, so he doesn't remember the Pacer days. He's seen the tapes, especially enjoying Rik's behind-the-back pass in the NBA All-Star Game.
Derrik: "I think it showed how much he loved the game, how much he enjoyed the game, even though it was his job."
Rik on his son's chances to be a pro one day …
"It's all up to him. I think he's got the talent and the body for it, but he has to be a gym rat. He's a very smart kid so I'm not worried about him in the future, but he told me he wants to make a living at this, and he's going to have to work hard.
"I was a real shy kid growing up, made fun of in the Netherlands because of being tall, so I didn't have a lot of self-confidence. That grew by leaps and bounds once I got to college. It seems like he's confident, but I don't know if he always is. With me, even later on in the pros, when we had Larry Brown as a coach, he figured out, 'if we can get Rik going early in the game, he's going to have a good game.' So he had a rule for awhile, the first five plays had to go through me. A lot of times when I got a couple of shots up, my confidence grew and I had great games. I think he's probably a little bit like that, too."
About those family games. Anyone remember the first day that son beat dad?
Derrik: "I actually do. I was probably 13, 14. I beat him one time and it was a game I shouldn't have won. So the next year I got a whole bunch of games where I got my butt kicked, until I finally could start beating him again."
But no trash talking, right?
"Uh, no. I knew not to."
Rik: "Once he figured out that dad was too slow for him, he'd go back to the same move over and over. He'd drive me into the basket and use his quickness. After that I was having a tough time. There was a stretch once that he beat me and I thought 'I can't let that happen.' So for four or five years, he didn't beat me. Now he beats me pretty handily.
"It's almost like he feels a little sorry for me and he'll give me a chance. I'll tell him 'I don't want you to do that. Play your hardest every game. You've got to have that killer instinct.' He doesn't always have that. He's really a nice kid."
One last thing. The name. Derrik's mother wanted him to be Rik Jr. Rik said no. "I never liked that, so we compromised. Derrik. We used my name inside of his name. I'm OK with that."
Rik and Derrik and one more winter of college basketball. Cramped legs are a small price to pay.•
__________
Lopresti is a lifelong resident of Richmond and graduate of Ball State University. He was a columnist for USA Today and Gannett for 31 years. He can be reached at [email protected]
Please enable JavaScript to view this content.