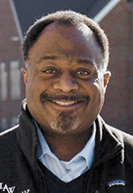 Abdul-Hakim Shabazz filed to run as a Republican for mayor of Indianapolis on Thursday morning, but the new candidate is already receiving backlash for a controversial approach he has proposed for dealing with the city's crime.
Longtime political pundit Shabazz filed to his paperwork about 11 a.m. after mulling the decision since about late September. In an interview shortly afterward at the City-County Building, Shabazz stood by a controversial column in which he proposed that the city let "bad guys" commit homicide against each other as a way to rid the city of criminals.
Earlier Thursday, minutes after Shabazz announced his candidacy on WIBC-FM 93.1's "Kendall & Casey Show," the Marion County Democratic Party sent out a statement condemning the candidate as "vulgar." It included a 2015 column for the Indianapolis Recorder in which Shabazz said an increase in crime would make the city a "self-cleaning oven" because "bad guys" will "take each other out of the gene pool." 
Shabazz said Thursday that "public safety, public works and public trust will be the three cornerstones of my campaign." He said stands by the eight-year-old column and is OK with homicides in Indianapolis if the victims are "bad guys."
"The bad guys want to kill each other, go right ahead," he said. "But try to do it in a way that keeps innocent people out of the way."
In discussing the column, Shabazz said it came out of a pattern he noticed of victim photos being mugshots.
"This is bad guy, shooting bad guy, which technically, I'll be honest with you, I don't have a problem with," he said. "However, the problem is when the bad guy shoots bad guy, an innocent person is caught in the middle."
The party also criticized a proposal on his site, which calls for creating zones around impoverished areas where people would be punished more harshly if they committed crimes than in wealthier areas of the city. 
He indicates that people in these areas are more likely to be victims of a crime and, therefore, harsher penalties would discourage potential criminals.
Shabazz called the Marion County Democratic Party "full of crap," and compared the concept to enhanced penalties for crimes against elderly or disabled individuals.
"All we're saying is if you live in a certain neighborhood, why should you be more of a victim of crime than anybody else?" Shabazz said.
The Democratic Party release also included a list of offensive statements Shabazz has made on Twitter and in a column dating to 2012.
On the list is an April 2014 tweet, Shabazz uses the term "homeycides" and says "not everyone is worth saving" from gun violence. Last year, Shabazz tweeted a photo that he believed to be of a dead body, and later clarified in a separate tweet that the person had suffered a drug overdose and deleted the photo.
In response to the party's statement, Shabazz said Democrats must be more concerned about what he wrote "10 to 14 years ago on Twitter than the 20-something-odd people that were killed in Indianapolis last month."
He told IBJ he has no intentions of being more cautious on social media now that he's running for mayor. 
He confirmed that his weekend WIBC show, "Abdul At Large," will go on hiatus starting this weekend, but said he would plan to continue to cover the Indiana Statehouse. He said he is "still figuring out" if he will cover the city of Indianapolis.
The the state chapter of the Society of Professional Journalists has previously criticized Shabazz's involvement in the Indiana Statehouse press while being a candidate himself. He reiterated Thursday that he's never been a "pure journalist."
Shabazz will face fellow Republicans John L. Couch and the Rev. James W. Jackson in the Republican primary May 2.
Please enable JavaScript to view this content.