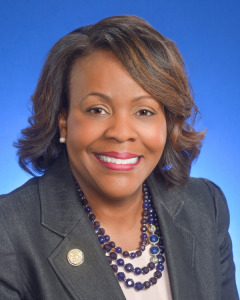 State Rep. Robin Shackleford, who has said she's pondering a run for mayor of Indianapolis, is scheduled to make an announcement Thursday.
A news release said the event would involve "an important announcement about her political future" and is scheduled for 12:30 p.m. at the Madam Walker Legacy Center.
Shackleford did not immediately respond to IBJ's queries about whether she planned to announce a mayoral run, setting up a potential Democratic primary election contest against incumbent Mayor Joe Hogsett.
Hogsett has not yet said whether he will seek a third term, but he has signaled that an announcement is imminent.
Shackleford, chair of the Indiana Black Legislative Caucus, has been critical of the mayor and has characterized the Marion County Democratic Party's slating process as discriminatory.
Earlier this year, she and other Black Democrats called for the resignation of Katie Sweeney Bell, the then-chair of Marion County Democratic Party who had Hogsett's support. Eventually, Sweeney did step down. 
For the past few months, Hogsett has said he was waiting to announce his political future at the end of the City-County budget process—which wrapped up in October—and after Tuesday's midterm elections.
Marion County Democratic Party spokesman Jeff Harris said Wednesday that Shackleford has not shared her intentions with party officials.
Shackleford told IBJ in early September that she was exploring a run for Indianapolis mayor. At the time, she said Hogsett's announcement regarding a third term would not impact her decision-making. "My candidacy will not depend on anyone else's candidacy," she told IBJ.
Shackleford led a group of Black candidates who refused to participate in this spring's Democratic slating. After the May primary, Hogsett called for an end to Democratic Party slating, a process by which candidates agree not to run in a primary if they are not the party's endorsed candidate. Hogsett expressed support for open primaries.
Shackleford was uncontested Tuesday in her race for reelection in Indiana House District 98. She's represented the eastern Indianapolis district at the Statehouse since 2012. Shackleford also has some city government experience: She worked for former mayor Bart Peterson, as well as in project management and lobbying.
The Republican supermajority at the Statehouse has prevented her from passing much legislation of her own. Earlier this year, she authored bills regarding health care, childcare, small business development and racial bias training in hospitals, but none passed.
If Shackleford runs for mayor and wins, she would be the city's first Black mayor and its first female mayor.
Please enable JavaScript to view this content.