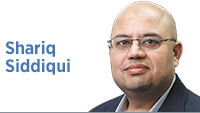 The world is a challenging place to navigate today. The problems we face as a community, state and nation and as global citizens continue to increase. Whether it is polarization, climate change, inequality, racial tensions or poverty, the world seems to have gotten worse rather than better. New forms of media have provided opportunity but have also made our challenges worse.
Through all of this, elected public policymakers seek to have problems solved without doing the work necessary to tackle meaningful challenges. Too many people point to philanthropy, not-for-profits and civil society to help resolve the problems, but they can offer only stopgap measures.
As amazing as philanthropy, not-for-profits and civil society might be, they are limited in terms of what they can do. While Americans give and volunteer a lot, this accumulated philanthropy is not enough to deal with the challenges our nation faces, especially at a time when government and elected officials seem to think they can solve more problems by doing and investing less.
Just as we cannot rely upon our elected officials and government to tackle the challenges we face, we also cannot rely upon charitable monetary giving alone. We must maximize our philanthropic assets by deepening and broadening our definition of philanthropy.
A recent report by the Muslim Philanthropy Initiative at the Indiana University Lilly Family School of Philanthropy, in collaboration with Islamic Relief USA, suggests that Muslims have broader definitions of philanthropy. The study shows that we should all broaden our definition of philanthropy to include intentionality, smiling, inaction to prevent harm or further good, and volunteerism.
This suggests that we might be better able to engage with a larger group of social-good actors if we think beyond monetary donations. Prior research suggests that engaging social-good actors in a more holistic way actually might lead to more monetary giving. For example, volunteers are more likely to donate than non-volunteers.
Broadening the definition of philanthropy requires intentional action by foundations, philanthropists and not-for-profits.
Foundations and philanthropists can provide capacity grants to their grantees to develop stronger social-good engagement programs. They can also fund more research to explore best practices in this broader embrace of philanthropy. Philanthropists should consider highlighting not just what they give but also the other ways they seek to do good. Providing examples that others can follow is just as important as giving funds.
Not-for-profits can create an intentional and professional engagement program. By deepening stewardship programs for donors and volunteer management programs, not-for-profits can harness more resources for social good to further their missions. Elected public-policy officials can also chip in by creating incentives and a reward structure for the non-wealthy to engage in philanthropy.
Imagine a world where people smiled more, were more friendly, were constantly thinking of ways their actions might be harmful and stopping those actions, and were constantly thinking of ways to do good. Imagine a world where we realized that self-righteous, do-gooder behavior had negative consequences.
The world can be a better place if we decide to make it better.
We can be overwhelmed by the enormity of the challenges and by our elected leaders' lack of courage and foresight, then watch the world get worse while we wait on someone else to take care of these problems. Or we can simply smile more, create less harm and have good intentions.•
__________
Siddiqui is assistant professor and director of the Muslim Philanthropy Initiative at the Lilly Family School of Philanthropy at Indiana University, senior fellow at the Center for Global Politics and founder of the Center on Muslim Philanthropy. Send comments to ibjedit@ibj.com.

Click here for more Forefront columns.
Please enable JavaScript to view this content.