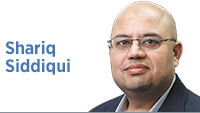 I had the privilege to be part of the planning and then attending the Faith and Philanthropy Summit in October at the Vatican.
It was hosted by Galileo Foundation, Jewish Funders Network and World Congress of Muslim Philanthropists. The event also included a Muslim Mini-Summit hosted by the same groups. The reflections and thoughts in this column are my own and comply with the Chatham House norms for the conversations at the Vatican.
I was inspired by the fact that, for the first time in a long time, there was a rich conversation and dialogue on how our faith inspires, informs, amplifies and furthers philanthropy. Far too often, discussions about philanthropy exclude religion or seek to think of it as tangential. It was refreshing to treat scripture as central to the conversations of social good. Giving scripture just as much importance as strategy is important as we seek to have authentic localized partnerships.
For far too long, religion has been demonized. Certain religions are demonized even more. These conversations illustrated that much of our giving by even the most secular-seeming philanthropists is centered on faith.
Scientific philanthropy seeks certainty and defaulting to the status quo, while faith allows us to be imaginative, innovative and willing to take social-good risks. In particular, I am inspired by the fact that conversations embedded in faith, scripture and religious practice generate a humility that is needed to genuinely be curious about how we can innovatively make the world better. It helps us realize that the things we own don't belong to us. We are simply stewards of God's property.
I worry that the institutions of philanthropy (not-for-profits and foundations) and their practitioner norms might inhibit us from dreaming of what is actually possible. Sometimes the challenges we face in our positions of leadership within a philanthropic and not-for-profit institution might actually inhibit us from truly dreaming of the impossible.
Conversations that are deeply grounded in faith and religion ask the honest question: Is the way we create wealth a problem that we might also need to tackle? Far too often, we have legitimized the creation of wealth through methods that hurt the environment, further inequality and create other challenges that require philanthropic intervention. Religious ethics tell us it's as important to think about how we create wealth as it is to think about what we do with it once we have it.
Consider the simple task of creating a religious endowment. In essence, the establishment of a philanthropic foundation should be seen as inherently good. However, taking this wealth out of the global system takes away money that would be taxed to cover the public good as chosen by a larger population than just the donor.
From an Islamic perspective, establishing a religious endowment (waqf) exempts this wealth from the Islamic practice of zakat (religious giving). Therefore, is creating this endowment or foundation good or bad? A person of faith would argue that it would be based upon the donor's intentions, which are known only to each individual and God.
Finally, I was inspired by the fact that the pope chose to meet 5,000 schoolchildren rather than meet some of the richest people in the world. While I was disappointed personally to not have been able to meet a person I admire greatly, it was a good lesson by the Holy Father that philanthropy is not just about the wealthy but all the faithful—especially our amazing children.•
__________
Siddiqui is assistant professor and director of the Muslim Philanthropy Initiative at the Lilly Family School of Philanthropy at Indiana University, senior fellow at the Center for Global Politics and founder of the Center on Muslim Philanthropy. Send comments to ibjedit@ibj.com.

Click here for more Forefront columns.
Please enable JavaScript to view this content.