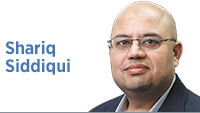 Since childhood, I have loved books, stories and movies about spies, especially stories that included intricate codes and cyphers. It always amazed me how people could communicate with each other in a way that only people who understood the code would understand.
But as I grew older, I realized that speaking in code was not just about fun or about spy novels. Speaking in code is an important feature of bigotry and racism.
Racism today is different than it was in my childhood, when children in my kindergarten class were told by their parents not to play with me because my skin was the color of poop. Or when, as an undergraduate, I was denied the resident assistantship and told that, as a foreigner, I wouldn't connect with white students in my dorm despite the unanimous support of the RAs interviewing me. It is no longer so overt.
Racism today is all about code. You say things couched in language that might be legally correct or socially acceptable, but the underlying meaning is simple—we don't want this different person. As an investigator for the Indiana Civil Rights Commission, I had the opportunity to see this code used often and learned to decipher it. This code drove me so crazy that I suggested that GOP primary voters support Donald Trump in 2016, thinking that, if he were selected, the GOP would have to confront the bigotry within the party that often was disguised by other politicians in policy-code. Little did I know that—rather than confront Trump's nativist, racist prejudice—they would embrace it.
Muslim Americans confront this code every time we try to build a house of worship; national and local opposition always comes roaring forward.
Many of the objections are not coded: "Islam is an evil religion," "We oppose the home of terrorists," "Oppose shariah law," etc.
But some opposition is disguised. "We oppose this because of traffic, drainage, parking space and character of our community." It has become such a problem that the Institute of Social Policy and Understanding (ISPU) provided research to help push back against public misconceptions. Muslim Advocates and the Council of American Islamic Relations actually have legal teams that specialize in this area of the law.
In most instances, the community overcomes opposition at the local level or wins in court. We saw this in Carmel, where, after much opposition, the mosque project was approved.
It is not surprising that I find it difficult to decipher the 0-3 Hendricks County Commissioners' denial of the Clermont Village rezoning application. Clermont Village is a project that includes a housing development, community center with prayer space, and a K-12 school. The denial overrules the plan commission's positive recommendation. The development has been subject to a bigoted online campaign that is rife with claims that the project is "evil," "will bring sharia law" and will have "underground bunkers and ammo/weapons room."
The commissioners denied the project after a three-minute hearing, citing "drainage problems." This is despite the fact that Hendricks County Plan Commission President Brad Whitaker explicitly stated in a Jan. 12 public hearing that stormwater was not to be considered at the rezoning stage. Furthermore, the developers had gone out of their way to resolve these issues by being proactive.
It is sad that the Hendricks County Commissioners are opening the county up to an expensive religious discrimination lawsuit that it will ultimately lose.
Clermont Village will bring over 100 doctors, engineers, academics and entrepreneurs to the county, adding to the cultural diversity but also adding to the income- and property-tax base. It is sad that we live in a world where bad code is becoming more prevalent.•
__________
Siddiqui is assistant professor and director of the Muslim Philanthropy Initiative at the Lilly Family School of Philanthropy at Indiana University, senior fellow at the Center for Global Politics and founder of the Center on Muslim Philanthropy. Send comments to ibjedit@ibj.com.

Click here for more Forefront columns.
Please enable JavaScript to view this content.