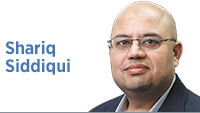 The recent police brutality and outcry of the African American community lays bare the systemic racism rooted in our institutions. The pandemic has revealed the vulnerability of our economy. Hundreds of thousands of Hoosiers are losing their jobs, unable to pay their rents and weathering the storm without health insurance. It is past time we start addressing the elephant in the room and elect public servants who will fight for a more racially, socially and economically equitable state.
Public policy is at its best when it is the result of engaging with those the government seeks to serve. Exclusion of minorities can be intentional (gerrymandering, voter suppression, discriminatory laws) but may also be unintentional.
A part-time legislature lacks the resources to engage with more diverse audiences that exist in the state. Most legislators sacrifice a great deal to complete their service while also trying to make a living and raise families. For many, their time at the Statehouse is where they can hear more diverse voices. But is the highest legislative body in Indiana diverse enough?
A simple review of our Legislature shows that we have 16% female legislators, 4% Black female legislators, 4.6% Black male legislators, 0.06% Asian Americans and no Arab Americans. Our Legislature is not representative of the diversity of our state.
Fostering diversity and inclusion is on the agenda of most institutions and on the minds of all leaders. It is a movement that swept the nation in the last decade and continues to grow as we acknowledge our differences and strive to embrace one another. Bringing representative voices to the table, respecting one another and working together pave the road for social equity.
Women and the Indiana Black Legislative Caucus were the pioneers in introducing diversity to what was known as a white, male-dominated government body. In 2019, the Indiana General Assembly welcomed the first openly gay senator. State Hispanic caucuses have helped bring important voices to the table.
Still, our Legislature needs more women and minorities—not to simply check off a box, but because informed public policy that is inclusive of the diverse views of our state's residents is better public policy.
This election year, we are witnessing the first Muslim American to run for the Indiana Senate. Fady Qaddoura embodies the American dream in various ways: He lived through homelessness after Hurricane Katrina; he aspired for an education that will break the chains of poverty; and he served as Indianapolis city controller, balancing the budget for three consecutive years with no tax increase, bipartisan support and an upgrade in city credit ratings. He is running on a platform that promotes justice, compassion and social equity and promises to give a voice to the voiceless.
Muslim Americans are a growing population in Indiana. They make up a significant number of our physicians and health care workers. They own businesses, teach in schools and universities, and serve in the military, police and fire departments. They have become a fabric of our society. We have seen Muslim Americans serving in elected-office distinction—Rep. Andre Carson in the U.S. House and Judge David Shaheed in the Marion County courts.
Diversity, equity and inclusion is not simply a phrase to be added to our websites and to our talking points. It should be embraced when we view our ballots this November. Let's ask ourselves: Do we have enough women, people of color, LGBTQ and people of all faiths on the ballot?
We should always vote our values. But when confronted with two good options for office, we should try to also add diversity, equity and inclusion to our list of values.
Let's reimagine an Indiana General Assembly that is representative of all Hoosiers!•
__________
Siddiqui is assistant professor and director of the Muslim Philanthropy Initiative at the Lilly Family School of Philanthropy at Indiana University, senior fellow at the Center for Global Politics and founder of the Center on Muslim Philanthropy. Send comments to ibjedit@ibj.com.

Click here for more Forefront columns.
Please enable JavaScript to view this content.