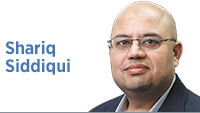 I fell in love and married the woman of my dreams. I am the father of children who bring me joy every moment of the day. I am doing the work I have always wanted to do. In essence, I can't think of an alternate life that would bring me any more joy. But I struggle to get through every single day. Confused? Let me explain.
When I was 8 or 9, I was molested by the priest hired to teach me scripture. I don't remember his face or the exact dates. I just remember the moments we would be left alone. We would complete my lessons, he would go to the bathroom to perform ablutions so we could pray together and then he would relieve himself.
To this day, I don't know why I didn't call to my parents in the next room. Eventually, we left that place, and the memory of those moments disappeared deep into my mind. For years, I simply forgot those horrible moments. However, those memories were replaced by this insane, incontrollable rage. The kind of rage and resentment that leaves you incapable of any rational thought or action.
The memories surfaced much later, accompanied by deep regret and guilt. Anger was replaced by despair and self-loathing. Alcohol and pot became the antidote. Life became bearable, something one could prolong.
Then I became a Muslim. Prohibition of alcohol and drugs was accompanied by the obligation to live. God was offering me a life of meaning—but I had to submit my life to him. When I would leave, this world would no longer be in my hands; it was in his.
Soon after, I met the love of my life and married her. I discovered the Indiana University Center on Philanthropy, which provided my life direction.
But each day is a struggle.
Five times a day, I pray. So five times a day, I am reminded. Scripture and prayer are both a source of comfort and a reminder.
To this day, the self-loathing makes it difficult to face myself. As irrational as it might seem, I find it difficult to forgive myself for not yelling for help. Yet many others have suffered abuse that was a great deal worse.
I am lucky. Alcohol and drugs have been replaced by love, faith, family and philanthropy.
Not every child is as lucky. Approximately five U.S. children die every day of child abuse. One of three children will be sexually abused before they reach 18. About 90% of child sexual abuse victims know their perpetrators; 68% are abused by a family member. About 80% of 21-year-olds abused as children meet the criteria for at least one psychological disorder.
We must embrace our fundamental responsibility to protect our children. It's the collective responsibility of society. While we look to point fingers at whom to blame, countless children are faced with fates much worse than mine.
Our public policy must not seek fiscal efficiency. Whether it is education, social services, health care or protecting our children, we must embrace this vital obligation regardless of the cost.
As people of faith, we shouldn't be so swept away by the charisma of our religious leaders that we are too blind to protect the vulnerable.
For Muslim religious leaders who don't believe this happens within our faith community, my experience bears witness that it does. For people who think this is an issue of class or income, I came from privilege.
For public policy officials seeking to save money, you are failing in your public duties by not protecting the weakest among us. Let's not shirk our obligation to protect our children to save a dime.•
__________
Siddiqui is an attorney, has a doctorate from the Lilly Family School of Philanthropy at IU and leads the Association for Research on Nonprofit Organizations and Voluntary Action. Send comments to ibjedit@ibj.com.

Click here for more Forefront columns.
Please enable JavaScript to view this content.