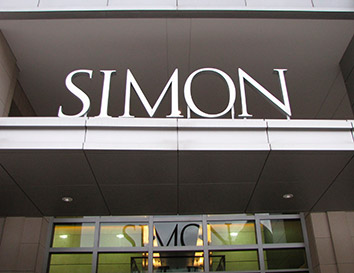 Indianapolis-based Simon Property Group Inc. on Wednesday morning announced that it has called off its deal to acquire rival shopping center owner Taubman Centers Inc. for $3.6 billion.
Simon shares fell nearly 6% in early trading Wednesday, to $81.71 each. Taubman shares plummeted nearly 30% after the announcement, to $31.94 each.
Simon said it has taken legal action against Bloomfield Hills, Michigan-based Taubman, requesting the court to declare Taubman in breach of the merger agreement after suffering a "material adverse event."
Simon said it was terminating the agreement for two reasons: "First, the COVID-19 pandemic has had a uniquely material and disproportionate effect on Taubman compared with other participants in the retail real estate industry," Simon said in a written statement. "Second, in the wake of the pandemic, Taubman has breached its obligations, which are conditions to closing, relating to the operation of its business."
Taubman owns, manages or leases 26 super-regional shopping centers in the U.S. and Asia, with 25 million feet of gross leasable area. Simon, the nation's largest mall owner, owns or has a stake in more than 200 retail properties in the United States.
Simon said it merger agreement "specifically gave Simon the right to terminate the transaction in the event that a pandemic disproportionately hurt Taubman."
Simon said Taubman has been hit particularly hard by the pandemic because a "significant proportion of its enclosed retail properties" are "located in densely populated major metropolitan areas" and rely heavily on tourism.
Taubman plans to fight Simon, calling its legal claims "invalid and without merit," according to The Associated Press. It plans to go ahead with a shareholder vote on the deal later this month.
During the quarter ended March 31, Taubman reported a profit of $19.9 million, up 32% from the same period a year earlier. But the company said the gain was mostly attributable to its sale of 50% of its interest in a Chinese shopping center to Blackstone Group Inc. for $91 million.
Taubman's funds from operations, a key metric in the real estate investment trust industry, were $48.9 million, or 79 cents per diluted share—down 15% from a year earlier. Funds from operations, or FFO, is calculating by taking profit and adding back items such as depreciation and amortization.
Taubman temporarily closed all but two of its U.S. shopping centers March 19 because of the COVID-19 pandemic, and shut down the remaining two shortly thereafter.
In its first-quarter earnings release May 5, Taubman said it "began implementing several liquidity enhancement initiatives in anticipation of potential disruption related to the COVID-19 pandemic," including the deferral of between $100 million and $110 million in planned capital expenditures. The company said it also reduced its operating expenses, a move that it expected would save it $10 million this year.
Please enable JavaScript to view this content.