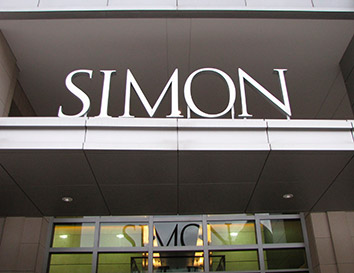 Indianapolis-based shopping mall landlord Simon Property Group has filed a lawsuit against clothing retailer Brooks Brothers that seeks more than $8.7 million in unpaid rent.
The suit, filed Wednesday in Marion County Superior Court, says the retailer failed to pay rent for April, May and June while closed during the pandemic.
Simon said the overdue amounts are accruing interest, putting the tenant in a growing hole.
New York City-based Brooks Brothers is the oldest clothier in the United States. It dates to 1818, when it opened its first store in downtown Manhattan.
The retailer has about 250 U.S. stores and another 250 or so in other countries. The lawsuit doesn't say how many Brooks Brothers stores are in Simon malls.
Brooks Brothers closed its stores in March because of the pandemic and is just making plans to reopen its U.S. shops.
The lawsuit says Brooks Brothers wrote Simon at the end of March and stated "it was refusing, and would continue to refuse, to pay rent and threatening to close its stores in Simon's shopping centers permanently."
A Brooks Brothers spokesman did not respond to a request for comment Thursday afternoon.
The retailer was already struggling before the health crisis. Saddled with more than $600 million in debt, the company is on the verge of bankruptcy, according to multiple business publications.
Relaxed dress codes have hurt the retailer, with suits and ties no longer the standard—even at blue-chip corporate offices, top Wall Street brokerages and law firms where Brooks Brothers clothing was once a status symbol. It didn't help that the pandemic pushed would-be customers to work from home and forced the cancellation of weddings and other formal events, cutting down on demand for new clothing.
Bloomberg News reported June 12 that Authentic Brands Group LLC and Simon were in talks to acquire Brooks Brothers.
Authentic and Simon would team up to bid for the chain after a potential Chapter 11 filing by the retailer, according to people with knowledge of the talks. They asked not to be identified because the process is private.
Authentic has a history of buying well-known brands that have fallen on hard times, and Simon, the nation's biggest mall landlord, has a stake in keeping its prime tenants in business.
It's been a tough few years for high-end goods. Retailers including Barney's New York Inc., Neiman Marcus Group Inc. and Dean & DeLuca have gone bust as shoppers shunned malls in favor of online outlets.
Authentic and Simon have teamed up before on similar deals to rescue Forever 21 Inc. and Aeropostale Inc. On its own, Authentic bought Barneys New York Inc. out of bankruptcy.
Brooks Brothers isn't first tenant Simon has sued over unpaid rent during the pandemic. The mall company filed suit against Gap Inc. early this month, saying the clothing retailer owed three months of rent totaling $65.9 million.
Gap Inc. has more than 390 stores at Simon's malls, including its namesake brand, Old Navy and Banana Republic.
Gap and other major retailers, including sneaker seller Foot Locker, have said they wouldn't pay rent for stores that were forced to close due to the pandemic. In April, Gap warned that it might be sued by its landlords and that a dispute could be costly and have "an uncertain outcome."
Please enable JavaScript to view this content.