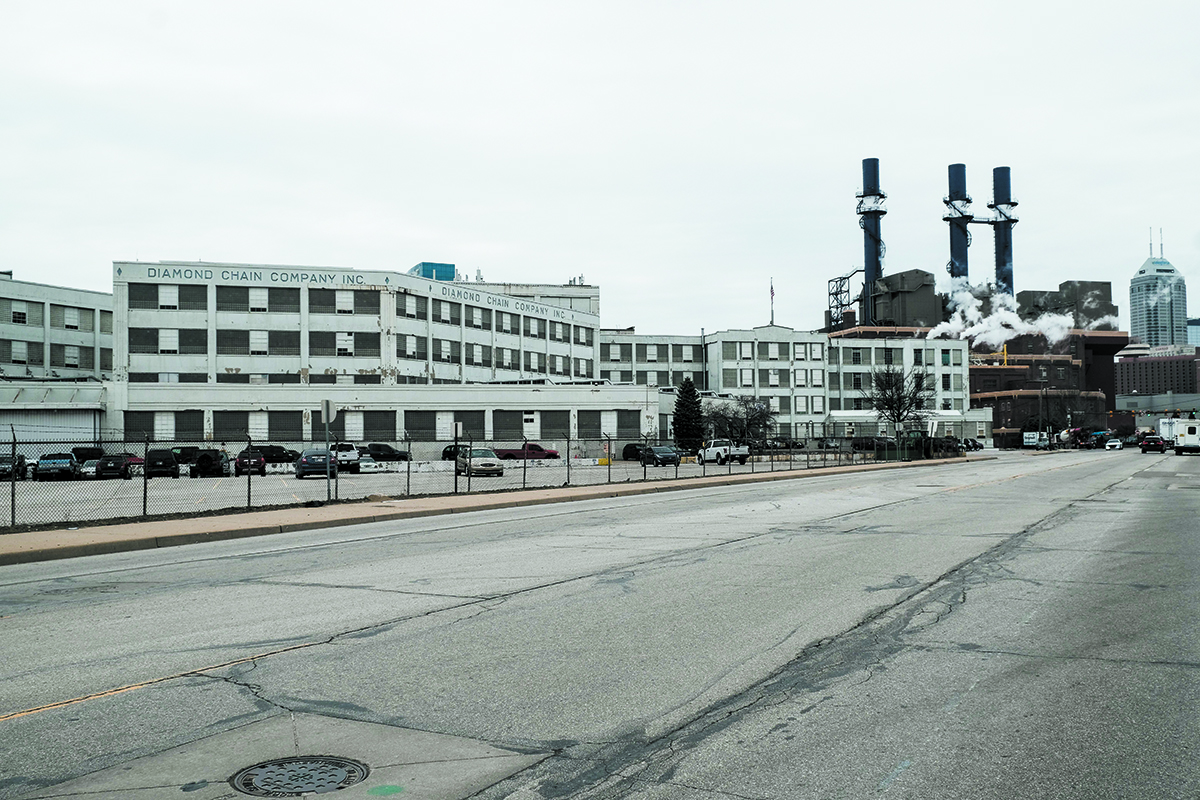 Local real estate experts and downtown leaders say they are generally supportive of Indy Eleven's selection of a site near Lucas Oil Stadium and Victory Field in downtown Indianapolis to build a new stadium and commercial district.
Team owner Ersal Ozdemir, also owner of local development firm Keystone Corp., said in a story first published by IBJ on Friday morning that he plans to spend about $1 billion to build Eleven Park at the former Diamond Chain property along the White River, just south of the baseball stadium.
"It's just a perfect site for the vision Keystone and Indy Eleven have," said Andrew Urban, vice president of commercial services for the Indianapolis office of real estate brokerage Colliers International. "We'll now have this incredible… district that's really unique when we're compared to so many other Midwest cities that Indianapolis competes against for residents and for companies. So, I really think it's a perfect choice from a location standpoint, and it's also a really big win for downtown."
Leaders of the the Stadium Village Business Association, which represent a large portion of downtown's south side—including the Diamond Chain site—said they're supportive of the project, too.
"It's a very welcoming and impressive proposal that Ersal has created for the south side of Indianapolis," said Brian Shapiro, owner of Shapiro's Delicatessen and past chairman of the SVBA's development committee. "It basically takes a site that's an eyesore—in a great location—and turns it into a win for everybody."
Bob Schultz, interim president of Downtown Indy Inc., concurred.
"This is a great day for Downtown Indianapolis. We will see more transformational development and investment from both the private and public sectors in the next five-year window than we have ever seen in our city's history," he said in written remarks. "Ersal and the Keystone team are incredible visionaries with their plans that will serve as a catalyst for continued investment and growth of our southwest quadrant of downtown, that is quickly becoming a dynamic part of our urban core."
City tourism officials said the venue could be a boon for new sporting events—something Ozdemir indicated he's hopeful will the the case.
Chris Gahl, vice president of Visit Indy, called the project a "bold and progressive development" for the west side of downtown that will be able to tie together many of the city's amenities and create new opportunities for tourism in the city.
"This will unquestionably help Visit Indy attract additional visitors to the city and lengthen their stay in town," he said. "It's also bolstering the amenities in and around Indiana Convention Center, which is a key component to driving tourism as a whole. This will add to the attractions and amenities offered to our visitors, so it is just perfectly placed."
The venue could also bring in major sporting events such as international soccer matches, such as exhibition games for the U.S. men's and women's national teams, as well as high school and college games. The field would also be able to be used for sports like lacrosse and rugby.
Ryan Vaughn, outgoing president of Indiana Sports Corp., said the organization expects to work closely with Indy Eleven to determine how to best promote the facility for future events, starting in 2025.
"Once the Sports Corp. has enough information to be responsive to a [request for proposals], as long as we have a firm commitment that it's going to be built, we'd feel very comfortable going after those events."
Gordon Hendry, managing director of HRE Advisors real estate group, said he believes Keystone's control of the entirety of the site is crucial to the group getting a deal done with city and state officials on incentives and other financing mechanisms.
"I think that's a definite advantage, in terms of whether this is going to go forward or not—it increases the probability significantly that key stakeholders are going to understand that this is real now, and they'll want to help Keystone make this proposal a success," he said.
The broker added that while the $1 billion price tag is sizable, he expects the cost will ultimately be offset by the economic upside of the development as a whole.
"You're talking about $800 million-plus [in] hotel, office, residential and other related developments, so that alone has a very significant potential economic impact for the city of Indianapolis," Hendry said.
Please enable JavaScript to view this content.