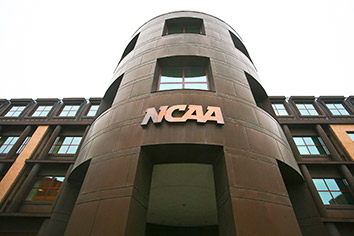 The Indianapolis-based National Collegiate Athletic Association saw revenue fall by $600 million in its latest fiscal year because of the COVID-19 pandemic, but was able to minimize the damage thanks to its financial contingency plan, the organization said.
According to an audited financial report released late last week, the NCAA saw net assets fall by $56 million in fiscal year 2019-20, which ended Aug. 31, from $450.1 million to $394.3 million.
The NCAA said it considered the decline a "relatively minimal loss" in a fiscal year in which revenue decreased more than 50%, to $519.2 million.
The organization said its contingency plan helped reduce expenses by 45% and provided $270 million in event cancellation insurance proceeds.
The NCAA finished the fiscal year with $15 million more in assets than it had at the end of fiscal year 2017-18.
"The NCAA's long-standing financial remediation plan put it in a position to successfully weather a decline in revenue like it's never seen before," Kathleen McNeely, NCAA senior vice president and chief financial officer, said in written comments. "Because of this plan and the NCAA's strong financial resources, continued efforts to reduce spending and event cancellation insurance for fiscal year 2020-21, I'm confident the association is well positioned for current and future obligations."
The organization said event cancellation insurance helped offset more than $800 million of lost revenue from television rights, marketing rights and ticket sales due to the cancellation of the 2020 Division I Men's Basketball Championship.
The NCAA said it cut expenses from $1.05 billion to $575 million by cutting Div. 1 revenue distributions by $365 million and reducing Div. 1 championships expenses by $97 million. Division II and III expenses decreased $15 million and $13 million, respectively.
The organization also said it "implemented operational and staffing adjustments that included salary reductions, reduced spending, employee furloughs and voluntary employee separations."
Please enable JavaScript to view this content.