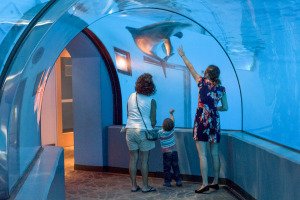 Visit Indy has seen an uptick in the popularity of its attraction pass this summer, after the tourism group added new locations, reduced the cost and added an option to bundle the pass with hotel rooms.
To date, the Indy Attraction Pass—which allows buyers access to eight different cultural sites across the city—has generated $35,662 in revenue, with at least half of that coming since the start of June.
In April, Visit Indy expanded the pass from the original slate of attractions: Conner Prairie, Eiteljorg Museum of American Indians and Western Art, Indiana State Museum, Indianapolis Zoo and The Children's Museum of Indianapolis.
It added Newfields, the Indianapolis Motor Speedway Museum and the Indiana Historical Society to the list.
The program allows buyers to pick between a one-day and a three-day pass and add virtual tickets directly to their phone. Each pass is valid for up to 90 days after its purchase and can only be redeemed once at each venue.
The pass can also be purchased as a gift or transferred to friends or family members.
"We had an eye towards bringing on these additional partners when we launched. We just knew they needed a little more time" so those deals could be finalized, said Jeff Robinson, senior director of marketing for Visit Indy.
He said while there's no immediate plans to add other attractions to the pass, it's likely Visit Indy will continue looking for ways to curate experiential offerings for other visitor types. Robinson said a coffee-focused visitor pass could come next, modeled on the craft pass launched in 2019 focused on local breweries, distilleries and wineries.
"I think right now my eyes are more towards how we build other passes that serve different audiences," Robinson said.
In addition to adding new partners, Visit Indy also reduced the cost of the passes. Originally a one-day pass cost $52 for adults and $42 for children; those prices were slashed by $4 and $5, respectively. The three-day pass is now $75 for adults and $65 for children, down from $90 and $68.
Robinson said while the attraction pass didn't launch as strongly as he'd hoped, Visit Indy has seen an uptick in interest since summer began, as more people become comfortable with visiting public spaces as the pandemic eases. Visit Indy spent about $30,000 to market the pass when it launched.
"Knowing that sales would be light over the winter gave us time to perfect the admission process with our attraction passes and analyze redemption data before travel picked up in the spring," said Robinson, who has been working to establish a pass of this nature since arriving at Visit Indy 15 years ago.
Sales were sluggish through March, with only 124 tickets sold in the pass' first six months. But in the nearly four months since, about 537 passes have sold.
"I had honestly hoped that it would take off a little faster," he said. "I think people were still hesitant to go out to attractions and indoor spaces with large amounts of people, but I feel like that sentiment has shifted and, with it, sales have really taken off over the last two months. Now it's performing at a level that I'm quite pleased with."
Only the attractions visited using a particular pass get a cut of the revenue, and Visit Indy doesn't expect to make money off the pass directly. Instead, it's goal is "to break even and offer maximum value to visitors," Robinson said.
The pass can help save visitors up to 50% on the price of admission when purchased separately. Buying separate tickets for the attractions generally costs about $70 for children and $100 for adults. While some venues—such as the Children's Museum and the zoo—operate on a dynamic pricing model that can mean higher admission prices on busier days, they were required to set wholesale rates for the attraction pass.
In June, Visit Indy added the ability for visitors to buy an attraction pass as part of a hotel package. The organization has about 130 hotel partners as part of the program.•
Please enable JavaScript to view this content.