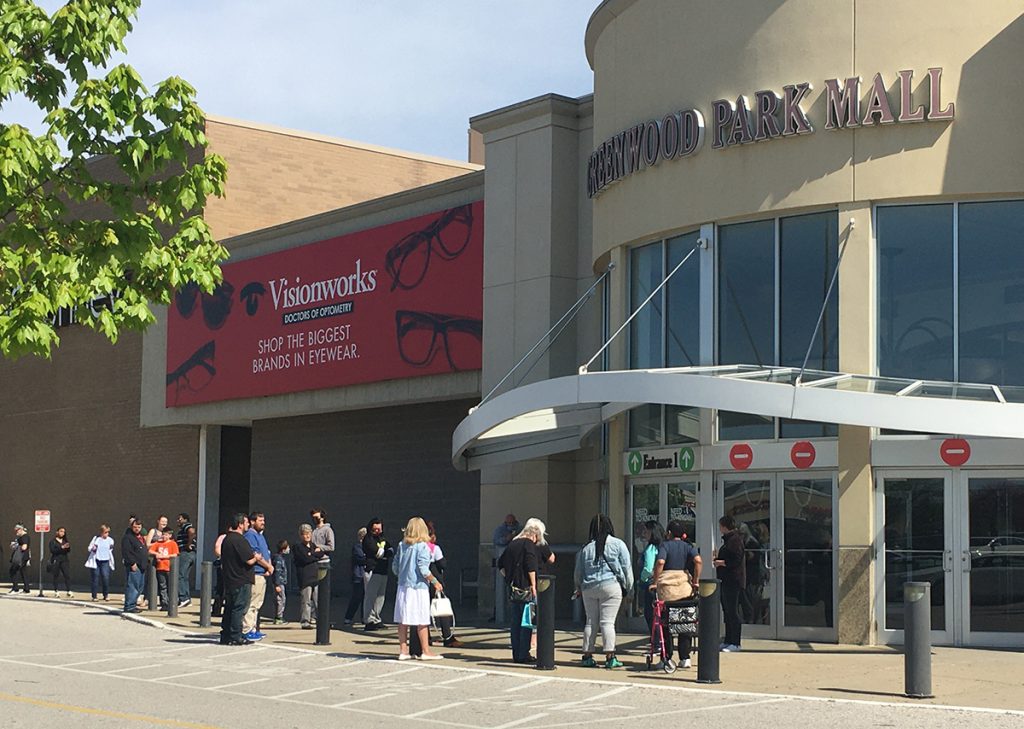 The easing of COVID-19 health restrictions on Monday meant many Indiana retailers could open their doors again. But for those who ventured out to shop, it was not business as usual.
Greenwood Park Mall, owned by Indianapolis-based Simon Property Group, reopened at 11 a.m. Monday for the first time since Simon closed all of its U.S. properties on March 18.
About 60 shoppers were lined up to enter one of the two public entrances available.
Among those waiting to enter the mall was Mandy Harper of Greenwood, who said she came to the mall "just to kind of get out of the house" and maybe to pick something up for Mother's Day, which is Sunday.
Harper has been in stores quite a bit recently. She picked up a job as an Instacart shopper because her husband has been laid off from his job at the Subaru plant in Lafayette.
She completes about seven Instacart trips per day, but mostly at Kroger. So she was eager to see which mall stores had reopened. She had a fabric mask and hand sanitizer at the ready.
A table of free face masks and social-distancing floor stickers greeted shoppers who entered. The shopping experience offered inside was limited because many stores remained closed. Based on an IBJ reporter's observations, at least half of the stores were dark.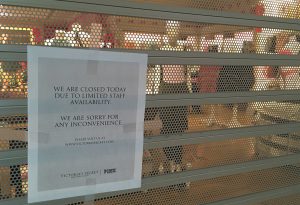 Of the mall's three department stores, only Von Maur was open. JC Penney and Macy's remained closed. Build-a-Bear Workshop, Bath and Body Works, Victoria's Secret, Sephora and numerous other stores were closed.
A Rogers & Holland Jewelers employee waited on customers, but nearby Helzberg Diamonds and Zales Jewelers remained closed.
None of the food court restaurants appeared to be open, but employees were on hand at Blondie's Cookies.
Assistant Manager Jamie Smart said she and her co-workers were there to prepare for a planned Saturday reopening. "We're trying to get ready, scrubbing everything down," she said.
Smart said the Monday morning crowd wasn't as big as she'd hoped for, but she was optimistic shoppers would return through the week.
"I think a lot of people are getting ready to go out and do their thing," she said.
Under Gov. Eric Holcomb's five-phase plan for getting Indiana's economy back on its feet, Monday was the first day that nonessential stores were allowed to open across most of the state.
Indianapolis retailers remain closed, because Mayor Joe Hogsett's stay-at-home order will remain in place through May 15. Central Indiana retailers outside of Marion County were free to reopen.
At Greenwood Park Mall, athletic apparel retailer JD Sport appeared to be one of the busier stores  out of the gate. Shoe store Skechers was open, although a sign posted at the entrance said customers were required to wear masks. AT&T, Aeropostale, Journeys and Rack Room Shoes were also among the open stores.
The Clay Terrace shopping center in Carmel reopened Monday with "strong and frequent cleaning protocols in place," although some businesses remained closed, General Manager Jennifer Jones told IBJ via email.
The facility still plans to host its summer concert series and is reviewing its plans for those events, Jones said.
Carmel City Center, a mixed-use development by Carmel-based Pedcor Cos., has more than a dozen independent shops.
Jimia Smith, Pedcor's vice president and marketing director, said some City Center stores opened Monday, either for \ shopping or by appointment. Several others planned to open later this week.
A few others, including Bath Junkie and Out of the Blue Polish Pottery are continuing to operate via curbside pickup.
The gift shop Silver in the City has locations both in downtown Indianapolis and in Carmel. Owner Kristen Kohn said she would reopen both locations on May 21, with open hours between noon and 6 p.m. Thursdays through Sundays. The schedule could expand on June 1.
Some elements of the reopening plan have already been worked out. When the stores do reopen, Kohn told IBJ, employees and customers will be required to wear face masks, and each store will have a limit of 10 customers at a time.
Employees will have daily health screenings, and customers will be asked screening questions via signage. The store won't accept cash payments and is working to minimize the contact required at checkouts.
In the meantime, Kohn said, the store is offering curbside pickup and local delivery, and its Carmel location is offering Facetime appointments for shoppers who want to browse merchandise beyond what's in Silver in the City's online store.
Greenwood Park Mall was among the 28 properties in Simon's second wave of reopenings nationwide on Monday, along with Hamilton Town Center in Noblesville, Indiana Prime Outlets in Edinburg, Tippecanoe Mall in Lafayette and University Park Mall in Mishawaka.
Simon reopened its first 31 properties Friday, including shopping centers in Alaska, Arkansas, Mississippi, Oklahoma, South Carolina, Tennessee, Texas and Georgia.
Simon's three Indianapolis properties—Castleton Square Mall, Circle Centre and the Fashion Mall at Keystone—are set to reopen May 16.
Please enable JavaScript to view this content.