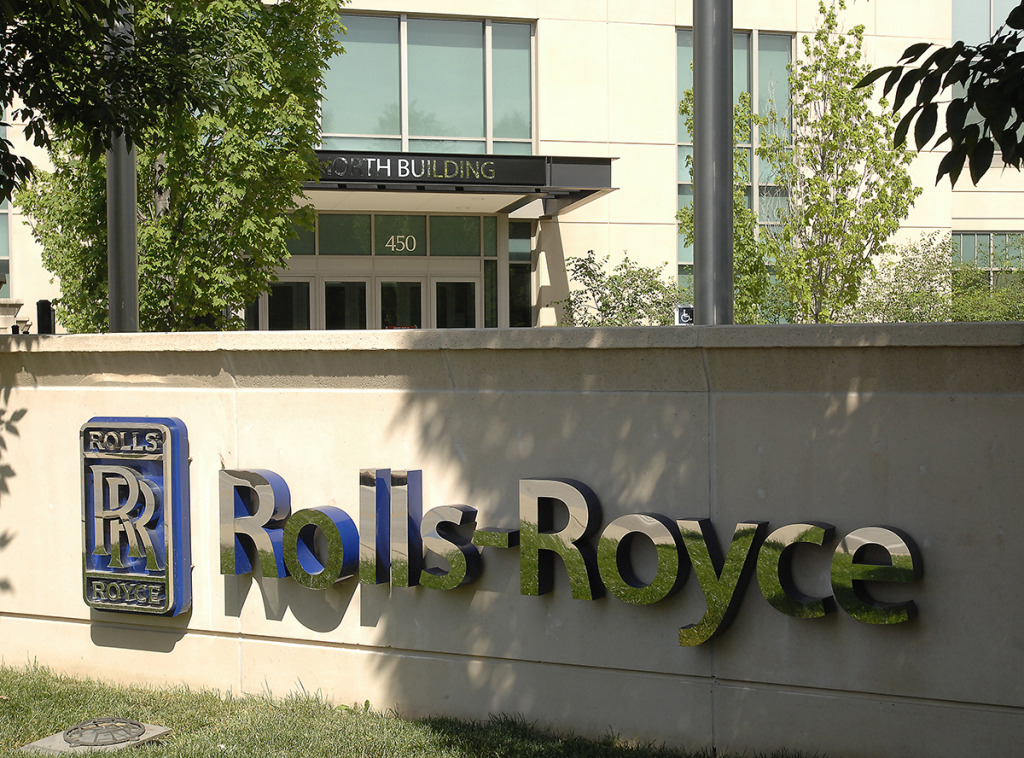 Rolls-Royce Corp. plans to vacate most of its Meridian Center campus in downtown Indianapolis in the coming months in favor of a long-term remote work model, multiple sources have told IBJ.
The United Kingdom-based aircraft engine manufacturer is expected to jettison about 270,000 square feet of office space on its 2.2-acre campus at 450 S. Meridian St. later this summer, while retaining a building on the southern portion of the site for at least another decade.
Two industry sources aware of the plans—which won't be finalized for several weeks—told IBJ that the company is giving up the leases on the northernmost building and the building directly to its south, which is connected to a 1,550-space parking garage regularly used by employees. About 3,000 people worked in the company's downtown offices prior to the pandemic. 
An additional source confirmed Rolls-Royce is planning to vacate most of its campus, but could not offer details because the individual was not briefed on specifics. All three sources spoke on the condition of anonymity because they weren't authorized to discuss the matter publicly.
One source said Rolls-Royce is close to signing a 10-year lease extension with property owner VEREIT Inc., a Phoenix-based real estate investment trust. The deal would leave Rolls with the 135,000-square-foot office building at the northwest corner of South Meridian and West Merrill streets, while VEREIT would be able to take the other buildings to the market for lease opportunities.
The source said finding a single user for even one of the buildings could be a challenge.
Rolls-Royce is expected to vacate the other two buildings and reduce its parking needs over the coming year. Its current lease is set to expire in summer 2022.
The sources said they expect Rolls-Royce won't be the only major employer in downtown Indianapolis to eliminate some of its office space, with one stating "a lot of employers are going to realize they can shrink their footprint" and reduce real estate costs.
When reached for comment Wednesday, a Rolls-Royce spokesperson did not confirm any plans—instead stating that the company's long-term return-to-work and real estate strategies have not yet been finalized.
George McLaren, vice president of marketing and communications for the company, also referred IBJ to a company statement from April 22, which indicated Rolls-Royce was "reviewing office space requirements going forward but no final decision [had] been reached."
He said only about three floors in one of the buildings are currently open to workers, with "a very limited number of people" reporting to the office regularly since the pandemic began.
Rolls-Royce first moved about 2,500 people to the former Eli Lilly and Co. office buildings in 2012, as part of a $20 million renovation and modernization of the campus. Previously, the company had its office staff spread across several buildings in southwest Indianapolis and Plainfield.
Lilly completed development of the $58 million campus in 2002 with partner Kite Realty Group Trust, but in 2010 moved about 1,000 people from the property to its Delaware Street campus amid staffing cuts and consolidation.
Lilly retained ownership of the campus until 2013 and received a 10-year tax abatement on the buildings as part of the deal, while Rolls-Royce received about $300,000 in training grants from the city and state.
VEREIT did not return a phone message requesting comment.
Please enable JavaScript to view this content.