State Sen. Victoria Spartz has won the Republican primary in Indiana's 5th Congressional District, the Associated Press has declared.
With 56% of precincts reporting, Spartz led with 39% of the vote. Her next closest opponent—of 14 others running in the race—was Beth Henderson who captured 19% of the vote.
"I would like to thank the great people of Indiana's 5th Congressional District for placing their trust in me to be their nominee for Congress," Spartz said in a statement. "I also want to thank my family and supporters who spent countless hours helping me. My candidacy, and tonight's victory, also prove that the American Dream is alive and well, and voters want a representative who will defend it."
The AP has also declared Christina Hale the winner in the 5th District's Democratic primary. Hale, a former state lawmaker and candidate for lieutenant governor, had 40% of the vote with 59% of precincts reporting. She defeated four other candidates, including Dee Thornton, the Democratic nominee two years ago.
"The divide America is feeling and the global health crisis we are experiencing around the world underscore how important elected leadership is to our nation and to this district," Hale said in a statement on Tuesday night. "Our community is facing unprecedented challenges, and I'm committed to taking action on the issues most critical to families across the 5th District."
Spartz and Hale will face off in the fall in a battle to replace Republican Rep. Susan Brooks, who decided not to see reelection after representing the district since 2013. The district includes all of Hamilton, Madison, Grant and Tipton counties and parts of four others, including northern Marion County.
About 70% of the district's voters from Hamilton and Marion counties.
The district has long been considered a GOP stronghold. But Democrats have said that changing demographics and attitudes among suburban voters make it a seat they could win. The race is expected to get national attention through the fall.
On Tuesday night, Indiana Republican Chairman Kyle Hupfer urged the GOP to rally around Spartz, despite the competitive primary.
"We all need to join with Victoria Spartz and ensure this seat stays red in November," he said. "Holding the 5th will be crucial to flipping the House and kicking Nancy Pelosi out of the speaker's chair."
In the GOP race, tensions grew high as Spartz dumped $750,000 into her campaign, investing in TV commercials and airtime. Club for Growth also backed her efforts and spent more than $460,000 attacking other candidates for not being loyal to President Donald Trump.
Those attacks specifically went after Henderson and former Marion County Prosecutor Carl Brizzi, but both candidates fought back with their own ads and social media posts.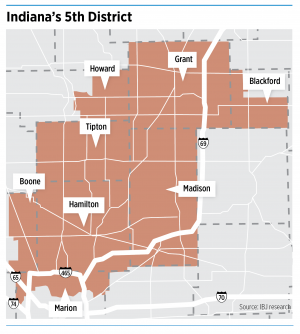 Earlier Tuesday night—before even the first Marion County vote had been reported—the Club for Growth's president, former Indiana congressman David McIntosh, issued a statement congratulating her.
"Victoria Spartz knows first-hand just how dangerous socialism is from her youth growing up in Soviet Ukraine, we congratulate her on her victory, and look forward to supporting her in the general election," McIntosh said in the statement. "As a fellow Hoosier I am proud of her principled, free-market positions she will take to Washington."
Spartz also faced questions about her business experience and her personal finances, including whether she had enough wealth to loan her campaign so much money.
According to a financial disclosure form with the U.S. House, Spartz has assets totaling $8.5 million to $38 million. The assets include real estate, IRAs and income from farming.
The coronavirus pandemic greatly impacted the campaign season, with in-person events, including fundraisers and meet-and-greet opportunities, coming to a halt in mid-March for most candidates.
In-person debates were also canceled, but candidates did participate in several virtual forums.
Please enable JavaScript to view this content.