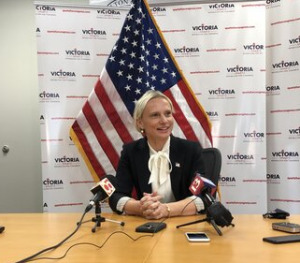 Republican Victoria Spartz says she's ready to go to Washington, D.C., and start working on health care policies.
Spartz won the Indiana 5th Congressional District race over Democrat Christina Hale, allowing Republicans to hold onto a suburban seat that many political observers predicted would flip blue this year. The victory was declared Wednesday night, more than 24 hours after polls closed on Tuesday.
The seat is held by Republican by Susan Brooks, who is retiring after representing the district since 2013. The district includes northern Marion County and all of Hamilton County, along with either all of or parts of Boone, Madison, Tipton, Grant, Howard and Blackford counties.
Spartz on Thursday said the win is emotional for her, because when she immigrated to the U.S. from Ukraine 20 years ago, she never imagined she would serve in Congress.
"It's a huge responsibility, and I'm very humbled that so many Hoosiers trust me to do it," Spartz said.
Spartz will almost certainly be in the minority party in the U.S. House, as Democrats are projected to maintain control of the chamber. That will be a stark contrast from her time serving as a state senator in a supermajority.
But she said she thinks she can still help "move the needle and move our country forward," especially on the issue of health care.
She said she'd like to serve on the Energy and Commerce Committee so she can focus on finding solutions for affordable and accessible health care, but she'd also be happy on the Financial Services Committee.
"We just have to get over politics and start working on policies and issues," Spartz said. "And I think after the election, we'll be able to do that."
Spartz said she thinks her commitment to traveling to all eight counties in the district and talking to voters is what helped push her over the edge.
"I spent a lot of time all across the district, and it's a really interesting district because really this district represents all of America if you think about it," Spartz said. "It has the richest county in the state of Indiana—Hamilton County—and it has the poorest county in the state—Grant County. So, it's very diverse with a lot of different issues."
Spartz said she plans to have a presence in all counties in the district and is in the process of putting together a team for offices in Indiana and in Washington.
But Spartz is not planning to be in Congress long-term. She said she'd like to get things done in the least amount of time possible.
"I never thought that I'd have to run for office," Spartz said. "I'm just like a suburban mother that gets upset and needs to do something about it."
Please enable JavaScript to view this content.