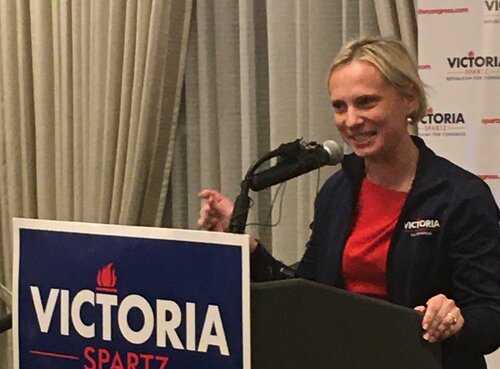 Republican state Sen. Victoria Spartz has won the race for Indiana's 5th Congressional District.
As of Wednesday evening—with most of the votes counted—Spartz had a lead of nearly 18,000 votes over Democrat Christina Hale. The Associated Press declared her the winner around 8:30 p.m. Wednesday.
Spartz's campaign declared victory on Tuesday night. But with more than 100,000 uncounted ballots remaining in Hamilton and Marion counties at the time, Hale refused to concede.
But on Wednesday, as counties continued tallying early votes, Spartz maintained her lead.
"I am so honored and humbled by the trust the people of Indiana's 5th District have placed in me," Spartz said in a statement Wednesday night. "This has been a long, tough campaign and I look forward uniting Hoosiers around real solutions and serving every resident of Indiana's 5th District by ensuring we have the right policies for a strong economy, good schools, affordable healthcare and a great quality of life."
The campaigns and outside groups sunk at least $15 million into the hotly contested race, with national party organizations and dark-money groups spending heavily on largely negative advertising.
Republicans tried to paint Hale as a liberal politician who would be a rubber stamp for U.S. House Speaker Nancy Pelosi, while Democrats tried to portray Spartz as someone who would strip Hoosiers of health insurance protections because of her opposition to the Affordable Care Act.
One of the top issues in the race was health care insurance, with both candidates making it their top priority.
Hale, 49, pushed the message that she would fight for affordable coverage for individuals, including a public option, while Spartz, 42, argued that government-run health insurance is a bad idea but individuals with preexisting conditions should be covered.
The seat was previously held by Republican congresswoman Susan Brooks, who represented the district since 2013. The district includes northern Marion County and all of Hamilton County, along with either all of or parts of Boone, Madison, Tipton, Grant, Howard and Blackford counties.
Spartz, a Ukrainian immigrant and state senator who opted to run for the 5th District instead of seeking reelection to her Statehouse seat, won a 15-way GOP primary in June to become the party's nominee. She is also a financial consultant and farmer.
Spartz significantly contributed to her campaign, providing $1.2 million, which raised questions about where her wealth came from. An IBJ analysis of real estate deals she and her family had been involved with found they had earned substantial profits in some transactions while losing money in others.
Please enable JavaScript to view this content.