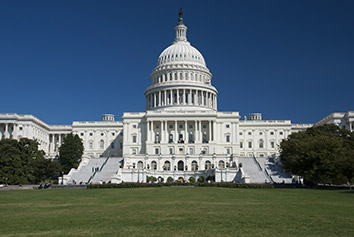 U.S. House Republicans' standoff over who should be speaker dragged on Wednesday as growing animosity and outright disdain left the country without a lower legislative chamber for the second day in a row.
The House adjourned Wednesday evening after a raucous scramble as Democrats tried to block Republicans from approving the motion to adjourn. The drama capped another contentious day in which Republican Kevin McCarthy of California again failed three times to get the necessary 218 votes to take the speaker's gavel.
A group of McCarthy allies and a group of hard-right holdouts, who have now six times voted against McCarthy, huddled for hours in a Capitol office to continue negotiations after an earlier adjournment.
McCarthy emerged from the meeting bluntly telling reporters that the impasse continued.
"I don't think a vote tonight will make a difference," he said. "But a vote in the future will."
Republicans were able to successfully pass their first motion as the majority when they voted to adjourn, but still lost support from Republicans Andy Biggs (Ariz.), Eli Crane (Ariz.), Lauren Boebert (Colo.) and Matt Gaetz (Fla.). Passing the motion was chaotic as Democrats almost had enough votes to keep them on the floor before some Republican defectors changed their vote.
Still, there was no consensus on a path forward Wednesday evening.
"It's worth taking a few days or a few weeks to get the best possible speaker," said Republican Bob Good (Va.), who has voted six times for candidates who aren't McCarthy.
It was clear throughout the day that frustrations had reached a boiling point.
"I'm tired of your stupid platitudes that some consultant told you to say on the campaign trail," Republican Dan Crenshaw (Texas) said. "Behind closed doors tell us what you actually want, or shut the f— up."
The continued stalemate followed three failed rounds of voting Tuesday, marking the first time in 100 years that the majority party could not elect a speaker on the first ballot. The House adjourned without a speaker Tuesday evening, but McCarthy vowed to press on, spending much of the night huddled with his allies to conjure a way forward.
But a person familiar with the negotiations said Wednesday evening "real movement is happening" with some of the members who have repeatedly voted against McCarthy.
Republicans Chip Roy (Texas), Scott Perry (Pa.) and others have appeared more "interested in getting a deal done," the person said. Perry and Roy have taken the lead on negotiations for the members who are still against McCarthy since before Tuesday, often meeting and calling moderates in the "Only Kevin" camp over the holidays, according to multiple people familiar with the outreach, who like others in this story spoke on the condition of anonymity to discuss private conversations.
McCarthy has remained confident he can get to 218, stressing to reporters late Tuesday that he needed to win over 11 of the 20 detractors with negotiations and procedural maneuverings.
None of that came to fruition Wednesday, leaving Republican lawmakers and top aides baffled over when and how the stalemate could be broken.
In a turn of events that elicited gasps from several Democrats, Roy rose Wednesday to nominate Republican Byron Donalds (Fla.) for House speaker, presenting him as a consensus candidate and an alternative to McCarthy. Donalds had voted for McCarthy twice on Tuesday, before switching to Ohio Republican Jim Jordan on the third ballot.
Even calls from former president Donald Trump to stick with McCarthy did not sway the 20 Wednesday.
"[Donalds] will have his day, and it will be a big one, but not now," Trump said in a Truth Social post Wednesday evening.
Lacking a speaker, the House cannot swear in its members to approve a rules package that would govern how the chamber operates over the next two years. Pennsylvania Republican Brian Fitzpatrick warned that not having a speaker is starting to become a problem of national security since members, like him, who have previously sat on the Intelligence Committee cannot regain their assignments until the speaker doles them out.
"Having one of our three branches of government offline is dangerous," he said.
On the first ballot Wednesday—the fourth overall—the 20 lawmakers who had coalesced behind Jordan the day before, including Donalds himself, switched their votes to Donalds. In another surprise blow to McCarthy, Indiana Republican Victoria Spartz, who supported McCarthy through three rounds of voting, voted "present" on the fourth ballot. Voting present only brings the total of votes down for McCarthy and does not affect the 218 threshold like an abstention would. But Spartz later said she was voting present as a message to her colleagues to reach a compromise, and would still vote for McCarthy if he has the votes.
McCarthy gained no traction in the fifth ballot, despite an impassioned speech by Ohio Republican Warren Davidson, a staunch conservative and member of the hard-right House Freedom Caucus, who ticked off a lengthy list of demands made by the defectors that McCarthy had incorporated into the proposed House rules to win them over.
"Now is the time for deeds, not words," Davidson said, as members of the Freedom Caucus looked at him with angst and confusion.
Still, McCarthy's opponents were unmoved, and the sixth ballot ended with the same result: 20 Republicans voting for Donalds, Spartz voting present and the rest of the GOP caucus voting for McCarthy.
The failure came after multiple attempts by Republicans to get the 20 to finally let go of their opposition. Trump placed his thumb on the scale early Wednesday, posting on social media an all-caps-heavy message urging McCarthy holdouts to give him a chance.
"Some really good conversations took place last night, and it's now time for all of our GREAT Republican House Members to VOTE FOR KEVIN," Trump wrote on Truth Social. "REPUBLICANS, DO NOT TURN A GREAT TRIUMPH INTO A GIANT & EMBARRASSING DEFEAT. IT'S TIME TO CELEBRATE, YOU DESERVE IT. Kevin McCarthy will do a good job, and maybe even a GREAT JOB—JUST WATCH!"
Defectors of the House Freedom Caucus appeared unfazed by Trump's request.
"Even having my favorite president call us and tell us we need to knock this off, I think it actually needs to be reversed. The president needs to tell Kevin McCarthy that 'Sir, you do not have the votes and it's time to withdraw,'" Boebert said as she nominated Donalds.
When the fourth and fifth ballots were being tallied, members of the "Only Kevin" group were seen for the first time publicly negotiating with the defectors. Several lawmakers have for weeks acted as liaisons between McCarthy and those who were planning to oppose him, unsuccessfully getting them to bend.
During the fourth ballot, in particular, a dozen Republicans were huddling in what appeared to become a contentious conversation. Two people familiar with the conversation said both sides were trying to reason with the other, but it became an air of grievances.
"Just trying to firmly plant the goal posts," one lawmaker said after many Republicans spent Tuesday complaining that the defectors continually keep moving them.
The historic stalemate occurred despite entreaties from Jordan and Louisiana's Steve Scalise, who each renominated McCarthy for speaker on Tuesday and emphasized that none of the GOP's legislative or oversight goals could be accomplished without electing him to the post. In particular, Jordan's efforts to boost McCarthy seemed to backfire, with those opposing McCarthy instead coalescing around Jordan—who has said he does not want the job of speaker.
Still, several of McCarthy's opponents said it was precisely Jordan's reticence that made him a good fit for the job, and compared Jordan to the nation's first president.
"If you listened and watched the speech that Jim Jordan gave, quite honestly most Republicans sat there and said, 'Oh my goodness, why isn't this guy running for speaker?'" Perry, chairman of the House Freedom Caucus, told "Fox Business" on Wednesday morning. "And while I know Jim would be reluctant, I remind everybody, George Washington was reluctant, too, when his country called."
Donalds, too, insisted that he did not want to be speaker—though, unlike Jordan, Donalds cast two votes for himself. On Wednesday morning, Donalds told CNN that he remained open to voting for McCarthy again if there emerged "a pathway for Kevin to still get to 218."
"Is there a pathway for him to get there? Yes. Can that be worked out in the next couple of hours? Yes," Donalds said.
Through six rounds of voting over the two days, all 212 Democrats voted for Hakeem Jeffries (D-N.Y.) for House speaker. On the first day of the GOP standoff, Democrats seemed at first to relish the debacle on the other side of the aisle, joking about bringing popcorn onto the House floor and openly laughing at endorsements of McCarthy.
On Wednesday, however, House Democratic leadership warned that the Republican standstill would soon affect their ability to conduct legislative business.
"What we saw was the true character of the modern-day Republican Party—obsessed with power and their own personal advancement at the expense of working families and the needs of everyday Americans," said California's Pete Aguilar, chairman of the House Democratic Caucus.
Ted Lieu of California, vice chair of the House Democratic Caucus, said their inability to even populate committees would slow things down "for a pretty long time."
"Now it gets serious because we effectively don't have a House of Representatives. This can't keep on going. You can't have one branch of federal government simply not function," Lieu said. "And so I hope that Republicans are able to nominate and unify behind one person, whoever that may be, because we need Republicans to govern if they can. If they cannot, then they should let Democrats govern."
Asked about the speaker fight Wednesday, President Joe Biden said it was not his problem.
"I just think it's a little embarrassing that it's taking so long," Biden told reporters before departing for a trip to Kentucky. "And the rest of the world is looking. They're looking at, you know, we need to get our act together . . . What I focus on is getting things done."
Please enable JavaScript to view this content.