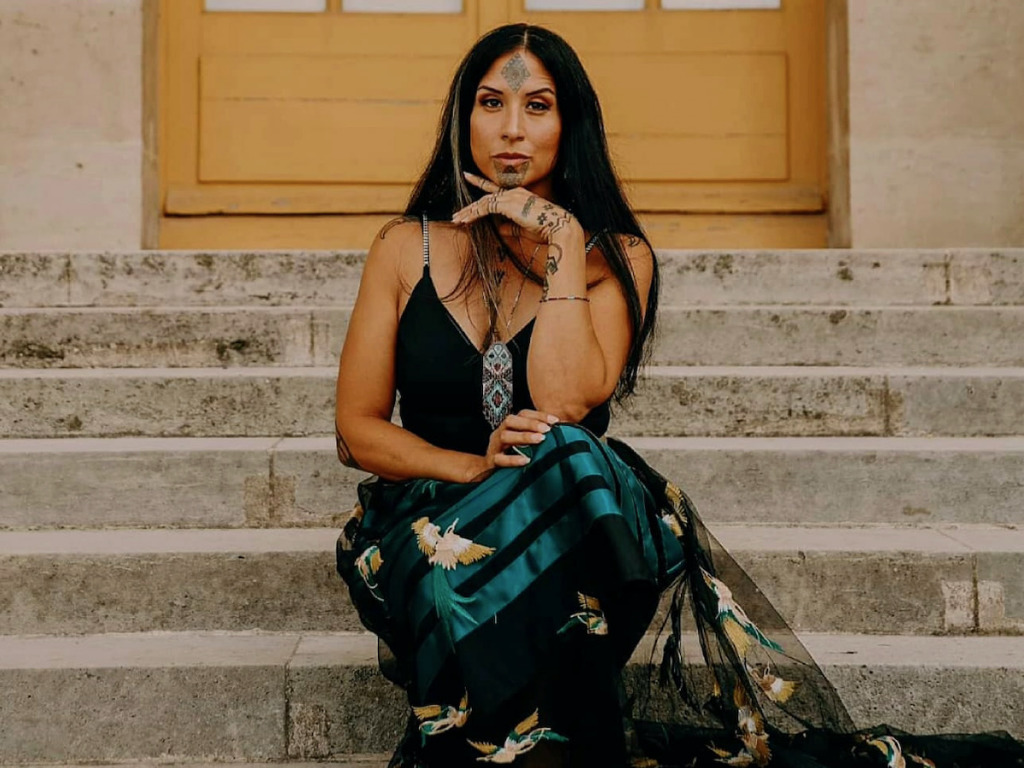 Stephanie Big Eagle is aware many people view face tattoos as a negative stereotype. But as a descendant of Big Eagle, a 19th century Dakota chief, the Indianapolis tattoo artist said her practice originates from sacred Indigenous ceremonies.
"Tattoos on the face were traditionally received by those who had very high status within the Indigenous communities," Stephanie Big Eagle said. "Chiefs, wives of chiefs, matriarchs and their descendants. The most decorated warriors had the most tattoos. That has been lost in today's world and misconstrued.
"You're trained to look down on people who have face tattoos. 'They messed up their life. They made poor decisions,'" she said. "But if you're coming from a cultural understanding of Indigenous tattoos, it's, 'Oh, that person is committed to their traditions. They're sober. They're walking a good way in their life and they're trying to pass that on to their kids.'"
On Nov. 10, Big Eagle will lead a Spirit & Place Festival event titled "Inking Identity: Indigenous Tattoo Practices" at the Eiteljorg Museum of American Indians and Western Art, 500 W. Washington St. Admission is free, but festival organizers encourage advance registration at spiritandplace.org.
"Identify" is the theme of the 27th annual Spirit & Place, a festival running Nov. 3-13 at venues throughout Indianapolis. The theme is designed to explore how people talk about themselves and their communities.
Big Eagle opened Thunderbird Rising Studios in Fountain Square in 2021, one year after publishing a book titled "Thunderbird Rising: A Memoir of Reconnection, Resilience, & Empowerment."
The mother of four children ages 9 to 20 said the tattoo on her forehead signifies her connection to Chief Big Eagle while her chin tattoo, which includes steps as part of its design, represents her life's journey.
Since finding an audience at TikTok, where her @StephanieBigEagle profile has racked up more than 200,000 followers and nearly 4 million views, the 40-year-old North Central High School alum has traveled to fashion shows—including one last month in Paris—to model clothes made by Indigenous designers.
Before the Nov. 10 Spirit & Place event, Big Eagle told the IBJ about her method of handpoke tattoos:
How are handpoke tattoos different than other styles?
The main style that everybody knows about now is machine. It's using an electric-powered device to insert the ink. I am doing everything by hand, so my hand is the electricity or the power behind it. I'm using the same sterilized needles and equipment that machine artists are using, but I'm doing it with the ancient technique and the cultural backing and understanding of what I'm doing. It's a much slower process than the machine, but I believe it's more connected to our traditions because it allows that time and space for that energy transfer we're looking for.
Did you have an apprenticeship to learn this?
About seven years ago, I apprenticed with a handpoke tattoo artist in Los Angeles. It was a two-year process, and I'm still learning every day about what tattooing meant for Indigenous cultures. How important it was, how sacred it was. Those are the things I'm still learning about. But the process of tattooing itself? Two years.
What motivated you to do it?
I was invited. When I received that invitation, I felt in my heart that it was right for me.
What led to that invitation?
I traveled to New Zealand to visit friends in the Maori nation. I did a lot of research to find if there was a practice of traditional facial tattooing in my culture, Lakota and Dakota. Seven years ago, you couldn't find almost anything about it. But I found a little shred of evidence and I said, "OK, I'm going to go over there and I'm going to receive my markings in my way, whatever's meant for me."
The way they do it in New Zealand is that you meet with the artist, called a ta moko artist, and you share your visions and dreams, your stories and ancestry. All of that is taken and a design is channeled down for you. The way they believe and the way I was taught is that the ancestors of the artist and the person receiving the marking will get together and decide on the marking and pass it down through the artist. This was drawn on my face and tattooed for me by a ta moko artist, but it was in line with my traditions and my identity.
When I returned after having that experience, I shared on social media why I received my markings, what they meant to me, how the experience affected me and what I wanted these markings to represent to the world. It went viral. From that posting, the artist in Los Angeles contacted me and invited me to learn.
What do you have planned for your Spirit & Place Festival event at the Eiteljorg?
I'm going to be presenting about the connection between traditional and modern tattooing by artists like me, who are handpoke tattoo artists or [Polynesian] hand-tap tattoo artists, and how our tattoos are the core of our identity. … Because so many of us have been separated from that, we don't understand how sacred our markings were.
Where did you grow up?
I grew up all over. I was a military brat. My dad was in the Marines and my mom was in the Air Force. We moved around a lot. I wound up in Indiana after my parents divorced. I was in eighth grade, and I graduated from North Central High School. I had an adopted name, and it was Newburg at the time. Part of my identity issue was having a name that was not of my bloodline. It was very important to me to research my roots and find out who I was truly descended from. My tribe is in South Dakota. All my family still lives on the reservation out there. I knew I was Native, and I knew my dad lived in South Dakota. I didn't know anything else until I was 23.
I imagine it's fun to be a runway model?
I love it. Modeling is what I do to rejuvenate my spirit and get my energy built up again. Handpoke tattooing is what I do to serve people.
Please enable JavaScript to view this content.