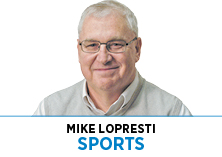 Alarming numbers, skeptical headlines, unending controversy and doubt.
Here come the Olympics.
You think Indianapolis had its hands full hosting the NCAA Tournament without the walls crumbling in from COVID? Multiply that by a hundred and you get Tokyo. All Indy had to worry about were Baylor and Gonzaga and 66 other college basketball teams from the lower 48 states. Japan has a couple of hundred countries coming in, from Afghanistan to Zimbabwe. For two weeks, it could be the world's biggest petri dish.
Remember the Olympic motto? Faster, higher, stronger.
Except there's another one in 2021: Are you sure? Are you REALLY sure?
As in, are you sure you should even be having this party? The Greeks have given us many things. One is the idea of the Olympics. Another is the alphabet by which we now name COVID variants: Alpha, Beta, Gamma, and the newest scary one, Delta. It's Delta that has a lot of people thinking Tokyo has no more business staging a gymnastics meet right now than it would a kissing booth. That's a sensible, logical argument. Might even turn out to be right.
Except, as with so many things, it is not so simple nor so easy. The case could be made that the Olympics have become a bloated, expensive pageant of excess and money that tramples common sense and proportion, and here's the latest example. But I have covered 16 of them, and every time it seems the moment to question them as beyond repair, I think of these people …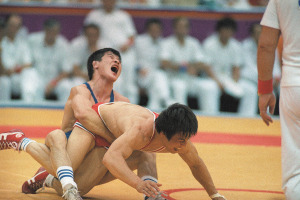 The wrestler from South Korea who was so poor he had never slept on a bed but who won a gold medal in Seoul and an accompanying $50,000 award from the government. He had the look on his face of a man who had just won a billion-dollar Powerball.
The rifle team members from Iraq, who were hoping the Los Angeles games would go on forever, because when they were over, the Olympians were headed back to the front lines of the war with Iran.
The coach from Lebanon, describing how badly the Olympics team wanted to get to the Games while battles in Beirut were raging. At the airport, the team's plane went full power at the gate, so it could quickly take off before being struck by mortar shells.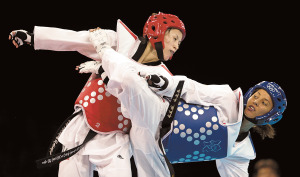 The taekwondo athlete from Germany who sobbed after her loss, "I have worked hard for four years, and my dream was gone after six minutes." Or the Australian cyclist who mourned after defeat, "My house has burned down, and my brother's broken his neck. I've had setbacks in my life before, but nothing compared to this."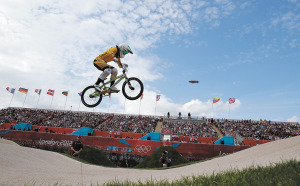 The Greek fencer who had to compete with her mouth closed to shield the pain of two broken front teeth from an earlier match. This could only happen in the Olympics—she was a dentistry student.
Kerri Strug executing the vault she fully understood would end with agony when she landed on a bad ankle. But it clinched a gold medal, so that was that. Had to be done. She needed to be carried to the medal podium, an instant American folk hero.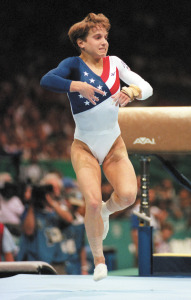 Or Queen Elizabeth posing as a James Bond girl in the Opening Ceremonies in London.
Such Olympic moments and a gazillion others are too magical for modern evils to kill. Even a pandemic. The Games have endured so much over the decades, trying to find accommodation in a world often unhinged. The last time Tokyo hosted the Summer Olympics, a man named Yoshinori Sakai was the final torchbearer and lit the cauldron. He was born in Hiroshima, the day the atomic bomb was dropped.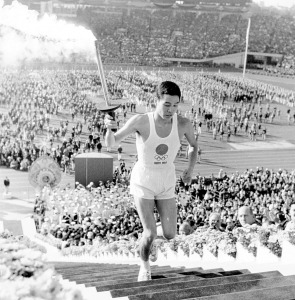 In 1980, the Soviet Union hosted the Olympics, and the United States boycotted. In 1984, the Games were in Los Angeles, and the Russians stayed home. Understanding the shattered dreams of athletes were the main byproducts of all this tit for tat, the two sides agreed to take measures to avoid such a thing in the future and signed a pact—in the 500 Ballroom of the Indiana Convention Center.
I remember machine guns at the gates to figure skating, and anti-missile batteries beyond the centerfield wall at baseball. I have seen one of the happiest celebrations ever on a beach in Athens in 2004, when an Israeli sailor gave his country its first gold medal—32 years after the Munich massacre. Those 1972 Games saw a slender Indiana University swimmer named Mark Spitz captivate the world by winning seven gold medals. Spitz then had to be hustled out of town after the slaughter of the Israeli team members since he, too, was Jewish.
I sat with a father suffering from kidney disease who arranged dialysis in Athens so he could come watch his daughter win a silver medal in the 100 meters. And a mother who sold her house to have the money to travel to Sydney to see her daughter play softball.
Mike Eruzione's future life was made by scoring one Olympic hockey goal in Lake Placid, Jesse Owens' legacy secured by four gold medals in Nazified Berlin.
So now we have COVID, and many doubt if the Games should go on. They will certainly be unlike any Olympics ever seen, with barren arenas and finish lines lacking the roar of the crowd—basically a made-for-TV event. And the most unkind cut of all—even the families of the athletes aren't allowed in. Yeah, it would be easier to cancel the whole thing. Safer, too.
But then you remember the dreams at stake. The Olympics are not just NBA players or professional tennis stars who must decide if they want to take some time off from their appointed and well-moneyed rounds. They are gymnasts who have given their childhoods in pursuit of a medal, and might have this one chance, because the window is so very narrow. Archers and rowers and weightlifters who have put their lives on hold and made untold sacrifices for this solitary moment. Lots of Hoosiers are among the dreamers, from the swimming pool to the track.
To have the Olympics in the middle of a global pandemic appears to be reckless. But to crush so many hopes and turn years of work to waste—to tell them, sorry, it was all for nothing, come back next year (maybe)—borders on the unthinkable. That is the great dilemma of Tokyo 2021.
The worst is feared—even expected by some. But then, the worst always is before the Olympics. Many voices doubted Indianapolis could pull off the NCAA Tournament without becoming a super-spreading catastrophe, and how'd that work out?
It's impossible to be sure of the right decision for Tokyo. These Games come with a very large cloud and a bottomless supply of questions. But through wars and terrorism and corruption and human folly, the emotions of men and women risking so much to have one of the greatest days of their lives have never wavered, not even in the face of killer microbes.
There is something so very alive about seeing dreams fulfilled, or even more common, shattered. That is why so many will watch starting next week. Just not in person.•
__________
Lopresti is a lifelong resident of Richmond and a graduate of Ball State University. He was a columnist for USA Today and Gannett newspapers for 31 years; he covered 34 Final Fours, 30 Super Bowls, 32 World Series and 16 Olympics. His column appears weekly. He can be reached at mjl5853@aol.com.
Please enable JavaScript to view this content.