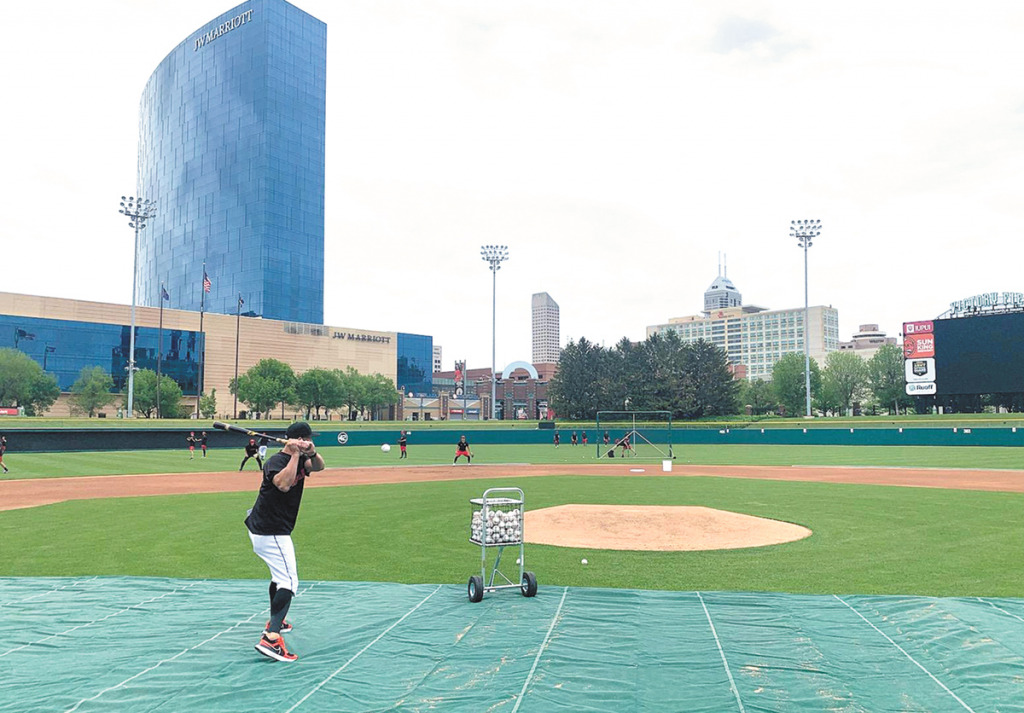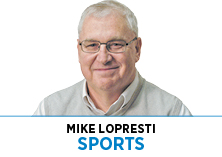 The game ended with a Trayvon Robinson fly ball to right. Final score: Louisville, 6; Indianapolis Indians, 1. So why does a third out in the ninth inning on Aug. 31, 2019, matter now?
That would be the last Indians baseball in Victory Field for 618 days, as COVID-19 caused Shutdown-20. That's longer than the terms of three U.S. presidents, and American involvement in World War I. Since Robinson's fly ball, we have seen two World Series, two Super Bowls, two Masters and one pandemic. There have been movies shown on the scoreboard and golf balls hit from the second deck. The NCAA Tournament used the outfield grass for a playground, meaning there have been Baylor Bears and UCLA Bruins running on the warning track, but no Indians. Not until May 11, anyway, when minor-league baseball returns downtown at last.
What happens to a ballpark when it must sit idle for so long? Maybe we should ask the guy who takes care of the place.
"It's been weird, like it's been for everybody," Joey Stevenson began. This'll be his 15th season in charge of the turf at Victory Field, and he has lots of examples of weird since that loss to Louisville.
He can tell you about the staff meeting in a Victory Field suite in March 2020, when the virus looked to be delaying the season and the ballpark might have a temporary lockdown. Maybe two weeks—or so everyone thought at the time. The grass still grows, pandemic or not, so Stevenson and Field Operations Manager Adam Basinger came up with the plan that each would sleep at Victory Field for a week, tending the turf. After 14 days, they'd be ready for baseball to resume.
"Two weeks turned into a month, into three months, into 20 months," said Stevenson, who never did put that plan into motion.
He can tell you about all those empty summer days in 2020.
"We always would often think, 'What would [the field] be like if we could have a season where nobody played on it?'" he said. "We thought it would be cool, until about three weeks in. Then you missed that part. A perfect summer day, you go out at noon and expect the smell of them getting the popcorn ready, or the hot dogs. We never had that. There was no cherry at the end of the day. To be honest, your mental-health score goes down and down because there's nothing to look forward to. It was like it sucked the life out of you."
He can tell you about some of the bad outfield patches he started to find as the team had to cut expenses like everyone else. That included things such as fertilizer and fungicide. "What could we chop out of our normal maintenance plan to just skim us by?" he said. "But honestly, we became better turf managers because of it." And while he spotted flaws last year, "to the normal person, they'd say it looks like it always does."
He can tell you about the alternative events the Indians brought to Victory Field in 2020 to fill some of the dates. The ballpark was turned into a small golf course, and youth and high-school-age summer games were scheduled. Funny thing about the baseballers. They carried in some outside material on their shoes and Stevenson can still see the splotches of poa annua grass 15 feet off the foul lines where the teams played pre-game catch and in the outfield where high school centerfielders would stand.
"When we did the golf, that was probably the scariest," he said. "We'd go from mowing 1 inch down to where we mowed the greens a half-inch. And then we drove that ball-picker on it basically eight hours a day."
Stevenson can tell you about the past March, when college basketball teams used Victory Field as an outside escape from bubble life during the NCAA Tournament, and he and the Indians staff had to operate under strict virus-mitigation protocol. "It was honestly super easy, because they basically told us, 'Don't go out there,'" he said. He saw Michigan State coach Tom Izzo walking laps on the warning track, and he called Baylor, "the most fun team here." Bears coach Scott Drew asked Stevenson one day if they could borrow some throw-down bases. A few moments later, Stevenson looked out on his field and saw the team destined to become national champion playing a kickball game.
And Stevenson can tell you about how nice it is to have baseball back. But normal, it ain't.
Maintenance at the ballpark might be easier since the players aren't supposed to indulge in the epidemiologist's nightmare of using and then spitting out sunflower seeds or tobacco. (Good luck enforcing that one). But it could be tricky, getting word to the umpires during a game that rain is coming and it might be time for the tarp. Stevenson isn't supposed to get close enough to the umpires to talk with them, so he will have to send word to Assistant General Manager Matt Guay, who is cleared. He'll talk to the umpires, get the decision and relay it back to Stevenson. Communication in the age of COVID.
When the tarp is rolled out, social-distancing rules are going to have to be massaged a bit. "We can't have people standing 6 feet apart and have only six people pushing," Stevenson said.
Presumably once the baseball starts, all those conundrums will work themselves out. There's baseball coming to Victory Field, anyway, and everyone feels positive about that. That includes Brian Esposito, returning as manager after losing the entire 2020 Indianapolis season.
"I was a little bit lost, finding things to do," he said. "Being able to come to my office and see some things that I hadn't seen since September of '19, that kind of hit home a little bit harder than the actual game of baseball. This position got stripped from me and that was tough to deal with. We were able to do some baseball last year [at alternate sites], but not come here and put on an Indians uniform and manage from my padded seat at the Vic. That was the one thing I did appreciate a lot more."
He'll be leading a roster that's big on variety. "Quite the grab-bag of players," Esposito called it. The pitching staff has room for both a hot prospect in 23-year-old Miguel Yajure and a 36-year-old knuckleballer in Steven Wright. Outfielder Travis Swaggerty is here direct from Single-A ball, while catcher Andrew Susac has a World Series ring from seven years ago when he played for the San Francisco Giants.
Victory Field is ready for them all, and so is Joey Stevenson. No, it won't be the same as the last time the Indians played a home game in 2019. But it won't be like 2020, either.
"It kind of feels like my first season. You don't know what to expect," Stevenson said. "It's nice to just get back to baseball and not worrying about if we're having a car show one weekend or golf another weekend. It'll be nice to smell those smells."
That starts next week.•
__________
Lopresti is a lifelong resident of Richmond and a graduate of Ball State University. He was a columnist for USA Today and Gannett newspapers for 31 years; he covered 34 Final Fours, 30 Super Bowls, 32 World Series and 16 Olympics. His column appears weekly. He can be reached at mjl5853@aol.com.
Please enable JavaScript to view this content.