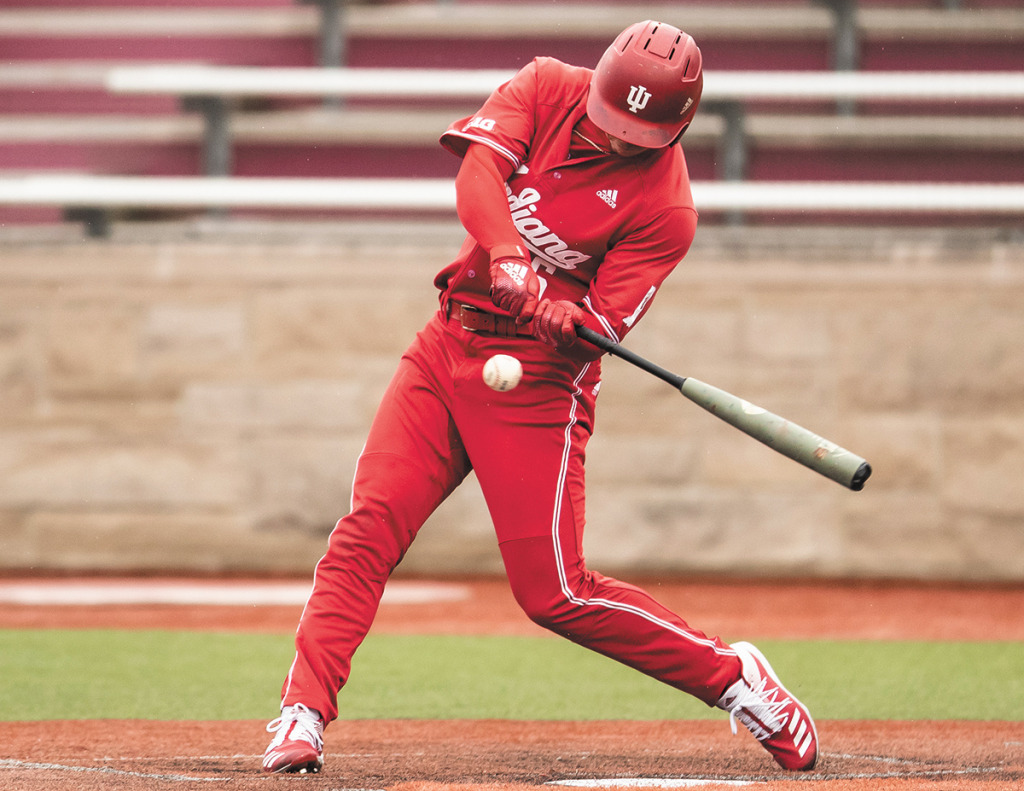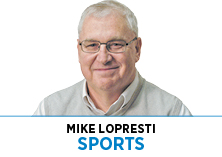 So here we are at the baseball game and … which game, you ask? Doesn't matter much right now in the state of Indiana. Good times have been happening all over the place, even if hardly anyone has been allowed in to watch.
Have you noticed how Notre Dame is threatening to make history in the ACC? How Ball State has its hands on the lead in the MAC, Indiana is in the crunch time portion of its schedule with the Big Ten title in sight, and Indiana State is up with the big guys in the RPI power rankings? How Victory Field has turned into Cape Canaveral for the Indianapolis Indians?
No? Come along, then.
We can start at Notre Dame, where the 26-10 Irish have the best record in the ACC. That's the league with such suntanned teams as Clemson, Miami and Florida State. Those programs play baseball outside in the winter, while in South Bend, the Notre Damers wait for the next line of lake-effect snow. But that hasn't mattered much this season. There are more baseball rankings than you can shake a 32-inch Louisville Slugger at, and Notre Dame is in the top 15 in all of them, including No. 3 in Baseball America.
The Irish own the nation's best field percentage—only 20 errors in 36 games—and the tendency to pummel opponents. They mashed then-No. 21 Virginia 30-12 in a three-game sweep, crunched North Carolina 36-17 in three games, and spotted Boston College a 9-0 lead before putting up 13 unanswered runs to win 13-9. They have a first baseman from Penn High School, Niko Kavadas, who homered twice in the first eight pitches he saw this season, and now has 15 in 36 games, the fourth best rate in the nation.
They've clinched their division and will try to turn that into a championship at the conference tournament later this month. Know how many ACC baseball titles Notre Dame has won before? None.
Next, Indiana, where the Hoosiers began the week a game back of Nebraska in the Big Ten race, and with the fifth best pitching earned run average in the nation. There is no conference tournament this year, so the league title will have to be won during the regular season, and they're in for heavy lifting at the end. Nebraska will be in Bloomington for two games this weekend. Then Ohio State for two. The Buckeyes swept Indiana in a four-game series in April. Maryland is fourth, and Indiana will be there for three games to finish the schedule.
Coach Jeff Mercer said the 24-12 Hoosiers have been trying to prepare for this closing minefield, understanding what would be at stake. "The best coaching is done in the moment, in the midweek, in the course of the season," he said. "That's when you can really tell if a guy can coach, or a program can improve itself. We're going to find out in the next three weeks if we're any good at that."
The top hitter is Yorktown's own Cole Barr. Fishers' Grant Richardson is next. Jeffersonville, Carmel, Shakamak, Lake Central, Northview, Boone Grove, Munster, New Palestine and University high schools have all sent pitchers to work innings for the low-ERA staff. A lot of Indiana blood is in this effort.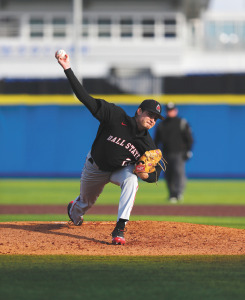 Next, Ball State, where the Cardinals are neck and neck with Central Michigan for the Mid-American Conference title. These old pals battled down the stretch in 2019, when Ball State went 11-1 over the last 12 league games. Central Michigan went 12-0. They are the MAC's answer to the Yankees and Red Sox. Like the Big Ten, there is no conference tournament this year, so the regular season will determine everything. It's a two-team pennant race.
"Every weekend, it's all stress," said Rich Maloney, the winningest baseball coach in Ball State history. "On the flip side of it, you're going to get a really good team for sure to represent the conference."
A few things we should know about Ball State. The Cardinals have turned their home field into Cameron Indoor Stadium. They've played 43 games in Muncie since the start of the 2019 season. They've lost five. The starting pitching has much to do with their success, and that begins with senior John Baker, who has used guile and location rather than an all-world fastball to become the school's career leader in strikeouts. Junior Chayce McDermott, brother of former Butler hoops star Sean, has struck out 103 batters in 69.2 innings. Senior Lukas Jaksich came to Ball State when St. Joseph's College closed down not only its baseball program but its entire school. Together, they've struck out 271.
There are also seniors, such as outfielders Aaron Simpson and Ross Messina and catcher Chase Sebby, who would have been gone had they not been granted another year after the pandemic-wrecked 2020 season. "COVID seniors," Maloney calls them. Guys with the mentality of having invested too much time to go away gently. "They're playing, most of them, the last games of their lives."
Baker for instance has 381 career strikeouts, the most for any active pitcher in the nation. "He'll go down as one of the greatest we've ever had," Maloney said. "He's looking at it as the end of his career. If he gets a shot (in the major league draft) it's going to be a low shot. He deserves a shot, but he doesn't throw the numbers that they want."
So COVID is part of the Ball State story, same as lots of places. Maloney has 26 years in as head coach with the Cardinals and Michigan. "That's half of my life dedicated to college baseball, so it was hard," he said of the shut-down spring of 2020. "I will say this, I had a great lawn. I had a great box garden. I went biking and hiking. We did some things we normally wouldn't have time for just to keep our sanity."
Next, Indiana State, where the 25-15 Sycamores are four games behind Dallas Baptist in the Missouri Valley Conference standings but No. 33 on the latest NCAA RPI power ratings. They're an upset threat in the league tournament, maybe.
Finally, we could go to Victory Field for home run derby. A slugger's paradise this ballpark ain't. You have to hit a ball nearly to Zionsville to get it out in left-center. The Indians had 57 home runs the entire 2019 season in Victory Field, but these current Maryland Street Mashers just hit 13 in one week against Toledo. In their home opener, they had four hits—all left the park.
And here's something you don't see every day in Triple-A: a 36-year-old knuckleballer. Steven Wright held Toledo to three hits in five innings with pitches that wouldn't get a speeding ticket on Interstate 70. The young flamethrowers fire at 98 miles an hour, but the Mud Hens were flailing away at Wright knucklers that barely reached 75.
So it's been quite a baseball spring so far in Indiana. Home run binges, knuckleballs, and four state teams that could all conceivably be in the NCAA Tournament. That'd be three more than showed up for March Madness in Indianapolis.•
Lopresti is a lifelong resident of Richmond and a graduate of Ball State University. He was a columnist for USA Today and Gannett newspapers for 31 years; he covered 34 Final Fours, 30 Super Bowls, 32 World Series and 16 Olympics. His column appears weekly. He can be reached at mjl5853@aol.com.
Please enable JavaScript to view this content.